Netflix's The Witcher Actor On Why You Shouldn't Compare It To Game Of Thrones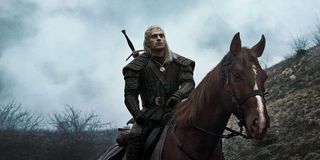 When the first image from The Witcher was released, Henry Cavill's character was heavily compared to Lord of the Rings' Legolas (Orlando Bloom). Cavill was sporting the same silver/white tendrils and hairstyle, after all. But that wasn't the only major pop culture property that came up in comparisons to the new series, due to The Witcher's sci-fi/fantasy nature. There were bound to be further comparisons with other series, but actor Royce Pierreson thinks that viewers should give the Netflix series a shot before comparing it with HBO's Game of Thrones.
Royce Pierreson's voice talents have been used in several video games like Call of Duty, and he most recently played musical director Burt Rhodes in Judy. Pierreson will star as Istredd in The Witcher, and when speaking with Digital Spy, the actor says that The Witcher stands apart from Game of Thrones in various ways.
Like so many fantasy shows that have come before, The Witcher stands on its own merits in part from its source material, but the show will no doubt resort to familiar fantasy tropes along the line. Still, that doesn't mean that it's an exact replica of Game of Thrones, Lord of the Rings, or any other blockbuster fantasy property. To draw comparisons is disingenuous, and it boxes the series up before it's given the chance to prove itself on its own.
The Witcher follows the story of Henry Cavill's Geralt of Rivia, a monster hunter who crosses paths with a sorceress and a princess. The three characters help guide each other through dangerous situations and struggle with finding their purpose in the vast land. Royce Pierreson's Istredd is a sorcerer who's heavily interested in archaeology and has a history with the sorceress, Yennefer (Anya Chalotra).
The Netflix show, based on the fantasy books by Andrzej Sapkowsk that were later adapted into a bestselling video game series, will consist of eight episodes. During San Diego Comic-Con, Netflix offered fans an exclusive first look at The Witcher, which included a sword-fighting sequence and a scene with a dead baby. Yeah, it really went there. With that one scene, the series set the dark tone for the show's first season, and all without a King Joffrey or Ramsay Bolton.
The Witcher does not yet have a release date, but it's supposed to be available to stream on Netflix later this year. In the meantime, be sure to check out our complete list of every new and returning TV show this fall.
Your Daily Blend of Entertainment News