Star Trek: Picard Fans Got Emotional Over Riker's Return In New Trailer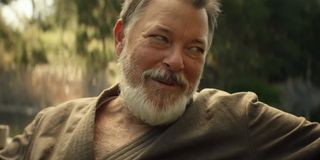 Star Trek: Picard dropped another trailer at New York Comic-Con, and fans got a great look at some of the Star Trek: The Next Generation cast set to return. We also got to see some more of the new cast in action, and a look at how this series centered on a past character borrows heavily from the current state of the franchise to tell its tale.
As cool as it was to see Jeri Ryan back in the franchise and some cool sword fighting scenes, the highlight of the latest Star Trek: Picard trailer for many was one thing. People were psyched to see Picard pay a visit to the home of Deanna Troi and Will Riker, and may have even gotten a little emotional about it on Twitter.
It's so bizarre to see all these folks together again, but at the same time, it feels so right. They all just seem to slip back into their characters so seamlessly, and it's almost enough to make you want to wish the entire series revolves around Picard moving in with Will and Deanna! Okay, maybe that's a bit extreme. Many people do watch Star Trek for the high stakes drama and action after all.
Despite that, audiences were caught up in their feelings after seeing the two have a heart to heart, and some even did tributes to the moment. Memes are always a given when it comes to the internet, but how many trailer moments get their own artwork before the show even premieres?
Two pals, chilling on a dock, and talking about getting back in the saddle. It's the type of tear-jerking reunion that should get Star Trek fans excited, and prepared for some reunions that may be even more emotional than this.
The good news is this visit appears to be a welcome surprise. Riker and Picard are smiling, the tone is light, and Jean-Luc is being straight up with his former Number 1 about what he's about to get into. Riker said he won't try to stop him, which speaks to the understanding relationship the two have that makes looks like this so touching.
The question is will that bond be deep enough for Riker to suit up and help his former Captain in this new adventure? I'm sure Riker would be willing to help Jean-Luc in Star Trek: Picard, though Picard would ultimately remind him he has a lot more to lose should things go south. After all he's got Deanna Troi, a home, and children!
It also seems as though Riker's Starfleet days are long behind him as well. He's at home doing some kitchen work when his old friend arrives, and of course fans are already harping on Alex Kurtzman to create yet another Star Trek spinoff.
Riker's surprise seems to show this wasn't a planned visit on Picard's part, which makes the nature of the visit all the more mysterious. Does he need Deanna and Will's help for some part of his upcoming mission, or is the Star Trek: Picard character simply dropping by to say goodbye in case he doesn't get the chance in the future?
Ugh, the thought of Star Trek: Picard ultimately building up to Jean-Luc's death makes my stomach turn. Let's push away those unpleasant and entirely possible thoughts and go back to how great it was to see Jonathan Frakes, Marina Sirtis, and Patrick Stewart all acting together again!
It sure is, which may be why so many fans are gung ho to see Star Trek: The Next Generation alumni appearing in Star Trek: Picard. It's not like these characters are needed for Picard's next chapter, but seeing them back together is exciting and makes the wait for this new series all the more unbearable.
Where's Worf? CBS Claims Michael Dorn Won't Be In Star Trek: Picard Season 1
Star Trek: Picard (opens in new tab) premieres on CBS All Access Thursday, January 23. Be sure to stick with CinemaBlend in the meantime for more details on the series, and for the latest news in television and movies this fall season.
Mick likes good television, but also reality television. He grew up on Star Wars, DC, Marvel, and pro wrestling and loves to discuss and dissect most of it. He's been writing online for over a decade and never dreamed he'd be in the position he is today.
Your Daily Blend of Entertainment News
Thank you for signing up to CinemaBlend. You will receive a verification email shortly.
There was a problem. Please refresh the page and try again.