Star Trek: Picard Had Jeri Ryan Crying And 'Freaking Out' Over Seven's New Voice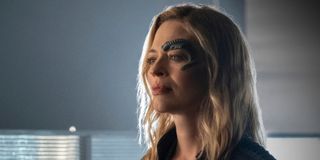 (Image credit: CBS All Access)
CBS All Access is bringing back some of the biggest names in the Star Trek franchise for the upcoming Star Trek: Picard series, including Patrick Stewart, Brent Spiner, and of course Jeri Ryan. She played Seven of Nine in Star Trek: Voyager and became iconic to that series. Ryan will reprise her famous role for the upcoming series, but she won't play the same Seven of Nine that fans last saw in the franchise.
One thing in particular that will be different about Seven of Nine in Star Trek: Picard will be her voice. Seven wasn't exactly speaking the way that other humans on the ship spoke, and fans should expect something different after the passage of time before Picard. Jeri Ryan spoke out about Seven's new voice, saying this:
Jeri Ryan spoke about finding Seven of Nine's new voice during a panel that she shared with fellow Star Trek favorites Jonathan Frakes and Jonathan Del Arco at Star Trek Las Vegas 2019 (via TrekMovie.com), and it's not hard to understand why she'd be terrified! Seven had such distinctive characteristics that jumping into Picard to play a Seven who changed drastically off-screen meant returning to Trek wasn't just business as usual for Ryan.
The Star Trek: Picard trailer does end with Seven of Nine saying "What the hell are you doing out here, Picard?" to the man himself, in a line and delivery that definitely would have been out of place back on Voyager. I'm guessing fans could have a hard time adjusting to the new Seven of Nine as well, although she won't be the only character in a very different place in the new show, and I don't just mean that Picard has a dog now.
Still, fans might not freak out quite as much as Jeri Ryan did. She also said this about her reaction to play the new version of Seven of Nine for Picard:
What are Star Trek friends for if not a calming lunch to get comfortable with new scripts for old characters? Jeri Ryan clearly appreciates how Jonathan Del Arco made the effort to stop her from freaking out. She does have a tough task ahead of her, perhaps even tougher than some of her costars. Seven of Nine may have gone through some of the most drastic changes in the time jump.
Patrick Stewart's Picard Is Already Tapping Star Trek Vets For Season 2
How fans will react to the changes to Seven of Nine for Picard won't be determined until the new show debuts next year, but they can have plenty of fun speculating. Although Brent Spiner did reveal some of what to expect about Data (and there's both good and bad news) in Picard, a lot about Seven of Nine is still shrouded in mystery. What happened that her speech pattern changed so much? And what other changes are in store?
So, what helped Jeri Ryan get used to the idea of playing Seven of Nine in her new circumstances, all these years later at a very different point in her life? The actress shared, saying this:
Seven of Nine can't make the choice to look less like a Borg, but that doesn't mean she didn't have other choices during the time before Star Trek: Picard, and that concept is what Jeri Ryan needed to get into gear to play her character once more. Would Star Trek: Voyager Seven of Nine have casually asked what the hell he was doing? Certainly not. Picard Seven? Apparently!
Honestly, as happy as fans probably would have been to see Jeri Ryan back in Voyager mode for her brief appearance in the trailer, the differences that are already apparent give a lot to speculate about in the months still ahead before the Picard premiere on CBS All Access. She was also saved for last in the thrilling trailer, so perhaps she has a significant role in the new series.
We'll have to wait and see. Star Trek: Picard will reportedly be a "hybrid" of Star Trek: The Next Generation and Star Trek: Discovery, which is at least something to go on while details are still relatively scarce! For the most current Trek action, you can catch the first two seasons of Discovery streaming on CBS All Access now. If you're in the mood to see Jeri Ryan in her original Seven of Nine mode, you can find Star Trek: Voyager streaming on Amazon, Hulu, and Netflix.
Resident of One Chicago, Bachelor Nation, and Cleveland. Has opinions about crossovers, Star Wars, and superheroes. Will not time travel.
Your Daily Blend of Entertainment News
Thank you for signing up to CinemaBlend. You will receive a verification email shortly.
There was a problem. Please refresh the page and try again.