10 Noteworthy Netflix Originals Arriving In November 2019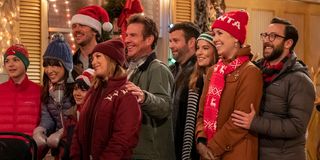 October is a time for spooks and surprises, but once the pumpkins are gone everyone knows what holiday is next. That's right, Christmas! Joking aside, Netflix will be spreading the holiday cheer a bit early this year with some originals arriving in November for whenever Americans aren't freaking out over football or trying to figure out how to air-fry a Thanksgiving turkey.
The good news is that November 2019 isn't completely stuffed with holiday originals, and there's still plenty of other noteworthy content arriving on Netflix that has nothing to do with wintertime. Among them we have pseudo seasons of classic originals, and even an entry from the world of one of the most beloved children's authors. Let's dive in, and take a look at what's on tap for this month.
Atypical (Season 3) - 11/1
Atypical is headed into Season 3, and Sam is officially done with high school and off to college. That, combined with the various other plots from Season 2 and some high-profile guest stars, will surely make for a good deal of drama for this consistently solid Netflix original. Hopefully Netflix continues to give this show an ongoing run, as the trailer doesn't look like this year will be the season that closes things out.
Queer Eye: We're In Japan! - 11/1
For those who have been eager for more Queer Eye, have no fear! Season 5 is still on the way, but before that Netflix and the guys made a pit stop in Japan (not Hawkins, sadly) to change four lives while also learning about Japanese culture and traditions. It sounds like a good time, though I am curious to see how the guys will respond to the cultural differences of Japan and how that will reflect on the show.
The End Of The F*ing World (Season 2) - 11/5
It's the follow-up season to what was a jarring end to Season 1. For those unaware, The End Of The F*ing World will be up a day earlier in the UK, so anyone looking to avoid being spoiled best keep their eyes off the internet for the 24 hours in advance of its Netflix release. As for what we know, Season 2 takes place two years after James and Alyssa's crazy road trip, as they're pursued by a woman out for revenge.
The Great British Baking Show: Holidays (Season 2) - 11/8
'Tis the season, and whether you say "Merry" or "Happy" Christmas, the vibe is all the same. Cooking enthusiasts will be psyched to learn The Great British Baking Show: Holidays is back for Season 2, and that Paul Hollywood (who recently fell into a bit of trouble) and Prue Leith will be around to judge a bunch of holiday-inspired dishes made by some favorite past competitors on the program.
Greatest Events Of WWII In HD Colour - 11/8
It's not often Netflix uploads a ton of original war genre material, so the arrival of HD color footage of one of the biggest wars in human history should be quite a treat. Events teased include the attack on Pearl Harbor, and D-Day, so there's going to be lots of stuff for war buffs to take in. It will be interesting to see how this series works in comparison to other specials that have tackled a similar concept.
Green Eggs & Ham - 11/8
One of the most iconic works of Dr. Seuss is coming to life, and yes, it's going to be a series. For the record, this is not a direct lift of Green Eggs & Ham, but will feature Sam and Guy (the person who doesn't like the title dish) as they go on an adventure to save an endangered animal. My guess is there will be a few Seuss character cameos in this one, so get ready!
The Toys That Made Us (Season 3) - 11/15
The holiday season is right around the corner, so there's no better time for a new season of The Toys That Made Us to arrive. This season is set to tackle some heavy hitters in the toy industry, such as the Power Rangers, My Little Pony, the Teenage Mutant Ninja Turtles, and wrestling action figures. Be warned, this show can make a person search eBay to relive parts of their childhood.
Dolly Parton's Heartstrings - 11/22
2019 has been a weird year, and if the fact that Dolly Parton got an anthology series doesn't prove that I'm not sure what will. Dolly Parton's Heartstrings will explore the stories behind the artist's most-beloved songs, and feature music both new and old from Parton. The tone is going to vary from episode to episode, but given the great career Parton has had, there's no reason to suspect any of it will be boring.
Nailed It! Holiday! (Season 2) - 11/22
Not to be outdone by the U.K. baking competitions, Netflix (opens in new tab) will be rolling out another holiday season of its best baking show for people who often fail at baking. Nailed It! Holiday! will be the same series fans know and love, though it appears there will be some celebrities involved from time to time this upcoming season as well. Here's hoping none of the contestants embarrass themselves with their creations too badly this time around.
Merry Happy Whatever - 11/28
Dennis Quaid is back on television this holiday season, and will be the star in the upcoming Netflix original, Merry Happy Whatever. The series is staged around a father, who has to cope with his daughter's new boyfriend she has brought home with her for the holidays. It's interesting to see a whole series centered around Christmas. Perhaps Netflix will spark a trend that other streamers could follow in the future? I can't say I'd be too upset about binging an entire Christmas show as opposed to watching the same movie over and over again.
Netflix Is Testing A Speedy New Feature On Mobile Devices
CinemaBlend is the place to be for all information on upcoming shows, streaming or otherwise. Be sure to follow us for all the latest and greatest news happening in the world of entertainment.
Mick likes good television, but also reality television. He grew up on Star Wars, DC, Marvel, and pro wrestling and loves to discuss and dissect most of it. He's been writing online for over a decade and never dreamed he'd be in the position he is today.
Your Daily Blend of Entertainment News
Thank you for signing up to CinemaBlend. You will receive a verification email shortly.
There was a problem. Please refresh the page and try again.