Reality TV Is Bringing Us A Show About Grizzlies Vs. Humans, Bring On The Backlash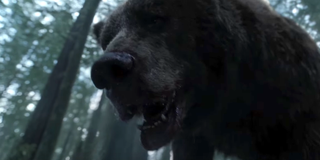 If you've been thinking that you really want to try out for a reality competition that will challenge all your preconceived notions about strength and stamina, but shows like American Ninja Warrior or The Titan Games are too tame for you, well, you're about to be in some bear-y big luck. Discovery is getting ready to bring us Man Vs. Bear, a show that will pit regular old humans against Grizzly bears in contests of strength, speed and stamina. Yay!
Man Vs. Bear, which debuts on December 4 and comes from Kinetic Content (Married At First Sight), will see three competitors each week go up against three Grizzlies (Honey Bump, Bart and Tank) at the Utah sanctuary that houses them. The challenges will be based on the natural instincts of the Grizzlies, as well as their predatory actions and skills. I hope none of this includes attacking unsuspecting campers, but I haven't seen the show yet, and can't say for sure just how far things are going to go.
The men and women who take on the Grizzlies will have to run, climb, swim, push, pull and lift in five separate challenges each week. Everything will be arranged around what these massive bears already do naturally in the wild, with the top two competitors going up against Bart (who is 8 feet 6 inches tall and weighs in at 1,400 pounds) in that week's final round. While the challenger with the most points at the end will win the day, they will still be required to return for the finale.
Man Vs. Bear's final showdown promises to be epic, and will focus on the season's top three humans returning for a "super-human showdown against the bears." Maybe everyone will have to uproot a tree with their bear (HA!) hands / paws. I honestly can't wait to see how that might go down.
In addition, because watching people try to do bear things surely won't be quite enough of a fun time for some folks, there will be blow-by-blow commentary in each episode from Emmy Award-winning sports commentator and host of CBS Sports Radio's nationally syndicated show Tiki and Tierney, Brandon Tierney and Casey Anderson, who's a wildlife expert with 25 years of experience and also founded the Montana Grizzly Encounter.
As you might imagine, there are already some thoughts that the show will be subjected to tons of backlash from animal activists, so Discovery has explained exactly how the Grizzlies were treated during filming in an effort to head off any negativity. A post to the show's website notes that Honey Bump, Bart and Tank are "free-range captive bears" who have spent their whole lives with humans.
The three were raised by people and still "rely on the exercises and routines of their caretakers to remain happy and healthy." In addition, the site says the Grizzlies "were never given action that they could not accomplish easily and safely," weren't "forced to compete" and were given plenty of their favorite treats before, during and after each competition.
The list of special actions taken to make sure the Grizzlies were well-cared for on set seems pretty extensive and sincerely thought out. It even includes a rule for the humans present to not "create any unusual smells," which I'm just going to go ahead and assume means there was a special trailer just for farts.
Man Vs. Bear will premiere on Discovery on Wednesday, December 4 at 9 p.m. EST.
Yennefer's apprentice, Gilmore Girl; will Vulcan nerve pinch pretty much anyone if prompted with cheese...Yes, even Jamie Fraser.
Your Daily Blend of Entertainment News
Thank you for signing up to CinemaBlend. You will receive a verification email shortly.
There was a problem. Please refresh the page and try again.