The Marvelous Mrs. Maisel's Rachel Brosnahan And More Mourn Co-Star Brian Tarantina's Death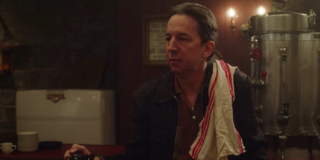 The Marvelous Mrs. Maisel's Brian Tarantina is dead at 60 years old. The actor played Jackie, the MC and bartender of the Gaslight Café, which was the local comedy club where Rachel Brosnahan's Mrs. Midge Maisel first began playing gigs. Tarantina was found dead in his Manhattan apartment on Saturday, November 2.
While the reason behind his seemingly sudden death has not yet been confirmed, Brian Tarantina had reportedly suffered from heart-related health issues and was recently hospitalized.
Per TMZ, Brian Tarantina was found by his niece while allegedly lying next to a white substance thought to be narcotics. She called the police to his apartment in the early hours of Sunday morning. When the police arrived, Tarantina was unresponsive and unconscious. He was later pronounced dead on the scene.
The Marvelous Mrs. Maisel's Rachel Brosnahan, who claims to keep her Golden Globes statues on her toilet, took to Instagram to share her condolences following news of the actor's death.
Alex Borstein, who shared the most scenes with Brian Tarantina as Susie, the owner of The Gaslight, also shared her grief over the loss and did so while in character.
The Marvelous Mrs. Maisel's official Twitter account also paid tribute to Brian Tarantina, offering condolences to those closest to the actor.
Brian Tarantina also had roles in Gilmore Girls, The Good Wife, and Law and Order. However, there's no confirmation on whether the actor had already filmed or completed filming any scenes for The Marvelous Mrs. Maisel's third season.
Season 2 of The Marvelous Mrs. Maisel premiered on Amazon's Prime Video with all ten episodes and was later nominated for a ton of Emmy Awards. The series is still well received, and creator Amy Sherman-Palladino seems open to bringing in several well-known guest stars. Season 3 has already confirmed This is Us star and fan favorite, Sterling K. Brown, while Gilmore Girls vet Lauren Graham has already requested to play a specific role for Season 3.
Ahead of Season 3 the cast of The Marvelous Mrs. Maisel was looking for a pay raise, though how much they were negotiating for remains uncertain.
The show's third season will be available to stream on Amazon's Prime Video beginning December 6. For more on what's premiering this Fall, be sure to check out our complete guide to every new and returning show.
Your Daily Blend of Entertainment News