The Top 10 Shows Of 2018, According To Laura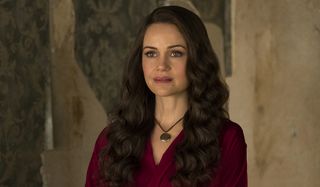 Yet another year of television has come to an end, and there were so many options this time around that it wasn't easy to narrow down what to watch. Some returning shows were at their peak in 2018, while others weren't so great. Some of the new shows that hit the airwaves distinguished themselves as among the best on television, while others are best forgotten. As somebody who has spent the last few years watching and writing about television, I tuned into a lot of TV in 2018.
Now, as I look forward to 2019 and all that the small screen will have to offer in the new year, the time is now to look back on my Top 10 shows of 2018 (as well as one unforgettable honorable mention). This year, my favorites ranged from horror to humor to pure escapism and everything in between. Let's start with an HBO miniseries that had me on the edge of my seat through its entire run:
Sharp Objects - HBO
It was obvious from the very first trailer for Sharp Objects that viewers would be in for an intense ride with stellar performances from the likes of Amy Adams, Patricia Clarkson, and Eliza Scanlen, who was totally snubbed in the latest round of awards nominations. Based on Gillian Flynn's 2006 novel of the same name, the show saw an emotionally troubled reporter by the name of Camille return to her hometown after two young girls were murdered.
Returning to Wind Gap meant facing traumas that led her to alcoholism and self-harm, and Camille's investigation goes through terrifying twists and turns enriched by the performances of the incredible cast. My biggest regret about Sharp Objects after watching the first episode was that it was a weekly show and I'd have to wait to find out what would happen next. What I would have given to binge-watch the eight episodes!
The Good Place - NBC
I was actually late to the Good Place game and only managed to watch the first two seasons before the third premiered, and it deserves the high praise of hooking me with its twists despite the fact that I was heavily spoiled on the biggest cliffhangers. The show that originally followed a group of people trying their best to remain in heaven -- or "The Good Place" -- despite not really belonging there took them to a place of hilarious self-awareness in Season 2.
That self-awareness took the core characters down to The Bad Place, which allowed for one of my favorite jokes of the entire series: when the Blake Bortles and Jacksonville Jaguars-loving Jason chose "Jake Jortles" as his alias. The series is so well-crafted that even the simplest jokes that might not even be worth a chuckle on lesser shows are hilarious, and the badness of The Bad Place is funny every time. Fortunately, NBC wasn't so discouraged by the super low ratings that the network cancelled the fantastic series, and Season 4 is on the way.
Castle Rock - Hulu
2018 was actually a great year for horror TV, and one of my favorites was undoubtedly Hulu's Castle Rock. I'd actually been looking forward to Castle Rock since it was first announced, and the casting of the likes of Bill Skarsgard and Sissy Spacek only heightened my excitement. Luckily, my excitement paid off, and the loosely Stephen King-based series was an intriguing, unnerving, and somewhat confusing ride from start to finish.
The show will be back for a second season, although the anthology nature of the series means we may never get any of our lingering Season 1 questions answered. Honestly, my biggest disappointment is simply that horror is so frequently overlooked on the awards circuit that Sissy Spacek is unlikely to be widely recognized for her haunting portrayal of a woman struggling to be understood and believed while losing herself to dementia.
Queer Eye - Netflix
If The Good Place is one of the funniest shows on television and Castle Rock is one of the most unnerving shows on television in my book, then Queer Eye has to be one of the most heartwarming and cathartic shows on television. A reboot of Bravo's Queer Eye for the Straight Guy, the Netflix (opens in new tab) series stars a new Fab Five as they help people reinvent and rediscover themselves.
This is more than just a show that teaches men how to dress, design, cook, groom, and culture themselves, however. The Fab Five help people feel comfortable with their own strengths and weaknesses, helping them find the way to reach their potential rather than totally redesigning them. Each installment is an emotional ride, and I'll admit to tearing up by the end of almost every episode. 45 minutes of Antoni, Tan, Karamo, Bobby, and Jonathan working their magic is enough to make any day better. Bring on Season 3 and more happily-ever-afters!
Gotham - Fox
Superheroes are all the rage nowadays, the Arrow-verse is more ambitious than ever with next year's already-announced arc, and DC Comics broadened its scope with the launch of a streaming service in 2018, but good old Gotham is still going on Fox. Arguably the most unconventional superhero adaptation, Gotham has embraced the ridiculous in the best ways in recent seasons, and every episode is an hour of escapism from grimmer dramas.
Now, many diehard fans of Batman and other DC Comics characters never warmed up to how Gotham takes crazy liberties with its adaptations. Personally, I've loved just about every twist and turn the show has delivered to characters that have been adapted time and time again. Do I have the least idea of what Gotham is or is not doing to create the Joker? No. But I am super excited to see the end of the ride once the final season gets going in 2019. I'm definitely going to miss its total craziness.
The Haunting Of Hill House - Netflix
The highest compliment I can give a show is that I wish I could watch it again for the first time, and I can definitely say that about Netflix's The Haunting of Hill House. The adaptation of the classic horror novel of the same name is a horror masterpiece that may actually be my favorite new show of 2018, and that is because it succeeds as more than just a horror show.
You may gasp, jump, and even scream in fear at Haunting of Hill House, but you may also laugh, cry, and cry some more. Split between a present arc and flashbacks to 1992, Haunting of Hill House chronicles the downfall of the Crane family after they move into Hill House, which later earns the reputation as the most haunted house in the country. The fact that it was snubbed by the Golden Globes is proof that horror still isn't taken seriously. Honestly, it deserves an award for finding its killer cast of child actors alone!
The Marvelous Mrs. Maisel - Amazon
Although technically one of the top streaming platforms, Amazon wasn't the biggest winner on the awards circuit, nor did it generate the kind of buzz that high-profile shows on Netflix and Hulu did. That changed with The Marvelous Mrs. Maisel, the period comedy that hails from Gilmore Girls creator Amy Sherman-Palladino. The show won big at both the 2018 Golden Globes and the 2018 Emmys, with leading lady Rachel Brosnahan making big waves. Season 2 built on the fantastic Season 1 foundation.
Still finding her way after her husband had an affair, left her, and then attempted to get her back, Midge nevertheless was funnier than ever as she honed her comedic style on stage in the second season. The good news is that Mrs. Maisel was already renewed for Season 3 before Season 2 even premiered, so fans will be able to see more of Midge's development (and fabulous period costumes).
The Terror - AMC
AMC tapped into some non-zombie horror in 2018 with The Terror. Based on The Terror novel by Dan Simmons, the show took viewers on an icy journey with two ships full of British sailors on the search for the Northwest Passage. History buffs knew going in that the men were not going to be successful, but only readers knew how incredibly _un_successful they would be.
The Terror combined psychological horror with monster scares, and the desolate landscape of the far North added a real sense of desperation to the men's dwindling resources and impossible odds. I was admittedly hoping for more Lord of the Flies and less Jaws after seeing the first promos for The Terror, but the combination of the two was effective enough that I'm really looking forward to the second season, even if the focus will be on an entirely new group of characters.
Star Wars Rebels - Disney XD
If you had told me a few years ago that an animated Star Wars show airing on Disney XD would earn a spot on my list of top shows for any given year, I never would have believed it. When I gave Star Wars Rebels a shot after watching and loving Rogue One, however, I was sucked in. The fourth and final season in 2018 wrapped up the series and set the stage for Rogue One and the original Star Wars trilogy.
In fact, Season 4 was so satisfying in my book that I wasn't even upset that my favorite character was killed off. The Star Wars shows have an advantage over the movies insofar as they have the time to really explore character reactions to losses and victories, and for me, Rebels handled its big final season death better than The Last Jedi handled its big death.
Legends Of Tomorrow - The CW
Legends of Tomorrow is technically one of the four current shows in The CW's Arrow-verse, but it has really set itself apart from Arrow, The Flash, and Supergirl by this point in its fourth season. The show that started out grim and hawk-tastic has become a bonkers and completely off-the-wall time travel adventure, and it provides even more escapism than Gotham.
Whether it's fluffy little Beebo expanding and taking out a time demon a la the Stay Puft Marshmallow Man in Ghostbusters or half the cast transforming into puppets because one of their ranks broke time, even diehard fans can never really predict what's going to happen. I never fail to get a laugh (or at least an entertained "WTF?!") out of an episode of Legends, and it can be an enjoyable break from the goings-on of the other Arrow-verse series.
Those are my Top 10 favorite series from 2018, but I couldn't finish this list without throwing in a very special honorable mention:
Honorable Mention: 2018 PyeongChang Olympic Games
The 2018 Olympics in PyeongChang may have run for less than three weeks, but they were three of my favorite weeks of 2018. Whether I was realizing how very bad I would be at the biathlon, wishing that Leslie Jones could score an official gig as an Olympics commentator for NBC, or forgetting that I wasn't supposed to be rooting for Canada in the ice dance event, I was invested from start to finish. Leslie Jones has not yet been named an official commentator for the 2020 Tokyo Olympics, and Canada's Tessa Virtue and Scott Moir have not yet signed on to star in a full-length figure skating adaptation of Moulin Rouge, yet I regret nothing.
With 2018 at an end, swing by our midseason TV premiere schedule for your early 2019 viewing options!