The 15 Lowest-Rated Marvel And DC Live-Action Comic Book TV Shows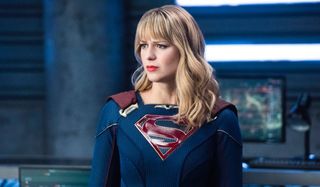 (Image credit: the cw press)
The rise of comic book TV shows has been swift and widespread, from network favorites like ABC's Agents of S.H.I.E.L.D. to a growing number of streaming options like DC Universe's Titans and Disney+'s future lineup of Marvel-related series. (The abundance of content has even inspired self-aware series commenting on the state of superhero TV, via HBO's Watchmen.) Of course, having so many high-quality adaptations out there necessarily means that the lower-quality comic book TV series stand out all the more glaringly.
Unsurprisingly, people on the Internet like to be critical of such TV programming (and just about everything else), so the nearly 70-year history of comic book television has been judged accordingly over the years on pop culture sites such as IMDb. Below, we have a list of the 15 lowest-rated TV shows based on Marvel and DC properties, as based on their IMDb scores. Note that we're ranking from "best" to the absolute worst, and we've also included the Rotten Tomatoes scores, which act as tiebreakers to keep things ranked accordingly.
Let's kick things off with TV's most recent Man of Steel series ahead of Tyler Hoechlin's upcoming CW spinoff Superman and Lois Lane.
15. Lois & Clark: The New Adventures of Superman (6.7)
Back in the post-Batman Returns days of 1993, ABC took a shot at superhero storytelling with Dean Cain and Teri Hatcher's Lois & Clark: The New Adventures of Superman. I mean, it says "Adventures" right there in the title! Unfortunately for some fans at the time who might have been hoping for mega-action that redeemed the failings of Superman IV on the big screen, Lois & Clark was more of a romantic dramedy with some action thrown in.
Though Lois & Clark's early days won over audiences, things got murky by the fourth season, which saw its audience plummet, in part due to shifts on the primetime schedule. Couple that with a reneged-on fifth season and an unexplained cliffhanger, and one can see why fans haven't held this show in the highest esteem.
Rotten Tomatoes Rating: 86% Fresh (97% Audience)
14. Powers (6.7)
Though Brian Michael Bendis and Michael Avon Oeming's cops-vs-villains super-series Powers started its life at Image Comics, it had already shifted to the Marvel imprint Icon Comics whenever its Playstation Network TV series came to life in 2015. Because of where it aired, it's hard to know what the ratings situation was like, but it's probably telling that the show only lasted for two 10-episode seasons.
Public reception for Powers wasn't so great when things started, but fans did appreciate the show more as it went along. Nevertheless, it got cancelled, and Playstation Network essentially ended its push for original scripted programming. That might not have been entirely caused by Powers' so-so quality, but it the Sharlto Copley-starring drama certainly didn't help.
Rotten Tomatoes Rating: 48% Rotten (81% Audience)
13. Shazam! (6.7)
DC and Warner Bros. found some major success with the character Shazam in 2019 with David F. Sandberg's film that had Zachary Levi in the titular role. However, the character's live-action history was far less remarkable, and it all started with CBS and Filmation's '70s Shazam!, which delivered three seasons of heroism that could only happen with 1970s budgets and effects.
The morally conscious Shazam! aired as part of CBS' Saturday morning programming blocks, so the series can't properly be compared to most primetime efforts as far as overall quality goes. But even for a Saturday morning show, Shazam! is mostly forgettable, even though it certainly hits some fans in the nostalgic feels.
Rotten Tomatoes Rating: N/A (63% Audience)
12. 1992's Human Target (6.7)
Eighteen years before Fox took a shot on Mark Valley's Christopher Chance – it was actually 20 years – ABC brought in musician Rick Springfield to play the lead in Human Target, based on the DC Comics title. The concept, which saw Springfield as an investigative enforcer becoming his clients through makeup and technology, was cool, but the show itself left a lot to be desired.
Eight episodes were produced in 1990; one of them was a pilot that never saw the light of day, and the other seven episodes went unaired until the summer of 1992. Reaction to the first episode was such that ABC shifted the next six episodes to air on Saturday nights. So while it's awesome to see Rick Springfield joining more current shows like True Detective and Supernatural, everyone can have few regrets about skipping out on Human Target.
Rotten Tomatoes Rating: 20% Rotten (N/A Audience)
11. Iron Fist (6.5)
As the fourth of Netflix's Marvel heroes get a live-action streaming series, the Finn Jones-starring Iron Fist had a lot to live up behind Daredevil, Jessica Jones and Luke Cage. Unfortunately, the somewhat rushed production resulted in a boredom-plagued first season that failed to impress the masses on many levels.
Though Finn Jones did redeem himself in The Defenders and other series cameos, Iron Fist Season 2 had a lot of the same issues as Season 1 in terms of pacing and keeping things exciting, but fans generally found it to be a marked improvement. Still, Netflix cancelled Iron Fist as part of its Marvel exodus, and any backlash over it got drowned out by Daredevil's fanbase.
Rotten Tomatoes Rating: 39% Rotten (73% Audience)
10. 1990's Swamp Thing (6.4)
DC Universe's short-lived 2019 iteration of Swamp Thing was on the opposite end of the quality spectrum from the 1990s series that aired on USA. The TV iteration followed the two theatrical Swamp Thing films, with creature actor Dick Durock reprising the role of the murky hero. And while his look as TV's Swamp Thing earned the show some praise, it basically ended there.
Which isn't to say that USA's Swamp Thing was a disaster by any stretch. In fact, it was one of the network's biggest hits at the time, with viewers tuning in regardless of how lackluster the critical reception was during its three seasons. But for anyone looking for enjoyably bad early '90s TV, Swamp Thing is a pretty solid contender.
Rotten Tomatoes Rating: N/A (N/A)
9. Birds of Prey (6.4)
Prior to the rise of the Arrow-verse, Warner Bros. and DC's TV collaborations resulted in shows like Smallville and, less memorably, Birds of Prey. Featuring characters that are set for big screen stardom in Cathy Yan's upcoming movie, The WB's Birds of Prey sounds amazing on paper, with Batgirl, Huntress, Harley Quinn and more hitting live-action for the first time in modern TV. (Not to discount the 1960's Batgirl, Yvonne Craig.)
Birds of Prey looked like a winner when it debuted, but the ratings quickly dropped, due to negative reactions to that first episode that didn't get a whole lot better with successive installments. It was eventually cancelled after 13 episodes, and has maintained something of a cult fandom over the years. In fact, Ashely Scott will be reprising the role of Helena Kyle for the Arrow-verse's upcoming "Crisis on Infinite Earths" crossover.
Rotten Tomatoes Rating: 52% Rotten (47% Audience)
8. Blade: The Series (6.3)
Considering the plummeting critical appeal of the Blade series by the time Blade: Trinity had finished its theatrical run, one might have thought it would take many years for the vampire hunter to get his own TV spinoff. But no, it was just 15 months later when Spike TV – clearly the best candidate for the job – ordered up a Blade TV show with hardcore rapper Sticky Fingaz in the lead role.
While there were some plusses to be found when looking hard enough – DC Comics icon Geoff Johns co-penned the pilot – there were many more faults that were readily recognizable. The star's performance was perhaps the most criticized one, since Sticky Fingaz's acting issues were all the more obvious when compared to Wesley Snipes' killer portrayal.
Rotten Tomatoes Rating: 50% Rotten (N/A)
7. The Amazing Spider-Man (6.3)
Spider-Man may now be the web-slinging hero that can do no wrong in any medium, but that wasn't always the case for the Stan Lee creation. One just needs to take a quick trip back to 1977, where CBS' The Amazing Spider-Man serves as proof of the character's anti-heyday, with actor Nicholas Hammond in the lead role.
To be fair, The Amazing Spider-Man did what it could with what it had, and its ratings were as amazing as the hero himself. The problem was, the show was doing too well with younger viewers, while older viewers were pretty much non-existent. Efforts to change narratives to appeal to older viewers just provided more reasons for viewers to complain about the lack of comic-sourced characters and plots, and CBS cancelled the show after its eight-episode second season, bringing the total number of episodes to just 13.
Rotten Tomatoes Rating: 20% Rotten (N/A)
6. Supergirl (6.3)
Power to CBS for trying to enter into the DC TV game with Melissa Benoist's Supergirl, even though the network had to pass the buck to The CW for Season 2 after the first-season ratings and critical reviews failed to fully justify the efforts. Over on a less-pressure-filled network, Supergirl got fully roped into the still-growing Arrow-verse, and settled into its groove.
Unfortunately, that groove still doesn't work for everyone, and even though Supergirl has taken strides each season to bring different forms of storytelling to the table, the show hasn't managed to find a way to turn its ratings issues around. Its presence on Netflix has certainly helped put more people's eyeballs on it, but it hasn't exactly convinced everyone to adore it whole-heartedly.
Rotten Tomatoes Rating: 85% Fresh (51% Audience)
5. Powerless (6.3)
With so much comic book drama out there, NBC and DC attempted to lighten the mood with the half-hour comedy Powerless, with Vanessa Hudgens and Alan Tudyk, which debuted a well-liked pilot at San Diego Comic-Con 2016. Unfortunately, that's when creator and showrunner Ben Queen exited the project, and the entire pilot and series concept was retooled.
The storyline changes eliminated some of the more amusing ways for Powerless to bring the DC Universe into the show, and viewers were far less kind to the revised version. Though the cast always seemed game to tackle whatever came their way, the narratives and joke-writing often had far less comedic punch than even those in comic book TV dramas. NBC felt the lack of energy surrounding the show and pulled Powerless from its schedule with three episodes left to go in the first season.
Rotten Tomatoes Rating: 61% Rotten (54% Audience)
4. Black Lightning (6.2)
As The CW's lone superhero standout from the Arrow-verse – at least until the "Crisis on Infinite Earths" crossover goes down – Black Lightning is (in some ways) a far more grounded show than the others. Not that groundedness always results in audiences being overwhelmingly pleased about what they're watching.
While critics have been by and away enthused by what Black Lightning brings to the superhero table by way of racial and social issues, those same positive impressions seemingly haven't been experienced by viewers across the board. Those who have been more underwhelmed by Black Lightning call out the show's stereotypes and under-written characters, as well as its politicization. Just about everyone agrees that Cress Williams is great, though.
Rotten Tomatoes Rating: 95% Fresh (47% Audience)
3. Superboy (6.2)
One advantage to crafting comic book adaptations is that there is no shortage of characters to focus on, and 1988 was the year when the quasi-prequel Superboy hit TVs in syndication, with John Haymes Newton, and then Gerard Christopher, as the titular hero. The main actor definitely wasn't the only change-up to go down between seasons, either, with many alterations going down in its first three years on the air.
Superboy was extremely popular, but reception for the show was pretty dismal throughout, and the show's DVD releases and streaming episodes prove that time has not been kind to this project at all. From flat acting to poorly envisioned productions to ill-plotted scripts, Superboy ran the gamut of bad comic book TV, yet still lasted for four seasons before being part of a legal battle with Warner Bros. (Which is perhaps more enjoyable to read about than Superboy itself.)
Rotten Tomatoes Rating: N/A (N/A)
2. Mutant X (6.0)
Back in 2001, Marvel Studios co-founder and mega-producer Avi Arad decided to build upon the success of the X-Men feature and years of superhero animated series by creating a live-action TV show that opted for mutant sci-fi over capes and cowls. To be sure, the Marvel Studios-produced Mutant X isn't REALLY based on any mutant-centered comic book properties – wink, wink – and legitimately had nothing to do with the similarly titled Mutant X comic series.
However, 20th Century Fox (who owned the X-Men rights) sued the Mutant X producers over similarities to the well-established comic line of mutants, and judges only allowed the TV series to continue production barring absolutely zero elements were used that could be construed as X-Men-related. As such Mutant X had to undergo a number of big changes for both characters and plotlines. The show abruptly ended after three seasons due to one of its production companies going under, and the last episode's big cliffhanger never got properly resolved. And for everyone's effort, Mutant X barely held up even at the time due to a limited budget and repetitive subject matter.
Rotten Tomatoes Rating: N/A (N/A)
1. Inhumans (5.0)
Here we are, everyone. The lowest-rated Marvel or DC comic book TV show is one that hit primetime literally just over two years before these words were written. ABC's Inhumans, a project that started its live-action transition as a feature film, may very well go down as one of the worst-received comic book adaptations in any medium.
Despite having a solid cast – including Anson Mount, Iwan Rheon, Serinda Swan and more – and a pretty giant budget for its eight-episode season, Marvel's Inhumans started earning audience ire as soon as fans caught wind of what everything and everyone looked like. While one might not have previously thought an entire fanbase could turn tides based just on a wig and CGI hair, Medusa's locks made a strong case. Had the episodes been exciting enough to upend the early backlash, it would have been impressive, but Inhumans only managed to bore many of the people who faithfully tuned in week after week. That debacle marked the beginning of a rough run for Marvel TV, too.
Rotten Tomatoes Rating: 11% Rotten (45% Audience)
Surely there were some picks in this list that you guys have some strong feelings about. It's worth noting, too, that except for Inhumans, all of the shows on this list still have a rating that's above the 5.0 average, so that's saying something. (Granted, it takes a lot for a show to dip below a 5 on IMDb, but still.)
Let us know what you guys think, and check out the comic book shows that are still yet to air in 2019.
Nick is a Cajun Country native, and is often asked why he doesn't sound like that's the case. His love for his wife and daughters is almost equaled by his love of gasp-for-breath laughter and gasp-for-breath horror. A lifetime spent in the vicinity of a television screen led to his current dream job, as well as his knowledge of too many TV themes and ad jingles.
Your Daily Blend of Entertainment News
Thank you for signing up to CinemaBlend. You will receive a verification email shortly.
There was a problem. Please refresh the page and try again.