I Watched Star Wars' First Footage Of The Mandalorian, And I'm Completely On Board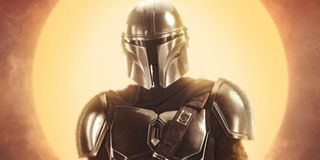 In less than a week, Disney+ will be officially among the chaos of streaming platforms. The new service has many offerings going for it: old favorites from the studio, Avengers: Endgame coming day one, and tons of original content as well. But the most highly-anticipated production coming to Disney+ is easily the first live-action Star Wars series ever, The Mandalorian.
Along with select press, I recently attended a Disney+ event in Los Angeles where they showed us 27 minutes of footage from The Mandalorian, scattered over three episodes of the show. Besides the trailers, it is the most that has been shown from the television show ahead of its premiere on November 12.
Beware! The first footage was incredible. It was not heavy on spoilers by any means and left me with more questions about the show. Yet, it was everything I needed to get me completely intrigued and on board for what's to come in the eight-episode first season of The Mandalorian. I haven't been this excited about Star Wars since the months leading up to Force Awakens! Here's why:
The Mandalorian Looks Expensive And Cinematic
We're living in a golden age of high-quality television, but that doesn't mean we could guess how Disney was going to approach the first live-action Star Wars series. Disney+ is a brand new platform and with The Mandalorian, it looks to be establishing itself as a premium service with content comparable to its big-budget, big-screen counterparts. The money is certainly there with regard to the show – with a reported average of $15 million being poured into each episode, for a rough total production budget of $120 million. And yes, it shows!
I'm almost bummed I won't be seeing The Mandalorian in theaters because the footage is gorgeous and definitely movie quality. Its aesthetics are reminiscent of the original trilogy complete with binary sunsets, dingy saloons, and a certain western-inspired ruggedness to it. Creator Jon Favreau (Iron Man, Jungle Book, The Lion King) looks to have pulled all the visual stops here. It has an approachability to it that often gets lost in the CGI-heavy spectacles and countless characters of today's Star Wars movies. It still feels like the galaxy far, far away but audiences get to look through a different lens here. The one of a bounty hunter living in a universe unswept by magical stories of Jedi knights or charming princesses.
Pedro Pascal's Mandalorian Is Mysterious And Intriguing
Speaking of bounty hunters – what I saw regarding Pedro Pascal's titular character in the footage is what interests me the most about this series. He seems to be an onion that the audience will get to gently peel off as The Mandalorian continues over the next few months. There's something inherently brilliant about a character of this nature. To follow a "hero" of sorts without a face to look upon (and therefore without expressions) and attempt to sympathize or understand his motivations is just a fun and unique set up.
And Pedro Pascal succeeds so far in giving off a particular energy to the character. He very much has the quiet lure and tension Clint Eastwood famously created in westerns like A Fistful Of Dollars. A memorable tune even follows him as he comes into frame. It's not cheesy – Black Panther composer Ludwig Göransson has epically crafted its music. Audiences follow him as he goes on his routine bounty hunts. There seems to be tons of excitement here to explore as he travels on missions in saloons, creature-filled desserts and across space.
But there's a sense of ease to his work. Everything is a kind of reflex. So far, he seems to be someone pushed around by the lawless galaxy, too. He's up for a challenge and the show certainly teases a big one coming as he takes a higher stakes hit early on. As his talents are tested, it will be interesting to see his own layers be revealed as well.
The Tone Of The Mandalorian Strikes A Nice Balance Between Fun And Grit
Going into The Mandalorian, another question you might be asking is about its tone. The Star Wars franchise has always been family friendly but this is a streaming platform show with a bounty hunter at its center. What does one even expect on this front? I'm happy to report the show gracefully strikes a balance. At times it feels like a fun lighthearted show you'd enjoy when you were younger, arousing perhaps a bit of nostalgia in older Star Wars fans. In the first couple scenes (I assume) from the first episode, Pedro Pascal's character captures a bounty job who likes to run his mouth, ask him personal questions and attempts to escape. I was not expecting it to be as funny as it was.
Within similar moments come sequences with cutting-edge fights – one that leaves a person smashed in between the sliding doors of the saloon (shown in the trailers). It's no blood bath, but the edits are cut close enough for the punches and blasts to have an impact on audiences too. So while there are fun quips and lighthearted moments in between, there's a much-needed edge to The Mandalorian that doesn't seem to hold back. Don't expect Game of Thrones here… remember this is Disney+, but perhaps more ballsy than a network might treat a Star Wars show.
It's All In The Details On The Mandalorian
Considering the franchise's near 50-year history, Star Wars fans love the dissection of the established stories and payoff for their attention to detail, not unlike the world Kevin Feige has created with the MCU. Another exciting bit about Mandalorian is its attention here. There are nods to the Star Wars Holiday Special. I was not expecting it to go quite there, were you? When it was mentioned during the press conference to Jon Favreau after the footage was viewed, the Mandalorian creator said he was always naturally finding himself placing tidbits in the script, also in hopes Dave Filoni (Clone Wars, Star Wars Rebels) would catch it. Favreau clearly loves the lore and he's bringing it to the show, big time!
There's also something to unpack regarding the fact that the footage I saw was purposefully scattered across episodes. This means The Mandalorian is probably going come in hot and start getting into its larger and exciting arc early on. Considering the vast lore surrounding Mandalore, there's certainly a ton of ways the show could connect with other entries in the franchise and provide answers (possibly regarding Star Wars Rebels?) fans have been looking for.
Excited yet? The first episode of The Mandalorian will be available on Disney+ at launch on November 12.
YA genre tribute. Horror May Queen. Word webslinger. All her writing should be read in Sarah Connor's Terminator 2 voice over.
Your Daily Blend of Entertainment News
Thank you for signing up to CinemaBlend. You will receive a verification email shortly.
There was a problem. Please refresh the page and try again.