Had Vanna White Ever Hosted Wheel Of Fortune Before Friday?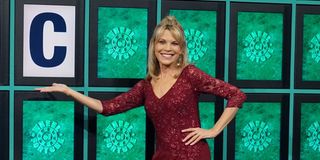 When a health emergency occurs, it's always good to have a co-worker capable of filling in for you. Such was the case when long-time Wheel of Fortune host Pat Sajak had to have emergency surgery last week due to a blocked intestine. While last Thursday's taping of the show was cancelled, Vanna White stepped in for her sick co-worker the very next day. But, had Vanna White ever hosted Wheel of Fortune before Friday? Yes, she definitely has.
Vanna White has long been known as the letter-turning co-host on Wheel of Fortune. But, in the 36 years she's been on the game show, I can't recall her stepping into the role of host, that doesn't mean it hasn't happened, though. As it turns out, the game show star has actually filled in for Pat Sajak once before. Interestingly, it was also because of a medical reason.
The game show star, whose beautiful gowns are always to die for, took over hosting duties when Pat Sajak was out with laryngitis. According to ABC News, Vanna White, who claims she's only had one major argument with Sajak in the decades they've worked together, hosted Wheel of Fortune for one segment back in 1996.
Ok, great; so there's precedent for her taking over as host while Pat Sajak heals from his emergency surgery. It makes sense that Vanna White would step in and I'm sure Sajak would do the same for her should she ever need to be out for health reasons. Hosting a game show can be rough, but Wheel of Fortune benefits from having two stars instead of one.
Though Pat Sajak's surgery was successful, he will be taking two weeks off to recuperate. That means Vanna White will be hosting for much longer than just one segment. She's a pro and a natural, though, and I'm sure she'll do a great job.
The game show is currently taping Disney Week in their Los Angeles Studios. So, while Vanna White hosts, she will be joined by none other than Mickey Mouse, who's stepping into White's letter-turning role. It's unclear whether the famous Disney mouse will be filling in for White for the entire two weeks or if Wheel of Fortune will have to find another substitute, but there are plenty of options out there.
The Wheel of Fortune episodes that began taping last week will begin airing December 9, so be sure to check your local listings for times and stations. Stay tuned to CinemaBlend to see how Vanna White fares as host for the first time in over two decades. Hopefully, contestants won't find the puzzles too hard to solve the way they did a few weeks ago.
In the meantime, be sure to check out our complete guide to every fall TV show premiering through the end of the year.
Your Daily Blend of Entertainment News
Thank you for signing up to CinemaBlend. You will receive a verification email shortly.
There was a problem. Please refresh the page and try again.