Arrow's Final Episode Script Has A Bittersweet Title, Hints At 'Possibility'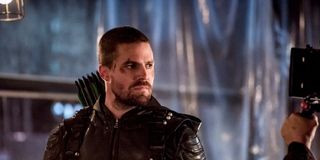 After eight seasons, Arrow is finally coming to an end and it's a bittersweet feeling. While Stephen Amell has already booked his next gig (the Starz drama Heels), the legacy of the series will live on in the spinoff, Green Arrow and the Canaries, which will follow the adventures of Oliver and Felicity's daughter, Mia (Katherine McNamara), Earth-2 Laurel Lance (Katie Cassidy Rogers), Dinah Drake (Juliana Harkavy). Before all that though, Arrow's executive producer Marc Guggenheim teased fans with the title of the series finale and it hints at "possibility."
Season 8 of Arrow will be its shortest yet, with The CW having ordered only 10 episodes to wrap up the show. So far, Season 8 has focused on Oliver Queen's mission for The Monitor (LaMonica Garrett) ahead of the upcoming "Crisis on Infinite Earths" crossover.
The season has also served as a farewell tour of sorts. In the Season 8 premiere (titled "Starling City") the show brought back Susanna Thompson's Moira Queen and Colin O'Donnell's Tommy Merlyn, while Season 8, Episode 2 sent Oliver back to Hong Kong. While there, he reconnected with Rila Fukushima's Tatsu.
The Arrow writers have also been posting a lot about the ending of the series, dropping dialogue teases and titles for upcoming episodes. Perhaps the most tantalizing tease yet comes from former Arrow showrunner Marc Guggenheim, who dropped the title of the series finale. It's aptly titled, "Fadeout."
Now, usually only the script's front page is what's released so as to avoid any and all spoilers, but Marc Guggenheim went a step further this time and also posted the last page from the script. Most of the sentence is blacked out and it's unclear if it's actually dialogue, but the final words on the page are "Of possibility…" before the scene fades to black.
This definitely indicates the series may end on a somewhat hopeful note, which ties into what Stephen Amell said at Comic-Con earlier this year. Given that Arrow will carry on for two episodes after the conclusion to "Crisis on Infinite Earths," it's possible Oliver does survive. After all, it's not like The Monitor said the Green Arrow has to die, which is what the cosmic being told Barry Allen over on The Flash, but the implication has always been there.
Oliver's death was confirmed in the Season 7 finale, though, when Felicity (Emily Bett Rickards), Mia, and William (Ben Lewis) gathered around his gravestone. Felicity later left with The Monitor, presumably to go be with Oliver, so it's possible he isn't gone forever.
Regardless of what happens, it's nice to know that Arrow's eight-season run ends with a glimmering hope of what the future will bring. That future could also include a comic book accurate depiction of Oliver Queen's facial hair before it's all over.
Arrow Season 8 airs Tuesdays at 9 p.m. ET on The CW. For more on what to watch this fall, be sure to check out our complete guide to every new and returning show premiering through November.
Your Daily Blend of Entertainment News