Titans Star Reveals How Superboy And Nightwing Play Into Season 2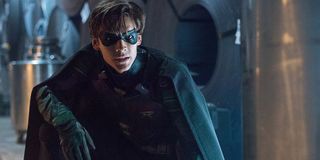 Titans Season 2, Episode 6 is set to introduce Joshua Orpin's Superboy and it looks like Brenton Thwaites' Dick Grayson, the not-yet Nightwing, will continue to follow in Bruce Wayne's footsteps by taking him in. Titans Tower has become a bit of a home for lost kids — Gar and Rachel among them. However, Thwaites teased that Superboy's relationship with Dick will be different and that fans should expect him to finally suit up as Nightwing soon.
Speaking with Entertainment Weekly, Brenton Thwaites, who also portrayed Will and Elizabeth's son in Pirates of the Caribbean: Dead Men Tell No Tales, expanded on the kind of relationship Dick and Superboy will have.
Considering how affected Dick was by Bruce's parenting, it makes sense that he'd want to do things differently with Superboy. Dick's been a decent father-figure to both Gar and Rachel. The only difference is that they've never had an issue with their identity, so Dick can relate to Superboy on a personal level.
While the introduction of Superboy is good and all, what about Nightwing? I've been waiting for Titans to go all in on Dick's updated alter-ego since the first season. Dick spent most of Season 1 being angry with Bruce and staying away from his Robin suit, so it's time for the next stage in his life. Here's what Thwaites had to say about that potential development:
While it's unclear what, exactly, will fuel Dick enough to become Nightwing, Titans has vaguely alluded to his eventual transformation. At this point, though, it probably won't happen until near the end of the season.
Season 2, Episode 5 saw Anna Diop's Kory return to the team, holding off on her trip back to her home planet of Tamaran. She came back just in time for Dick to go after Esai Morales' Deathstroke in hopes of a trade. Instead of turning over Slade Wilson's daughter, Rose, in exchange for Jason, Dick offered up himself. Deathstroke didn't like that offer and sent Jason plummeting to his death, all while Dick and the rest of the Titans looked on in horror.
Don't worry, though, Jason won't die; especially not after Curran Walters was promoted to series regular in Season 2. Kory can fly, so it would be a great way to activate those particular powers and save Jason all at once.
We'll find out when Titans returns with a new episode this Friday, October 11 on DC Universe. In the meantime, be sure to check out the rest of the fall TV slate with our complete guide to every new and returning show premiering through November.
Your Daily Blend of Entertainment News