Titans' Deathstroke: Esai Morales Is Pumped to Play 'Such A Badass' In Season 2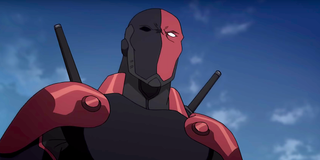 Titans is gearing up for its Season 2 launch this week, and Trigon will have some competition in the villain department. As the new big bad of the season, Esai Morales will be playing the popular DC Comics villain Slade Wilson, famously known by the moniker Deathstroke. Morales is "thrilled" to be playing one of DC's best villains and is sharing his elation for Deathstroke and Season 2 of Titans.
Fans first glimpsed Slade Wilson in action in the Season 2 trailer of Titans, and Esai Morales' presence was very much a standout element, though he didn't appear for long. DC Universe, the streaming service dedicated to all things DC Comics in live-action, released a poster showcasing Morales in full costume not long after the trailer's release, and many fans approved of the look. In a comment left in the Facebook group dedicated to the DC Universe series, Morales wrote about the great experience he had playing Deathstroke, and thanked fans for being so supportive. In his words:
Morales' energy is contagious and fans can't help being excited for the new season of Titans. While there isn't much to know about what Season 2 holds just yet, we can count on Deathstroke essentially replacing the demonic Trigon as the season's villain, with the latter getting dispatched early on. It'll be a Wilson family affair, too, as Deathstroke's children Ravager and Jericho will also be joining their father in wreaking havoc on the Titans.
The character of Deathstroke is no stranger to live-action, and he also had a significant role in the animated series Teen Titans. Onscreen, the notorious big bad has been played by the fan-beloved Manu Bennett, who eventually went head-to-head with Arrow's Oliver Queen. The two weren't always enemies, but after taking the Mirakuru drug, Slade Wilson began to show violent tendencies, eventually becoming the Deathstroke we all know.
In the DC Extended Universe, Deathstroke was played by Joe Manganiello, who appeared in a post-credits scene in Justice League. Though his role was seemingly dropped in Warner Bros. reconfiguration of its film universe, Manganiello recently took to Instagram to tease the character once more.
Titans Season 2 premiere is available to stream Friday, October 6 on DC Universe. Want to know what else is coming to your living room this fall? Check out our complete list of the fall TV schedule and mark your calendars.
Your Daily Blend of Entertainment News
Your Daily Blend of Entertainment News
Thank you for signing up to CinemaBlend. You will receive a verification email shortly.
There was a problem. Please refresh the page and try again.