The Mandalorian: What The Various Cast Members Really Think About Star Wars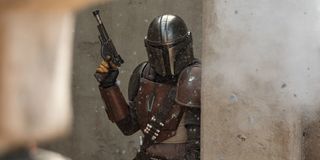 Everyone and their brother has an opinion on Star Wars. The space opera saga has become an indelible piece of our pop culture lexicon. There are folks out there who can name characters in this well-established franchise quicker than they can recall the names of their own family members, and the legacy of George Lucas' creation continues with the recent premiere of Disney+'s The Mandalorian, which has largely received a warm response.
But just because you're a part of a well-beloved, world (or should we say galaxy)-recognized, highly lucrative franchise doesn't mean you have to love the property or its legacy — as the glittery cast of the streaming series has proven several times throughout the press cycle for the much-hyped show.
That's right, there are at least a few cast members of the popular new streaming series who have gone on record to say that they're not the biggest Star Wars fans. That's not necessarily uncommon. Alec Guinness, i.e. Obi-Wan Kenobi in the original Star Wars, famously detested the hit movie. And there are several folks involved with the Star Wars prequels who have gone on to say not-very-nice things about those contested prequels, including Ewan McGregor. What is it with the Obi-Wans? No matter.
The point is, you don't have to love Star Wars to show up on set and make your presence known in the ever-growing franchise. And that's not to say that everyone involved dislikes Star Wars. Far from it, in fact. Let's take a moment to see what the cast of The Mandalorian has to say about Star Wars, based on collected interviews and various other discussions forms with the ensemble.
Bill Burr (TBA)
Bill Burr is perfectly blunt when it comes to his opinions. It's one of the many reasons why people love him. The irreverent comedian isn't shy about speaking his mind, even if it goes against the general consensus, and that's certainly true about Star Wars. The comic has been open about his total disregard for the Star Wars franchise, admitting that he didn't watch the movies as a child and never got the fandom when he later watched them as an adult. Burr was particularly volatile against the space saga franchise when he appeared on Conan in 2015, mere days before The Force Awakens stormed its way into the world. Check out his heightened appearance:
As someone who has publicly dismissed both Star Wars and its fanbase, it's surprising — to say the least — that Bill Burr wound up playing a part in such a prominent new Star Wars project. Nevertheless, as the actor/comedian revealed in the podcast The Last Laugh, Michael Binder, the director of his Netflix special Paper Tiger, is friends with The Mandalorian's showrunner Jon Favreau.
The comedian and the writer/director then wound up at a birthday party together, where Jon Favreau revealed that he had a role in the series that would be a good fit for Bill Burr. The comedian was upfront about his history of making fun of Star Wars, but Favreau said he would be funny if he decided to join for that reason. Once Burr agreed to do it though, his tune started to change. He claimed that the show is "so fucking badass." So whether or not Burr likes Star Wars, he's happy to be doing The Mandalorian. Furthermore, Bill Burr claimed in a separate interview with Metro that he isn't actually that negative on the franchise. In fact, the comedian admits that he's actually "a fan."
So basically, the comedian just ballooned anything negative he had to say for his bits because he wanted to get a rise of people. Classic Bill Burr.
Gina Carano (Cara Dune)
Gina Carano has scored some major parts over the years in movies like Haywire and Deadpool, to name a mere couple, but the former MMA fighter received her biggest acting role to date in Disney+'s The Mandolorian playing the character Cara Dune. The athlete-turned-actress is extremely excited for the opportunity, and Carano claimed in an interview with Us Magazine that she believes Star Wars is such a humungous part of pop culture for a damn good reason, particularly since nearly everyone connects with the legacy and the themes in some fashion or another (besides Bill Burr, naturally).
Gina Carano said she would likely have taken any part that was given to her just to be in this universe, but when she saw what Jon Favreau had in mind for her, she cried with excitement. Here's hoping fans get that emotional for her character's arc this season.
Taika Waititi (IG-11)
Taika Waititi is better known for his work as a filmmaker, especially at the helm of movies like What We Do In The Shadows, Thor: Ragnarok, and, most recently, Jojo Rabbit. But as anyone who has seen those projects will know, Waititi is an actor as well, and he provides his voice to the role of IG-11 in The Mandolorian. The New Zealand multi-talent was incredibly honored for the opportunity to appear in this Star Wars series
Taika Waititi also expressed his vast appreciation for the opportunity to direct an episode of The Mandalorian, in addition to lending his voice to this key role, in that same interview. He further told Joe.ie that he'd love the opportunity to direct a Star Wars movie as well, should he be given the keys to such a major property. Just imagine Star Wars characters with Ragnarok-esque insanity.
Werner Herzog (The Client)
The man, the myth, and the legend Werner Herzog is one of arthouse cinema's greatest treasures. That's what makes his odd involvement in The Mandalorian all the more perplexing... and fascinating, especially for movie lovers. Who could possibly imagine in their wildest dreams the absurd thought of Herzog appearing in a Star Wars project? Nevertheless, the auteur is involved, and he made a hell of an impression in the first episode. But it shouldn't be too surprising that the German director doesn't necessarily have a long, lasting relationship to the Star Wars movies.
Sure enough, the famed filmmaker admitted in a Variety interview that his familiarity with the science fantasy property and the work of showrunner Jon Favreau was low before he agreed to appear in this new Disney+ streaming series. But he also admitted that it wasn't due to a lack of interest. Rather, Werner Herzog says he prefers to dive into a book rather than go to the movies, even despite his established career as a hard-working filmmaker. Also, it should be noted that Herzog doesn't believe that watching the movie and diving into the thick lore of Star Wars was necessary to play this new part.
That said, in a later interview with Deadline, Werner Herzog went on to say that he considered The Mandalorian to be "cinema at its best." So the legendary German filmmaker clearly was appreciative of the work he was doing in the streaming exclusive series. He also praised the big vision of showrunner Jon Favreau. Therefore, even though he might not be familiar with the franchise or Favreau's other movies, he clearly liked the work done.
Carl Weathers (Greef Karga)
A veteran actor with a prolific career, Carl Weathers is an immense talent, and he's one of the many actors who appear in The Mandolorian. But where does he stand on Star Wars? Admittedly, his relationship with George Lucas' famous property is a little more in-depth compared to Bill Burr and Werner Herzog. In an interview with Extra Butter, Weathers admitted that he saw the original movie in San Fransisco, and the actor thinks it's "cool" to be part of such a major franchise several years later.
Carl Weathers claims that being involved in Star Wars means that you're in "the capsule" of pop culture, and that he'll live forever thanks to his involvement with such a major property. That would already be the case with something like Rocky, though. Here's what Carl Weathers said in an interview with ComicBook.com.
Moreover, Carl Weathers is not only taken aback by his involvement in the Star Wars property, but by Jon Favreau's vision as well. He's really impressed with what The Mandalorian was able to accomplish so far, and the actor feels honored to be involved with something this massive in scope and scale.
Pedro Pascal (The Mandalorian)
It's always a big deal when you get the lead role in a new Star Wars property. Sure enough, Pedro Pascal was given the opportunity to lead The Mandalorian in Disney+'s first original Star Wars series. The only catch is, he'll need to wear a helmet over his head for at least the majority of the show's runtime. Count your blessings, one supposes. Regardless, it's an incredibly thrilling and humbling opportunity for the Game of Thrones actor.
Pedro Pascal certainly agrees with that sentiment. He expressed his wealth of appreciation for the cast and crew during the final days of shooting on his Instagram page. Moreover, he admitted that he's a fan of the franchise, particularly when he admitted in an interview with Disney 23 Magazine (via ComicBookMovie.com) that when he first met with Jon Favreau, he thought he would be offered the part of another famed bounty hunter. In his words:
It may not be Boba Fett, but it's a grand opportunity for the rising actor nonetheless, and Pascal is happy for this privilege.
These are only a few of the actors involved with The Mandolorian, and we're sure everyone involved has their own respective opinions on the franchise and it's long-standing legacy. Whether or not they love Star Wars, everyone involved hopes that you take the time to check out this show on Disney+ while waiting for other great shows to arrive.
Your Daily Blend of Entertainment News
Will is an entertainment writer based in Pittsburgh, PA. His writing can also be found in The Playlist, Cut Print Film, We Got This Covered, The Young Folks, Slate and other outlets. He also co-hosts the weekly film/TV podcast Cinemaholics with Jon Negroni and he likes to think he's a professional Garfield enthusiast.