Fuller House: Why The Mary-Kate And Ashley Cameo Never Happened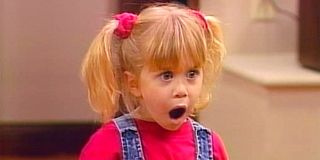 For the past four years, TV audiences have gotten get reacquainted with the extended Tanner family with Netflix's highly-watched sitcom Fuller House. Following the younger generation from ABC's '80s/'90s TGIF series Full House, the streaming sequel has allowed viewers everywhere to catch up with many of their favorite characters...with one noted exception. Notably absent from Fuller House have been Mary-Kate and Ashley Olsen. The famous twins have not made any Michelle Tanner appearances on the sitcom to date, not even a cameo. And that's apparently not set to change anytime soon, even with the fifth and final season on the horizon.
Full House turned Mary-Kate and Ashley Olsen into household names, but the sisters have been hesitant to make any appearances on the Netflix series, much to the surprise and disappointment of many viewers. We can't rule out the possibility of a brief appearance from the celebrity twins in the series finale – that's purely hypothetical and not based on any rumors or speculation – but it's looking more likely that the former child actresses will continue to keep their distance from Fuller House. The Fuller-Tanner house might be a bit too crowded for their tastes already.
For those wanting to get a bit more insight into the twins' absence, Fuller House producers and stars have been forthright about at least some of the reasons why the world-famous twins have not guest-starred on the hit show.
The Producers Claim That The Olsens Aren't Comfortable With Appearing On The Show
As mentioned earlier, the show's executive producers have spoken up regarding Mary-Kate and Ashley Olsen's stark absence on Fuller House. Here, we're specifically talking about producer Bob Boyett. As it turns out, the Netflix series' execs definitely wanted the twins to return in some capacity or another. It's a no-brainer, after all. But it's an uphill battle, notably since the Olsen twins have stopped acting over the years — particularly after Hollywood dominated their adolescence.
For Ashley Olsen in particular, it has been nearly 15 years since she starred in New York Minute, which was her last acting project outside of a few brief cameos in select movies, and an appearance in a 30 Seconds to Mars music video. Mary-Kate Olsen, meanwhile, worked on a few productions away from her celebrity twin sister, including The Wackness, Weeds, Factory Girl, Samantha Who? and Beastly. But Mary-Kate also stopped appearing in movies and TV shows back in 2011. Ultimately, neither Olsen twin has expressed any real interest in returning to acting. Here's a 2016 quote from Bob Boyett:
After they left the acting business, Mary-Kate and Ashley Olsen continued focusing their time and efforts on fashion businesses in New York. Because Fuller House is filmed in on the opposite coast in Los Angeles, and because the twins don't have a strong desire to act, the producers couldn't convince the former child stars to return to their star-making role. While the producers tried their best to convince the twins to make an appearance on the show, the Olsens declined this opportunity.
Dave Coulier Thinks Olsen Twins Don't Share Nostalgia For Full House Like (Former) Co-Stars
Over the years, it has been a hot topic for interviewers to discuss the lack of Olsen twins in Fuller House. A number of actors from both shows have gone on record about the twins' decision not to star in the show, while also offering their own opinions on the matter. One such example is Dave Coulier, who plays comedian Joey Gladstone on Fuller House. During an interview with People, the sitcom star admitted that the Olsens are "family," but because they were young children during their tenure on Fuller House, they might not have the same nostalgia that the rest of the ensemble has for the series.
In that sense, it is somewhat hard to feel the same way about things as an adult as you did as a kid. Whether you're dealing with books, movies, toys or starring in hit primetime sitcoms, And so Mary Kate and Ashley Olsen might not have all the warm feelings that everyone else can pull up at random.
Candace Cameron Bure Claims The Olsen Twins Will "Never" Appear On Fuller House
In the time between those initial 2016 quotes and now, there was possibly some hope that the Olsen twins might change their minds (or their schedules) and find a way onto Fuller House. But with each consecutive season, the Olsen twins are nowhere to be found on the sitcom. With Fuller House on its way out of Netflix's door, it seems that one member of the cast isn't afraid to be perfectly blunt about the missing Olsen twins. That would be Candace Cameron Bure, who plays widowed matriarch D.J. Tanner-Fuller. During a red carpet event, the actress said the following to Us Weekly.
That's certainly a pointed answer. Suffice to say, Candance Cameron Bure doesn't want any room for speculation. She believes there will never be a day where the Olsen twins appear on the set of Fuller House. One may wonder if this is a diversion, of course, but it sounds pretty definitive.
Bob Saget Believes That People Should Do What They Want To Do, Including The Olsen Twins
Furthermore, Bob Saget has opened up about the lack of Olsen twins on Fuller House, but he hosts no bitterness or hostility about their decision. Rather, the comedian is accepting of their decision, believing that the celebrities should only do the show if they want to do it or can find the time to make it happen. While he wasn't sure if it would ever happen, he expressed his understanding and acceptance of their decision to stay away from Fuller House.
These aren't the only quotes from the cast of Fuller House on the matter, but they each seem to reflect similar sentiments about their former co-stars. It's clear that, while seemingly everyone involved would be interested in reconnecting with the Olsen twins through this show, they are all accepting — or, at least, understanding — of the decision by the former child stars to say no. And it's the Olsens' decision at the end of the day, after all.
We haven't seen what Season 5 of Fuller House will hold, but that'll change when the first half of the 18-episode season premieres on Friday, December 6th, followed by the second half of the season later in 2020. Should we expect to see the Olsens, despite what Candace Cameron Bure said? It seems unlikely, but who knows for sure? The answer will be revealed in the months set to come.
Will is an entertainment writer based in Pittsburgh, PA. His writing can also be found in The Playlist, Cut Print Film, We Got This Covered, The Young Folks, Slate and other outlets. He also co-hosts the weekly film/TV podcast Cinemaholics with Jon Negroni and he likes to think he's a professional Garfield enthusiast.
Your Daily Blend of Entertainment News
Thank you for signing up to CinemaBlend. You will receive a verification email shortly.
There was a problem. Please refresh the page and try again.