Netflix Is Facing Backlash Over Special With Gay Jesus And Weed-Smoking Mary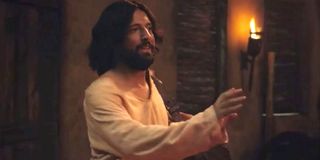 'Tis the holiday season and with it comes a ton of Christmas movies and specials that bank on the wholehearted goodness and cheer of the season. That's not what the comedy special The First Temptation of Christ went for, though, and Netflix is now facing backlash over the special that includes gay Jesus and a weed-smoking Mary.
Over 1 million angry Netflix subscribers offended by The First Temptation of Christ's depiction of Jesus have signed a petition calling for Netflix to stop streaming the comedy special, accusing the satire of "seriously offending Christians." The goal is to get the petition signed by at least 3 million people and to have Porta dos Fundos to "be held responsible for the crime of villainous faith."
The special, which comes from the Brazil-based YouTube group called Porta dos Fundos (which translates to backdoor in English), is a 46-minute long satire that sees Jesus reuniting with Mary and Joseph at their home. Much to his surprise, they've thrown him a birthday party. In tow is his friend Orlando, whose portrayal is openly flamboyant, garnering the suspicious looks of Mary and Joseph's houseguests.
Fuming viewers left several comments. "Whoever disrespects my God does not deserve my money," wrote one commentor. The controversy became widespread enough that Brazilian pastor and congressman Marco Feliciano lashed out on Twitter against the comedy special. Here's what he said:
Despite all the outrage, Porta dos Fundos poked fun at the the controversy and took to Twitter to share a second petition, calling The First Temptation of Christ "tragic and sad." After all, this isn't the first Jesus-centric satire they've done. Last year's The Last Hangover, which included a very drunk Last Supper, even won the International Emmy Award for best comedy web television special. You can check out their response to the backlash below.
In a statement made to The New York Daily News, the Brazil-based YouTube group, which has over 16 million subscribers, had this to say about the backlash:
While the streaming giant hasn't formally responded to the backlash, representatives say the company is investigating. You can watch the trailer for the controversial comedy special below.
The First Temptation of Christ is still available to stream on Netflix. For more on what to watch on both cable and streaming, be sure to check out our guide to all the shows returning in 2020 with our midseason schedule.
Your Daily Blend of Entertainment News
Your Daily Blend of Entertainment News
Thank you for signing up to CinemaBlend. You will receive a verification email shortly.
There was a problem. Please refresh the page and try again.