Looks Like Empire Might Bring Jussie Smollett Back As Jamal After All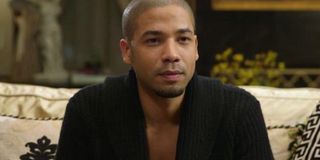 Earlier this year, Jussie Smollett's offscreen scandal threatened to overshadow his work on Empire. After all was said and done, Empire execs decided it was best to part ways with the actor, writing Jamal out of the show completely and explaining that he was on sabbatical from his family. However, it looks like Empire might bring Smollett back as Jamal after all.
When it was being reported that Empire's writers were already preparing for Jussie Smollett's return in Season 6, Lee Daniels shut that down by tweeting that the actor would not be returning to the Fox drama. It seemed final. Now that the series is almost halfway through Season 6, Empire showrunner Brett Mahoney suggests that the decision to bring back Smollett isn't completely off the table anymore. Here's what he told TVLine regarding Jamal's possible return:
Empire's sixth and final season is fast approaching and Jamal has been a big part of the series from the beginning. So, it's understandable that discussions about his return are at least being had. It would actually be more shocking if Season 6 wrapped without so much as a mention of Jamal.
Jussie Smollett was initially written out of the series following his controversial and high-profile arrest. Prior to that, Smollett alleged that he was attacked by two men wearing MAGA hats who used racial and homophobic slurs. Smollett was later charged with falsifying the attack, though the charges against him were dropped in March of this year.
Before Jussie Smollett was officially out at Empire, there had been no plans to write him off of the show. However, after the series was renewed for Season 6, it was clear that Smollett wasn't coming back. It's nice to see that this decision wasn't set in stone and I'm sure Empire fans are more hopeful than ever that Jamal's story could be wrapped up onscreen. The last he was seen, he'd just married Kai and gone off on his honeymoon.
Jussie Smollett wasn't the only one who left the show, though. After the first few episodes of Season 6, fans took notice that Hakeem wasn't around and Empire's Brett Mahoney revealed that Hakeem left to fulfill his dreams of becoming an actor. However, the real story for the absence of Bryshere "Yazz" Gray, who played the character, was due to personal reasons and it's unclear when he might be back on the show.
Empire's fall finale airs tonight at 8 p.m. ET on Fox. As the year (and fall season) come to a close, be sure to check out our midseason schedule to find out what's premiering in the winter and spring of 2020.
Your Daily Blend of Entertainment News