The Verdict Is In For AMC's The Walking Dead Lawsuit Over Stuntman's Death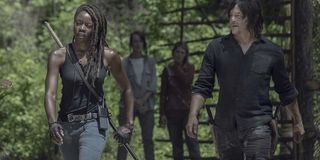 Two years ago, stuntman John Bernecker died following a fatal fall on the set of AMC's The Walking Dead. A lawsuit filed by Bernecker's mother in the wake of her son's devastating death accused AMC of maintaining an unsafe set, which allegedly led to Bernecker's wrongful death. After some time, a Georgia jury has finally reached a verdict.
The jury found AMC Networks "not to be negligent" in John Bernecker's death and the jury's decision was unanimous. However, Bernecker's estate is to receive $8.6 million in civil damages, which will be covered by insurance. In addition, the jury came to the agreement that Bernecker wasn't an employee of the production company Stalwart Films, but an independent contractor.
For some background, John Bernecker was taking part in a stunt for a Season 8 episode of The Walking Dead when he is said to have lost his footing, falling from a 25-foot high balcony to the concrete floor below. Bernecker was taken to the Atlanta Medical Center where he died two days later from his injuries.
Following the announcement of the verdict, AMC issued the below statement (via Deadline):
The initial suit filed by Susan Bernecker sought between $40 and $100 million in damages. During court proceedings, Bernecker's lawyer Jeff Harris claimed that The Walking Dead production failed to follow safety procedures. Meanwhile, AMC lawyer David Dial declared that no one could have foreseen the accident.
After the verdict, Jeff Harris said that this lawsuit should serve as a cautionary tale, maintaining that John Bernecker's death could have been avoided. Here's what he said:
The Walking Dead has gone on for two more seasons since the accident and is currently filming Season 10. While no further incidents have been reported on set, John Bernecker's wrongful death trial has brought the issue of on set safety to the forefront, the outcome of which will hopefully mean that more precautions are taken.
The Walking Dead Season 10 will return to AMC on Sunday, February 23 at 9 p.m. EST. For more on your returning favorites, check out our 2020 premiere guide.
Your Daily Blend of Entertainment News