One Walking Dead Character Was Drastically Changed Due To Lauren Cohan's Absence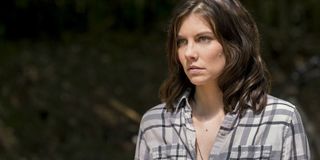 Spoilers ahead for The Walking Dead's Season 10 midseason finale.
When it comes to live-action comic adaptations, there are bound to be changes made to certain characters and their story arcs. The same can be said of Juan Javier Cardenas' short-lived stint as Dante on The Walking Dead. While the changes usually occur for various reasons, The Walking Dead showrunner Angela Kang explained that Dante's storyline was drastically altered due to Lauren Cohan's absence from the AMC series.
After Dante killed off Siddiq in the shocking midseason finale, "The World Before," the treacherous character's arc on The Walking Dead ended with his murder at the hands of Father Gabriel. This change worked on the show because his fate in the comics remains unknown. But, why wait until Season 10 to introduce the character?
The Walking Dead's Angela Kang revealed that Dante's introduction had been discussed over the years, though it "never felt like the exact right time." After Lauren Cohan's departure from the series, however, talk of Dante came back to the forefront.
That's interesting, especially knowing how intertwined Dante's storyline is with Maggie's in the comics. Speaking with The Hollywood Reporter, Angela Kang continues, saying that the writers wanted to play with the two distinct aspects of his personality for his onscreen arc, something they hadn't had the opportunity to do before.
In the comics, Dante isn't much of a bad guy, though he does have issues with boundaries. He is actually one of Maggie Rhee's closest advisers and generally a respected member of the Hilltop community. In fact, Maggie and Dante even had a brief fling, though Maggie tells him how she regretted sleeping with him.
With Lauren Cohan's Maggie set to return to The Walking Dead, the writers no longer have to worry about portraying her and Dante's relationship now that he's dead. I imagine they'll have something else in store for Maggie upon her return, which will likely explain what she's been up to in the time that she's been gone.
While The Walking Dead won't return to AMC until 2020, be sure to check out our complete schedule of all the shows coming to TV in the winter and spring of next year.
Your Daily Blend of Entertainment News
Your Daily Blend of Entertainment News
Thank you for signing up to CinemaBlend. You will receive a verification email shortly.
There was a problem. Please refresh the page and try again.