The Office: The Best Dwight And Angela Moments From The Series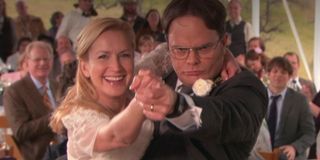 When it comes to some of the funniest sitcoms ever, The Office will always be one that tops the list, in my opinion. From the jokes Jim did on Dwight, to the heartwarming moments, and of course, the ridiculousness of Michael Scott, will always have me coming back to this classic TV series. But one thing I loved about The Office were its character relationships, and how well the creators wrote them.
While I could go off for hours talking about Jim and Pam, I decided to take a look at the second most-known couple of this series - Dwight Schrute and Angela Martin, played by the wonderful Rainn Wilson and Angela Kinsey. For nine seasons these two went back and forth, debating their feelings for one another. Today, we're going to take a look back on some of their best moments.
When Angela Gives Dwight His Own Bobblehead (Season 2, Episode 16)
The Office was filled with plenty of interesting episodes, but this one is one of my favorites in the whole series. It was arguably one of the very first romantic moments between Dwight and Angela, and it's on this list for a good reason - because it's so freaking adorable. In "Valentines Day," during Season 2, Episode 16, Angela gifts Dwight a little mini-bobblehead figurine of himself to keep on his desk.
Not only is this a very heartfelt gift from her, considering Dwight had been wanting one of them, it would stay on Dwight's desk for the rest of the series. You can even buy a bobblehead of him in real life now because of how popular it got. And all of that would have been for nothing if Angela hadn't gifted it to him. It's amazing how one moment started this whole relationship.
When Pam Is Suspicious Of Dwight And Angela - And It's Confirmed At The End Of The Episode (Season 2, Episode 9)
Before Angela gave Dwight that bobblehead, Pam was already a little suspicious of the two of them being together, and this begins in Season 2, Episode 9, "Email Surveillance." Pam sees that Angela bought two Baby Ruths from the vending machine, and ends up seeing Dwight eating the other one.
Even so, by the end of the episode, she decides that maybe its not her business and she could just be misinterpreting something. However, it's confirmed at the very end of the episode that Pam's suspicions were right, and in the background at Jim's barbecue, we can see Angela and Dwight doing something together, while off on their own. It was the perfect way to show that these two are finally together, and that Pam is indeed not crazy for thinking so.
And When Dwight Assists Her In Singing Little Drummer Boy (Season 3, Episode 11)
Christmas episodes on The Office are always fun. In "A Benihana Christmas - Part 2," during The Office Season 3, Episode 11, it's a battle for who has the best Christmas party between Angela's nutcracker Christmas party to Pam and Karen's more lively margarita karaoke Christmas party. When her day doesn't go as planned, Angela is upset and Dwight comes to comfort her.
By the end of the episode, the Christmas parties had finally merged together, and they had begun to sing karaoke together. Angela decides to sing one of her favorites, "Little Drummer Boy," while Dwight holds the mic and helps her do it. It's a small moment between the two of them compared to what comes after, but it's incredibly sweet all the same. And seeing the way Dwight looks at Angela will make anyone, even with a Grinch's heart, smile.
When Dwight And Angela Share A Private Dance After Phyllis' Wedding (Season 3, Episode 16)
I feel like every wedding episode in The Office is always full of surprises, but this one was a quiet, private moment between the two of them. When Phyllis gets married in Season 3, Episode 16, "Phyllis's Wedding," the whole entire The Office cast is there to celebrate, but near the end, Dwight and Angela sneak off to have their own private dance together.
At this moment in the series, at least for me, their relationship had always seemed a little crazy and had so many wacky moments, but this one was one of those instances where you really see how intimate their strange relationship is, and how much they do truly care for each other.
When Dwight Attempts To Give Angela A Replacement Cat (Season 4, Episode 3 & 4)
Oh, Angela's cat on The Office is the biggest reason as to why everything fell apart. Dwight, while he was at Angela's home, kills her cat because it was suffering and that it was a normal thing to do on his farm. Angela is rightfully upset - not only for him killing Sprinkles but that now that it was euthanized, it won't get to go to "cat heaven." Even so, this ends with them having a falling out.
In Season 4 of The Office, Episodes 3 and 4, titled "Dunder Mifflin Infinity," Dwight attempts to give a new cat to Angela, trying to replace Sprinkles. Angela doesn't accept this new cat, leading them to have another fight, but at the same time, it's still good to see Dwight at the very least attempt to make up for his mistake - even if the cat he got could never replace Sprinkles.
When Dwight And Angela Are Caught Having Sex (Season 4, Episode 19)
Despite everything that happened between Dwight and Angela on The Office, especially after her cat, Dwight and Angela still end up having a secret affair because these two just can't stay away from each other. In Season 4, Episode 19, in "Goodbye, Toby," Andy, who had just started dating Angela, proposes to her during the festivities in the parking lot.
While she does accept at the time, that doesn't mean that her heart is completely in it. Later that night, Phyllis if wrapping up her party committee responsibilities and ends up discovering that Dwight and Angela are having sex in the abandoned office, further showing that these two still have feelings for one another.
When Dwight And Angela Decide To Engage In A Child-Bearing Contract (Season 6, Episodes 17 & 18)
This whole entire episode, titled "The Delivery," is iconic in its own right. We get to see the beginning of Jim and Pam having a beautiful family. But I need to point out the better moment of this episode - Dwight saying that he feels the urge to have a child.
Because of this, in Season 6, Dwight decides to ask Angela to participate in a child-bearing contract with him. Does this sound absolutely bonkers and ridiculous to any sane-minded person? Of course. But this is Dwight and Angela we're talking about, and she says yes. Once this occurs, it's basically just an excuse for them to have sex together for the sake of "child-bearing purposes," not just because they want to be together.
When Dwight And Angela Agree That Jazz Is Stupid (Season 9, Episode 8)
At this point in The Office, Dwight and Angela had been through so much together. They'd gotten together, broken up, had affairs, stepped apart - but through it all, they still did care for each other and had similar interests. And that's why this moment, both hysterical and heartwarming, had to pop on this list. In Season 9, Episode 9, "The Target," when Angela suspects that her new husband is having an affair with Oscar, she hires a hitman to take Oscar down because she believes he turned her husband gay.
However, when this plan falls to pieces and Oscar says that her husband was always gay, she is upset and sits down, so confused about thing. Dwight, who had been helping her through this as her friend, comforts her when she says she thinks she's stupid. He says that she isn't stupid - jazz is stupid, and she agrees, saying they should just "play the right notes."
It's a "blink and you miss it" kind of moment between them, but funny and sweet nonetheless. It's the perfect Dwight way to comfort someone, and its gets the job done with Angela.
When Dwight Proposes To Angela And Finds Out He's A Father (Season 9, Episode 23)
For fans of Dwight and Angela, the Season 9 episode of The Office, titled "A.A.R.M." is your dream. In this episode, Dwight is still convinced that Phillip, Angela's son, is his child, and that he still loves Angela, but is having trouble deciding who to marry between her and Esther. Jim reveals that if Dwight still feels that way about Angela, he needs to go after her. Dwight then makes up his mind not long after that.
He runs Angela off the road - a strange way to begin a proposal, but this is Dwight we're talking about - and gets down on one knee, finally doing what Angela had wanted all along. He proposes to her, asking her to be his wife, and she says yes. Not that long after, she also reveals to him that Phillip is indeed Dwight's son, making Dwight incredibly happy. Not only did he get the girl, he has a family now too.
Their Whole Wedding (Season 9, Episodes 24 & 25)
The finale of The Office felt like the perfect way to close it out, with the wonderful wedding of Dwight and Angela in Season 9, Episodes 24 & 25. There were so many amazing moments, from Michael showing up again (played by the talented Steve Carell), to Angela and Dwight's wedding dance, to everything else in-between.
It was the perfect way to cap off this relationship between them, one that started out pretty normally in the beginning, had plenty of messy moments, but ended with them happy, together, and having the family they always wanted, surrounded by friends and loved ones. I can't think of a better way to watch all our favorite characters come together one last time - watching two people they care about solidify their love for one another.
Plus, Phyllis carrying Angela down the aisle will always make me laugh and cry in happiness - this episode truly can't be beat.
With everything these two have gone through in this show, which moment is your favorite? Now all we need is a The Office reunion to see these two together again. Whatever the case, I miss my favorite inside jokes and cute couples. Maybe one day, we'll get to see all of them once more.
Big nerd and lover of Game of Thrones/A Song of Ice and Fire. Will forever hate season eight. Superhero and horror geek. And please don't debate me on The Last of Us 2, it was amazing!
Your Daily Blend of Entertainment News
Thank you for signing up to CinemaBlend. You will receive a verification email shortly.
There was a problem. Please refresh the page and try again.