Why Netflix's Dracula Series Made That Big Van Helsing Change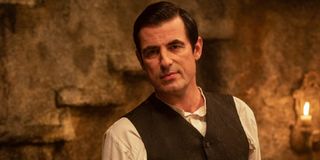 Warning! Major spoilers ahead for the Season 1 premiere of Netflix's Dracula.
Dracula's first episode had plenty of plot twists, character reveals, and even included a couple of subtle references to Doctor Who and Sherlock. However, perhaps the biggest twist came near the end of the episode when Sister Agatha, after allowing Jonathan Harker to take shelter in her convent, reveals herself as Van Helsing. Yes, that Van Helsing and Dracula co-showrunner Steven Moffat recently revealed why that big change was made.
Netflix's Dracula, based on the 1897 novel by Bram Stoker, is a new take on the well-known story of Count Dracula. Dolly Wells' Sister Agatha is, in fact, a character in the novel and is described as a "born nurse," helping John Heffernan's Jonathan Harker after his chance meeting with Count Dracula. However, that was the extent of her involvement and the Dracula showrunners had every intention of keeping Agatha's role the same as in the book, but something changed.
So, why did showrunners Steven Moffat and Mark Gatiss decide to make Sister Agatha Van Helsing? Speaking at the premiere screening of Dracula, Moffat explained how Sister Agatha evolved into Van Helsing and how her role expanded the more he and Gatiss discussed her character. Here's what he said:
And so Agatha as Van Helsing was born. At the show's premiere (via Newsweek), Moffat also joked that Sister Agatha's upgrade from nun to the famous Van Helsing means she's got a "much better agent" than she did before. On a more serious note, Moffat's explanation works because the potential for how Sister Agatha could be Van Helsing was all there in her characterization, previously untapped.
Steven Moffat and Mark Gatiss took a minor role and roped it into the larger narrative, expanding on an already existing character in a clever way. I can't wait to see what else the Dracula showrunners have in store for Sister Agatha. Season 1 consists of only three episodes, but it seems her story is only just beginning.
Dracula Season 1 is currently available to stream on Netflix. For more titles to binge on the streaming service, be sure to check out our 2020 Netflix schedule for premiere dates, as well as our 2020 midseason schedule for network and cable TV shows.
Your Daily Blend of Entertainment News
Thank you for signing up to CinemaBlend. You will receive a verification email shortly.
There was a problem. Please refresh the page and try again.