The Conners Casts Shameless Star To Play Dan's Younger Bro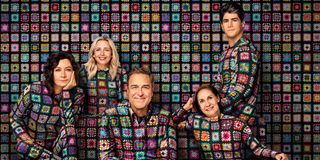 Some would argue that there are already enough family members wandering around on The Conners, and considering all the bickering those folks get up to, there's something to be said for that opinion. But, we do know that there are at least a few more of them roaming the Earth, and one of those is about to show up for the first time in a couple of decades. That's right, fans, Dan's much younger brother, Little Ed, is finally coming back, and Shameless vet Noel Fisher has signed on for the role!
Audiences will be treated to a bit of a Shameless reunion when Noel Fisher shows up on The Conners, as Emma Kenney (who plays David and Darlene's rebellious and sarcastic teen daughter Harris) has also starred on the Showtime family dramedy since the beginning. And, there might even be some opportunities for the duo to interact, because TV Line reports that Fisher will appear in at least two episodes, beginning in February.
If you were a Roseanne watcher back in the day, you may remember that Ed is the son of Dan's dad, Ed Sr., and his second wife, Roseanne's friend Crystal. The unconventional couple also had a little girl, named Angela, but Ed Jr. is the sibling showing up this time around, and it sounds like he's going to be in a bit of a mood when we meet him again. Now a college graduate in his twenties, Ed is going to have a bone to pick with big bro Dan about him never pitching in to help with their octogenarian dad, who likely has at least a few health issues by now.
We don't know right now if an actual event will lead Ed to darken Dan's very active doorstep or if he's just had enough of his older sibling not taking any responsibility and letting himself, Angela and Crystal do all the work of caring for Ed Sr. Either way, it sounds like another grand Conner argument could be coming our way, and that's something that Noel Fisher knows how to play well after all of his combative time on Shameless.
The Conners are nothing if not argumentative with each other in the extreme, and we just got over one major family bust up, so it is basically time for another. You might remember all the trouble that was caused when Becky and Jackie decided to reopen the Lunch Box and found out that Bev was the actual owner of the property, and had put Darlene in charge of her power of attorney.
Jackie was so mad at Bev for mooching off of her and not using the money she's been getting from rent all these years to support her lifestyle that she threw her mom out of her apartment. Darlene wouldn't sign off on Becky and Jackie taking the spot over, which led to Becky moving out of the Conner home after accusing Darlene of being jealous that she was finally getting her life together. And, Jackie was so pissed at Darlene after she called her aunt "the bane" of Roseanne's existence that Jackie hauled off and slapped the total mess out of her niece.
Now that all of that has been solved, it wouldn't be beyond the pale for Dan and Ed Jr. to end up in some sort of battle royale over Ed Sr.'s care. Dan and his dad never really got along, and he was not supportive of his romance with Crystal, so it would make a lot of sense (to Dan, at least) for him to not want much to do with his father right now. Ed Sr. has another, younger, family who can take care of him, and (as we all know) Dan has plenty problems of his own at the moment.
But, it's also pretty easy to see where Ed Jr. might be coming from on the matter. He and his sister are just getting started in life, and his mom, while currently working again, has hit retirement age, so he might see it as Dan's responsibility to help out, as the more established child.
We'll have to wait until February to find out what happens when Noel Fisher steps into the role of Ed Jr., but The Conners will be back on January 21 at 8 p.m. EST on ABC.
Yennefer's apprentice, Gilmore Girl; will Vulcan nerve pinch pretty much anyone if prompted with cheese...Yes, even Jamie Fraser.
Your Daily Blend of Entertainment News
Thank you for signing up to CinemaBlend. You will receive a verification email shortly.
There was a problem. Please refresh the page and try again.