Prodigal Son Creator Says No One 'Is Going To Be Happy' With Where Season 1 Goes Next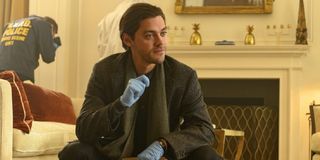 Prodigal Son left viewers wanting more after it delivered one hell of a midseason finale cliffhanger. Left without answers for several weeks over the winter hiatus, Prodigal Son co-creator Sam Sklaver says no one "is going to be happy" with where Season 1 goes next.
The last viewers saw of criminal psychologist Malcolm Bright, he was knocked out and dragged away by the Junkyard Killer; the very same killer who has connections to his father (and known serial killer) Martin Whitly and whom Tom Payne's Malcolm was supposed to catch in Season 1's fall finale, but didn't.
The midseason premiere will pick up after Malcolm's capture by the Junkyard Killer and Prodigal Son's Sam Sklaver hinted that fans of the show might not be thrilled with what's to come in the second half of Season 1. Here's what he had to say:
It sure sounds like things are about to get much worse before they get better for Malcolm and his family. And that's if the criminal psychologist is able to escape the clutches of the Junkyard Killer and return to safety. Though, I can't imagine that Malcolm will make it out completely unscathed.
Thankfully, Meagan Good's Agent Collette Swanson will be working to help Malcolm out of his current predicament and, according to Sam Sklaver, will play a "central" role in the manhunt to save him. Malcolm will probably have a lot of explaining to do, too, since he hasn't really told anyone at the FBI of his connections to the case involving the Junkyard Killer. That won't be a fun conversation should it ever come up.
When Prodigal Son returns with a new episode, Malcolm's mental state won't be very good. In fact, co-creator Chris Fedak described the upcoming winter premiere as a "gigantic, scary, panic attack of an episode." This certainly makes it sound like fans are in for a wild ride when the Fox series returns. Maybe Malcolm will have to call up his therapist to deal with his time with the Junkyard Killer, but that remains to be seen.
However, even if Malcolm does manage to safely escape the Junkyard Killer, don't expect him to disappear into oblivion. Speaking with TV Guide, Sam Sklaver teased that the Junkyard Killer "won't go away completely" and that he'll still be around in the back half of Season 1.
Prodigal Son Season 1 returns with new episodes on Monday, January 20 at 9 p.m. ET on Fox. For more on what to watch, be sure to check out our complete 2020 midseason schedule to find out when every new and returning show will premiere.
Your Daily Blend of Entertainment News