Arrow's Katherine McNamara Reveals Mia's Big Fear In Final Season 8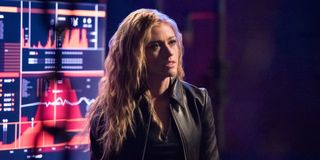 Emily Bett Rickards' Felicity Smoak may be gone from Arrow, but that doesn't mean that her presence won't be felt in Season 8. While Stephen Amell's Oliver Queen is busy on a mission for The Monitor ahead of "Crisis on Infinite Earths," daughter Mia (Katherine McNamara) will be working hard to uphold the promise she made to her mom in 2040.
Mia grew up an only child, so that might factor into how she'll relate (or not relate) to the rest of Team Arrow 2.0, including Zoe (Wild Dog's daughter) and Connor (John Diggle's adopted son). Speaking with TVLine, Katherine McNamara, known best for her role as on ABC Family's Shadowhunters, discussed the ways in which Mia will deal with being on a new team.
Although she spent the majority of Season 7 being angry with Felicity because she didn't tell her about her father being the Green Arrow or her work as Overwatch, Mia told her mom that she'd watch over her half-brother William (Ben Lewis) in her absence.
Katherine McNamara joined Season 7 of Arrow as Blackstar. Fans speculated about whether or not she was really Felicity and Oliver's daughter hiding in plain sight, but it wasn't until halfway through Season 7 that her true identity was revealed as being Mia Smoak. Mia grew up without Oliver in her life, so it makes sense that she doesn't feel a strong connection there. However, when it comes to her mom, she'll want to make Felicity proud, even though she has no clue that her mom went to meet The Monitor after saying goodbye.
Mia will have plenty of time to learn how to take care of and play well with others, though, since her adventures will continue in the new Arrow spinoff. The untitled spinoff will also star Juliana Harkavy and Katie Cassidy Rodgers as Dinah Drake and Earth-2 Laurel Lance, respectively. The spinoff will presumably be set in Star City 2040 (Arrow did fans a favor and introduced the flash forwards in Season 7, so the future is no longer unfamiliar).
Meanwhile, the highly-anticipated "Crisis on Infinite Earths" has started filming and Smallville's Tom Welling and Erica Durance are set to return as Clark Kent and Lois Lane. Unfortunately, Michael Rosenbaum's Lex Luthor will not be coming back with them.
Smallville's Erica Durance Shares Reunion Shot With Tom Welling For Arrow-verse's Crisis Crossover
Arrow will make its return to The CW on Tuesday, October 15 at 9 p.m. ET. For more information on when your favorite Arrow-verse shows will be back, be sure to check out our handy fall TV guide.
Your Daily Blend of Entertainment News
Thank you for signing up to CinemaBlend. You will receive a verification email shortly.
There was a problem. Please refresh the page and try again.