Why Netflix's Cheer Could Lose Navarro College For Season 2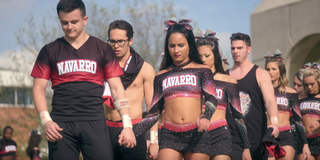 Following the success of Netflix's Cheer, the six-episode documentary series about Navarro College's nationally-ranked cheerleading team and its coach Monica Aldama, many have been wondering whether there is a Season 2 on the horizon. Though there have been discussions between Varsity (the company featured in the final episode) and Netflix to work together again, an exclusivity policy could see Navarro College forfeiting on Cheer Season 2.
The 14-time winning NCA National champs from Corsicana, Texas might have to choose between participating in Cheer Season 2 or competing in the National Cheerleading Championship. According to the updated Competition Rule Book for College Teams for the NCA & NDA Collegiate Cheer and Dance Championship, the Cheer team might put their eligibility at risk if they appear in Season 2. Here's what the official rule book (via KXXV) states on the matter:
That rule could be a major blow to the future of Navarro College on the series. If the NCA and NDA have veto rights over whether or not Navarro's team can compete because it's decided that Cheer showed some aspect of the sport / college / etc. in a negative light, then you can bet that Navarro College would rather leave the series behind than its chance at a cheerleading title. And, since the rules don't appear to state specifics on what would constitute showing these things in a "negative manner," there are lots of possibilities which might stop Navarro from participating in the documentary.
It's also worth noting that those who produce documentaries such as Cheer tend to want to show their subject matter warts and all, and would be unlikely to agree to trimming what they see as a good storyline because it doesn't show the subject in the best possible light at all times. So, there are potential conflicts here for Navarro and Cheer on several sides.
While Cheer hasn't officially been greenlit for Season 2 at Netflix, the docuseries' popularity launched Navarro College's cheerleading team into the spotlight. Since the show's premiere on January 8, the cheerleading squad has appeared on The Ellen DeGeneres Show and were spoofed in a Saturday Night Live skit featuring Adam Driver.
The docuseries even drew the attention of big-name celebrities like Big Little Lies' Reese Witherspoon and Chrissy Teigen, as well as Olympic gold medal-winning gymnast Simone Biles. Without a Season 2 confirmation, it's hard to tell whether the cheerleading team should even worry about this rule yet. Per coach Monica Aldama, she "doesn't know anything about a Season 2 at the moment," so fans of the show might have to wait for updates on that front as well.
However, the exclusivity policy doesn't completely rule out a Season 2 for Cheer, but it does call into question Navarro College's future on the show should it be renewed. Netflix could very well go the route of Cheer creator George Whiteley's previous documentary series, Last Chance U, which followed American college football players, and feature different cheerleading teams in new seasons.
Cheer Season 1 is currently streaming on Netflix. Stay tuned to CinemaBlend for more news on the docuseries. In the meantime, be sure to check out our 2020 midseason schedule for updated premiere dates and times, as well as Netflix's full slate.
Your Daily Blend of Entertainment News