Arrow's Series Finale Originally Had A Lot More Felicity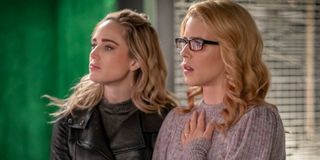 Warning! Spoilers ahead for the Arrow series finale, "Fadeout," so be sure to watch before reading on.
Arrow's series finale tied up some loose plot strings and brought back a lot of people that were important to Oliver Queen's life and journey as the Green Arrow. One of the most important returns, of course, was that of Emily Bett Rickards' Felicity Smoak, who was last seen in the Season 7 finale. Felicity's comeback was a sight for longing eyes across parts of the fandom, and Arrow executive producer Marc Guggenheim revealed that the original finale plan actually had a lot more Felicity involved.
"Fadeout," which provided its fair share of wish fulfillment, took place a month after the events of mega-crossover "Crisis on Infinite Earths," which saw Oliver sacrifice himself and help rebirth a new multiverse. Back in Star City, Felicity returned to say her "final" goodbyes and help rescue young William. However, Marc Guggenheim says the original plan was for Felicity to appear in the flashback scenes as well, alongside Oliver and Diggle. Here's his reasoning for why there was less of Felicity than originally intended:
That pesky scheduling! I'm sure fans would not have opposed seeing more of Felicity, but it's understandable that Emily Bett Rickards' availability and logistics got in the way of that. I was just happy that she was able to come back at all because it would have been strange for Arrow to end without one of its core characters there to say goodbye.
While Felicity was largely around in the present day, "Fadeout" does end with the continuation of her meeting The Monitor from the Season 7 finale, when he takes her to see Oliver in the afterlife. It may have taken 20 years for the two lovers to be reunited, but it was a happy ending of sorts for the couple nonetheless.
Speaking to TVLine, Marc Guggenheim says he conceived Oliver and Felicity's reunion scene while meditating, and that the Arrow series finale delivered on the final scene "almost word for word." It's nice to know that the reunion didn't have to be reworked due to scheduling and what not, and was filmed as planned.
Though Arrow is over, there are plenty of superhero shows left to watch in The CW's Arrow-verse — The Flash, Supergirl, Batwoman, and Black Lightning — and they'll all be exploring a post-"Crisis" life for the remainder of their respective seasons. And we're already going to be seeing David Ramsey's Diggle again very soon when he appears on The Flash. (But will he have that emerald ring?)
Also, keep an eye out for Superman & Lois, which was ordered to series by The CW. For more on what to watch elsewhere, be sure to check out our 2020 midseason schedule for updated premiere times and dates.
Your Daily Blend of Entertainment News
Thank you for signing up to CinemaBlend. You will receive a verification email shortly.
There was a problem. Please refresh the page and try again.