Netflix's Locke And Key: Cast List, Trailers, Review And More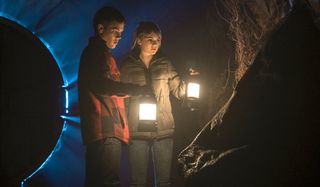 Have you ever wondered what it would be like to have a bunch of different magic wands that showcase breathtaking, mind-blowing and not always initially meaningful powers? Replace "wands" with "elaborately constructed keys" and you have the basic premise for the upcoming horror-fantasy thriller Locke & Key, that comic book adaptation making its debut on Netflix after a long road to live-action that included cast changes and much more.
Just about everything you'd need to know about Locke & Key can be found below, minus the spoilers of course. (Those will be found elsewhere.) We've got a cast round-up, a quick look at the show's overall plot, the latest Locke & Key trailer, and CinemaBlend's review. But first, here's when everyone can get their own eyes on the new Netflix original.
Locke & Key Premiere Date: Friday, February 7 (3:01 a.m. ET)
All ten episodes of Locke & Key's first season will be available on February 7, hoping to give viewers more than enough chills to match the winter weather outside. Is there a key to change the weather? You'll have to watch to see.
Locke & Key Cast List
For the most part, Locke & Key is led by younger generation of actions, such as Falling Skies and American Crimes vet Connor Jessup and Utopia's Emilia Jones. Check out the lineup below.
You can read more about the aforementioned casting changes below, but you can check out the impressive list of executive producers and episode directors right now. Co-creators Carlton Cuse (Lost, Bates Motel) and Meredith Averill (The Haunting of Hill House) bring a lot to the table from a genre standpoint, and some of Cuse's familiar partners join him here, such as Lindsey Springer and Ra'uf Glasgow. They're joined on the EP front by the IT films' Andy and Barbara Muschietti, The Walking Dead's David Alpert and IDW Entertainment's Ted Adams, among others.
Episode directors include Vincenzo Natali (Cube, In the Tall Grass), Michael Morris (Better Call Saul, Preacher), Tim Southam (Lost in Space, Colony), Mark Tonderai (Gotham, Castle Rock), and Dawn Wilkinson (Empire, Riverdale). Also worth noting here is composer Torin Borrowdale.
What Is Locke & Key About?
Locke & Key is based on the highly acclaimed comic book series from writer Joe Hill – you know, Stephen King's son and NOS4A2 author – and artist Gabriel Rodriguez; in some ways, the TV show adheres quite closely to the source material's main narrative, with some changes obviously necessary for expanding into episodic television. The storyline revolves around the Locke family, who faced a life-changing tragedy when husband and father Rendell Locke was murdered, and thereby inherited a large and mysterious manor dubbed Keyhouse.
In short order, the Locke children discover the house is central to a set of magical keys that provide a variety of unbelievable powers, though it's rarely obvious how each key should be used. Though the keys bring happiness and wonder to Bode, Tyler and Kinsey (and even their mother Nina on occasion), they are being sought out by an evil entity who will stop at nothing to get them.
Locke & Key's Comic-To-TV Adaptation Took Around A Decade To Happen
The first issue of Joe Hill and Gabriel Rodriguez's Locke & Key was release in February 2008, and it wasn't long before Dimension Films acquired the rights to turn it into a feature. However, the company's financial situation likely led to them losing the rights to Dreamworks in early 2010, with Alex Kurtzman and Roberto Orci steering the ship as producers.
Later in 2010, Locke & Key gained Steven Spielberg as a producer and shifted gears to become a TV show, with Terminator: The Sarah Connor Chronicles creator Josh Friedman brought in as showrunner. Fox, through 20th Century Fox TV, ordered up a Locke & Key pilot, which was filmed in early 2011, with cast members such as the Lord of the Rings franchise's Miranda Otto, Mayans M.C.'s Sarah Bolger, Carnivale's Nick Stahl, Lost Girl's Ksenia Solo, and musician Jesse McCartney. Fox announced in May of that year that it would not be moving forward with the pilot.
In 2014, Alex Kurtzman and Roberto Orci were once again behind news of a Locke & Key film, only this time Universal Pictures announced that a film trilogy was on the way. That news only got fans excited for around a year, and it was announced that the film trilogy was no longer happening, and we'd be waiting a while longer to get any updates.
Joe Hill himself got behind pushing Locke & Key as a TV show with IDW in 2016, and after a lot of behind-the-scenes discussions were had, Hulu ordered up a pilot from Hill and Carlton Cuse, with Sinister and Doctor Strange helmer Scott Derrickson set to direct. The latter was later replaced by Andy Muschietti, but Hulu decided in March 2018 that it was passing on the pilot, which had cast Frances O'Connor (The Missing), Megan Charpentier (Mama), Nate Corddry (The Daily Show), Danny Glover (Lethal Weapon), Owen Teague (Bloodline) and Jackson Robert Scott (IT).
Just two months later, Netflix formally got involved with development on yet another revamped adaptation of Locke & Key, with Andy Muschietti staying on as executive producer despite having to drop out of directing. The entire cast was replaced, with Meredith Averill joining the creative team, and in July 2018, Netflix announced the series order. 18 months or so later, Locke & Key finally made it to the point where it could be released.
Locke & Key Season 1 Trailers
For those wanting more visual clues about what to expect from Locke & Key's first season on Netflix, look no further than the trailer below, which sets up the closed-off town of Matheson pretty solidly.
The trailer does a great job of making viewers aware that they're going to become just as obsessed with the concept of these keys as the characters do. As well, the Locke's home is right up there with The Haunting of Hill House's titular abode when it comes to supremely spooky TV houses.
Netflix also put out a second, shorter sneak peek for Locke & Key, which you can watch below.
The intense promo gives viewers an early look at just how many people the Locke kids bring into the key-driven chaos, and all without given away very much about the troubles that everyone is facing. The shadows at the end of it should set off some bells of excitement in fans of the comic book series.
Locke & Key Review
Being a fan of Stephen King since childhood, I immediately took to the wonder of his son Joe Hill's work, and Locke & Key has long stood out as my favorite project in his creepy oeuvre. (With "Pop Art" taking a close second.) For that reason, I was unable to go into the live-action Locke & Key with pure objectivity, but it didn't bother me a bit.
To start off with a little medicine before the jarful of sugar, Netflix's Locke & Key does not match up to the comic book source material. However, NO live-action adaptation could feasibly go beat-for-beat with Hill and Rodriguez's combined forces, which created a vast and imaginative world that taps into myriad emotions, cravings and styles across its six volumes. Thankfully, Carlton Cuse and Meredith Averill have delivered a lovingly crafted and instantly engaging adaptation that hits all the right spots and leaves you begging for more. This is what comic fans have been waiting for.
In one quadrant, Locke & Key is a drama about a family making a big location change to deal with the aftermath of their father's murder at the hands of a potentially deranged obsessive. In a second quadrant, the show is a fantastical mystery surrounding a set of hidden keys with quirky powers, as well as their connection to the Locke family and others in the small town of Matheson. The third quadrant showcases the horror-thriller side of Locke & Key, in which the still-mourning family is stalked by a relentless enemy who wants the keys for herself. For the fourth, a supernatural teen drama. Plus, all four quadrants are cloaked with dark comedy.
And let me tell you...you're going to wish you had some (or all) of these keys. Of all the things Carlton Cuse and Meredith Averill's creative team do right with this show, they perfectly replicated the illogical yearning to be invested in a hunt for magical keys inside a giant wooden house. Especially that Anywhere Key, which allows you to walk through any doorway around the world, so long as you've seen it before. Someone. Invent. Magic. Please. But I digress.
A Locke & Key series is only as strong as its central trio of siblings, of course. The majority of the time, stars Connor Jessup, Emilia Jones, and Jackson Robert Scott fully embody their respective characters (in oldest-to-youngest order) Tyler, Kinsey and Bode. Tyler broods and sulks appropriately, but he has reasons to, and he's also usually a kind person that worries about being a good brother. Kinsey experiences a major personality shift early on, due to some key usage, that transcends most female teenager stereotypes. Then there's Bode, whose precociousness never outshines his caring heart or how loud he gets when things aren't going his way
Many comparisons have and will be made between Locke & Key and other Netflix horrors such as Stranger Things and The Haunting of Hill House in terms of genre elements, but the three projects also share excellent casting for the younger characters. Jessup, Jones and Scott are so good at playing sometimes-annoying people without ever being annoying as a performer, which is a less common skill than one might imagine. (Admittedly, Jessup has been out of his 20s for a while, but still...)
Locke & Key fills out its universe with quite a few other talented actors beyond those three, with Scandal's Darby Stanchfield portraying the widowed Nina Locke, a recovered alcoholic whose wishes to understand her husband Rendell's murder are combatted by the fact that adults aren't so equipped to grasp magic. It's something that also affects Rendell's brother Duncan (Aaron Ashmore) – Uncle Dunc! – who doesn't remember much of his childhood at Keyhouse.
However, the memory loss didn't affect Rendell (Bill Heck) nor any of the others in a close-knit group of friends he kept as a teenager. They messed with the keys quite a bit and inevitably paid the price, with several of them dying in tragic ways. Perhaps those tragedies connect to the way Rendell was killed, or perhaps it's all just bad luck. (The former is the smart choice though.)
While there are certainly moments where Locke & Key falters – whether it's due to clumsy exposition or awkward interactions – the show makes up for them with some of the memorable visual flourishes, such as Kinsey's memory room and everything else involving the Head Key. If anything, my biggest complaint with Season 1 as a whole is that it understandably couldn't incorporate some of the comic's non sequitur moments and more outlandish keys. But maybe Season 2 or Season 3 can just be a bunch of one-off episodes.
Each opening title (beyond the fully animated set in the premiere) is itself a memorable visual flourish that offers a clue about which key will factor into the episode the most. And viewers will likely get hooked on the show's main theme, as well as every other bit of music that composer Torin Borrowdale put together.
Gloriously, the show doesn't come across as special effects soup, even though there are a lot of digital effects mixed in with the practical props. The quintet of directors that worked on the episodes pulled off some amazing shots at times, and I'm hoping Netflix puts out an art book for the show at some point. (Fun fact: Vincenzo Natali, who directed the first two episodes, had just previously directed Netflix's decent In the Tall Grass, adapted from the novella penned by Joe Hill and his pops Stephen King.)
The fact that Joe Hill actively worked on Locke & Key makes me wonder just how much some of the lesser-quality Stephen King adaptations would have been improved if the author had given more than his two cents about them. Maybe there's a key to a room where all those hypothetical movies and TV shows exist, and maybe I'm going to find it before anyone else. (Also, keep your eyes peeled for Hill's on-screen cameo.)
With a lot more to come from this story if Netflix makes it so, Locke & Key is a truly special series that will hopefully find a streaming audience as passionate as its comic fanbase. Haunting and genuine, emotional and wicked, and one hell of a rush, Locke & Key is the adaptation I was afraid would never come, so I'm sincerely hoping I don't wake up one day to find out this was all a fake memory implanted by some demon that's after my car keys.
Locke & Key Season 1 premieres on Netflix (opens in new tab) on Friday, February 7, at 3:01 a.m. ET. Check out our Winter and Spring TV premiere schedule to see all the other big shows on the way.
Assistant Managing Editor
Nick is a Cajun Country native, and is often asked why he doesn't sound like that's the case. His love for his wife and daughters is almost equaled by his love of gasp-for-breath laughter and gasp-for-breath horror. A lifetime spent in the vicinity of a television screen led to his current dream job, as well as his knowledge of too many TV themes and ad jingles.