Sam Heughan Reveals The Outlander Season 5 Moment He Really Fought For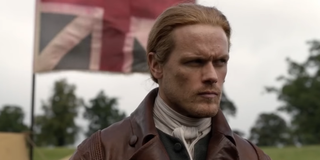 Outlander fans will know that Claire, Jamie, Brianna and the rest of the Frasers have been through quite a lot in their lives by the time we meet them again in Season 5. But, there are still plenty of challenges ahead, none the least of which will be Jamie trying to figure out how to keep up appearances in front of Governor Tryon, who's charged Jamie with tracking down his godfather, Murtagh, and killing him, while also, you know...not killing Murtagh. Part of Jamie's plan seems to include doing something that Sam Heughan really fought for the series to show: Jamie putting on the dreaded redcoat uniform.
While the Frasers are in the new world now, they are far from done with British soldiers, as the American Revolution is quickly approaching, and the embattled family is, once again, caught between a growing war and a hard place when all they want to do is make a home for themselves and enjoy some sweet lovin'. When it came time for Jamie's association with the British military to grow stronger than it had ever been, Heughan really wanted to be able to explore what putting that redcoat uniform on would mean for Jamie.
During a panel at the Television Critics Association winter press tour (which CinemaBlend's own Nick Venable was in attendance for), Sam Heughan talked about what the moment meant for Jamie and why he thought it was important enough for Outlander to dig into it that he fought for it to be included.
Wow. "Full circle" and "terrifying" really do sum up the experiences that Jamie and Claire have had so far when it comes to redcoats. In fact, a large part of the series dealt with the near constant challenges the couple has faced when it came to Scotland trying to stave off British control in general (and we know they had no luck there), and the hounding they received from Black Jack Randall, in particular. The British captain made it his goal to destroy Jamie by any means necessary, and that usually meant hurting the people he loved until he could get to the man himself.
Even before we met up with Jamie in Season 1, his sister had been raped by Black Jack, who arrested Jamie for trying to defend her. Jaime's dad saw him being brutally flogged as punishment, thought it killed his son, and died from the stress of believing he'd watched Jamie being beaten to death. Of course, Black Jack also tried to rape Claire (several times, if memory serves), later raped Jamie as part of an extensive method of torture, raped Fergus to get back at Jamie for escaping from him, and just generally made their lives a living hell until the moment he died.
So, it's really no shock that putting on the red coat would be a big deal for Jamie, and it's also completely understandable why Sam Heughan felt it needed to be dealt with on screen. Saying that Jamie and his family have had trouble with the British military is a huge understatement, and Lord John Grey notwithstanding, it would make a lot of sense for Jamie to struggle a lot with the idea of putting on that uniform. And, as Heughan noted, the only reason he would do such a thing without being at gunpoint would be to try and protect his loved ones.
Heughan also revealed that, while he did want Jamie wearing the red coat to hold more weight on the show than it did in the books, it's also a bit much to say that he had to fight for it, specifically because there were historical reasons to maybe not have him wear the uniform, which the producers had to consider when Heughan came to them about making the British military uniform a larger part of the story for Jamie.
I don't know about you, but just thinking about all of the coming intensity and drama that this will lead to is making me want Outlander Season 5 to come as quickly as possible! Luckily, we don't actually have that long to wait now, as Outlander's new season will hit Starz (opens in new tab) in a little over a month, on Sunday, February 16 at 8 p.m. EST.
For more on what you can watch on the small screen right now, be sure to check out our 2020 winter / spring premiere guide and Netflix debut schedule!
Bachelor Nation, Gilmore Girl; will Vulcan nerve pinch pretty much anyone if prompted with cheese...Yes, even Jamie Fraser.
Your Daily Blend of Entertainment News
Thank you for signing up to CinemaBlend. You will receive a verification email shortly.
There was a problem. Please refresh the page and try again.