Survivor Superfan Jimmy Fallon Actually Pitched A Huge Idea That Ended Up On The Show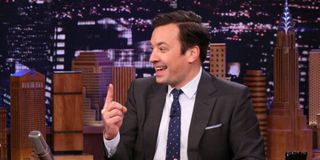 (Image credit: NBC)
Survivor has been an incredibly popular series for nearly 20 years and 40 seasons by this point in 2020, so it has fans of all ages, professions, and levels of fame. Jimmy Fallon, formerly of Saturday Night Live and of course now host of The Tonight Show Starring Jimmy Fallon, is a Survivor superfan, and having Survivor host Jeff Probst's email address has resulted in some pitches for the show. One of those ideas ended up making it to Survivor for Season 39, a.k.a. Island of the Idols.
Jeff Probst (who hates Survivor spoilers) dropped by The Tonight Show to chat with Jimmy Fallon and hype Survivor Season 40, and in the process outed Fallon for sending all kinds of wild ideas for consideration. According to Probst, emails from Fallon could come as late as 3:30 a.m.! Fallon looked a little embarrassed while he laughed, but Probst was all enthusiasm as he brought out a specific email that actually pitched a good idea. Here's how he put it:
On the one hand, Jimmy Fallon's idea for the Tribal Bible didn't fly with Jeff Probst, although it did have the benefit of rhyming. On the other hand, the Invisibility Box was a hit was a hit with the longtime Survivor host!
As viewers of Survivor: Island of the Idols will remember, former Survivor champs Sandra Diaz-Twine and Rob Mariano returned to the show to act as mentors to the Season 39 castaways, and this sometimes involved secretly watching Tribal from an Invisibility Box, though it wasn't given that name.
Kudos to Jimmy Fallon for pitching an idea that impressed Jeff Probst so much that it became a key part of Season 39. If only we all had the option to pitch ideas at the people who run our favorite shows!
Jeff Probst (who was recently accused of duping original Survivor winner Richard Hatch) went on to rave about how excited he was to include a Jimmy Fallon idea on Survivor, saying this:
Not too many people can go to work and show off proof that Jimmy Fallon wanted to help out! Of course, Jeff Probst made it clear that there have been a lot of pitches from Fallon that didn't make it into Survivor (although I for one am curious about the Tribal Bible). Still, the duo both looked pretty excited.
Take a look at Jeff Probst sharing Jimmy Fallon's email and more during his appearance on The Tonight Show Starring Jimmy Fallon:
See Jeff Probst back in action in Survivor mode when Season 40, a.k.a. Winners at War, premieres Wednesday, February 12 at 8 p.m. ET on CBS. Jimmy Fallon may be watching too, even if he can't count on any more of his ideas making it into the show.
Survivor: Winners at War is bringing back 20 champions, although Richard Hatch won't be among them. Jeff Probst already revealed who could win this season, but we'll have to wait and see who takes the top prize.
Resident of One Chicago, Bachelor Nation, and Cleveland. Has opinions about crossovers, Star Wars, and superheroes. Will not time travel.
Your Daily Blend of Entertainment News
Thank you for signing up to CinemaBlend. You will receive a verification email shortly.
There was a problem. Please refresh the page and try again.