HBO's McMillions: Episode 2 Reveals The Plan To Question The Winners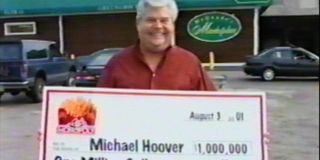 Following last week's premiere episode, which gave true crime fans an inside look at the McDonald's Monopoly game fraud, which took place between 1989 and 2001, HBO's McMillions laid down the board for what TV viewers can expect from this entertaining new documentary series. With its second episode, the series established both Jerry Jacobson, an ex-cop-turned-head of security at Simon Marketing, and Jerry Colombo, who eventually gave his fellow Jerry his infamous moniker, "Uncle Jerry." Now, episode 2 primarily centers around the family and acquaintances of the two Jerry, in an effort to establish them as people rather than simply mysterious, shadowy background figures, while also showing the further ongoing efforts of the FBI to interrogate the winners, or "winners," of McDonald's million-dollar Monopoly game — all of whom earned the cash through their relative connections.
Let's break down this second episode and explore what information is gleaned from the latest hour-long installment of the documentary TV series.
Doug's Original Plan
As it was established in the first episode, Doug Mathews is a bright-eyed, big-dreaming FBI agent with visions of grandeur when it comes to his fairly procedural job. The agent often wants to invent new ways of breaking out of the mundanities of his job, and incorporate fantastical, over-the-top (and, obviously, top secret) missions that would seem more appropriate in a movie than in real life.
Nevertheless, his bright idea of faking a commercial crew to gain information was extremely successful, and he had another big idea for the next step in the operation. Specifically, when the FBI agents haven't gotten the information they've wanted from tapped phone-lines, notably how they won their winning Monopoly game pieces, Mathews proposes a fake reunion in Las Vegas for all the past "winners." They'd gain the intel they need for their case, and these all-expense-paid trips (with McDonald's to foot the bill, in Mathews' view) would result in all the winners being in the same place at the same exact time — making it easy to arrest all known parties.
Naturally, Doug Mathews' lofty ambitions outmatched the reality of the situation. The budget was simply too astronomical, and that's without taking into account all the factors that were needed to pull off a stunt this massive. Suffice to say, Mathews' big-headed ideas weren't fully utilized this time around, but they took a nugget of his idea and turned it into their mode of operation. Specifically, the dreamy possibility of an expense-paid Vegas trip.
What They Actually Did
While the rest of the FBI team was quick to acknowledge that the idea of a Vegas trip as a reunion for past winners was outlandish, they gave it a bit more thought and realized they would promise this elaborate trip without, you know, actually giving everyone a trip to Vegas. Indeed, they contacted all the past "winners" and asked if they could be filmed for an upcoming promotional effort, to hear their detailed stories and open up about their big wins. The trip to Vegas would be considered an incentive rather than the key. Once again, Amy Murray was involved in another effort to legitimatize the efforts of the FBI in the view of the winners and to get all the winners contacted in a believable way. It wasn't considered "entrapment" because they were not being coerced into to doing crimes. Rather, they were being asked to open up about their life-changing experiences with these wins, which they
These interviews, led by Amy Murray, found the winners speaking about their victories, with the FBI able to assess the perceived truthfulness of their statements. The main focus in this second episode is on Buddy Fischer, a man who finds himself sweating profusely when in this fictional interview. It is clear to Doug Mathews and everyone else involved that this man is lying through his teeth, as made evident by the amount of sweating he does. This interview, in particular, once again helped the FBI in their ongoing investigation of these fraudulent Monopoly wins with the McDonald's company.
Other Things Episode 2 Revealed
As mentioned earlier, the majority of this second episode is centered around our two Jerrys, Jerry Jacobson and Jerry Colombo, and how they were perceived by their close relatives, co-workers, and friends. By many accounts, Jacobson was considered a gracious and good-natured man, which is possibly an explanation for why he potentially gave out all these Monopoly gift pieces in strategic fashion, and Jerry Colombo was a man who lived in the shadow of his family, one who had major criminal influences. We learn about their relationships to ex-wives, former employees and family, and how that might've shaped the events that fell with this fraudulent game-tampering. We also hear the story of a million dollar Monopoly piece being given to help children with St. Jude, which seems like a random act of kindness, but it is revealed at the end of the episode to be another Uncle Jerry effort.
As we see in this episode, the decision to accept these million dollar pieces doesn't come easily for some. Notably, Marvin Braun, the step brother of Jerry Jacobson, who was given a million dollar McDonald's Monopoly piece but rejected it, ultimately deciding to flush it down the toilet. It's not often that someone will flush a million dollars down the toilet, and even the directors seem surprised. But Braun knows that he made the right decision then.
Other than these details, we don't learn too much else about this expansive story, though the next few episodes of McMillions are expected to dive ever deeper into the twists and turns that are expected to happen in this fascinating crime story with McDonald's Monopoly game found at the center. While these first two episodes are solid, one hopes that the truly shocking details were come out in the following few episodes in the next few weeks.
In the meantime, what do you think of HBO's McMillions? Let us know your thoughts in the comments section below.
Your Daily Blend of Entertainment News
Will is an entertainment writer based in Pittsburgh, PA. His writing can also be found in The Playlist, Cut Print Film, We Got This Covered, The Young Folks, Slate and other outlets. He also co-hosts the weekly film/TV podcast Cinemaholics with Jon Negroni and he likes to think he's a professional Garfield enthusiast.