Chris Wood Just Got A New TV Lead Role: Bad News For More Kai On Legacies?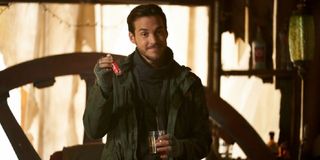 Chris Wood has been keeping quite busy. The Supergirl alum, who played Mon-El for two seasons and is reportedly heading back in some way, recently reprised his villainous Vampire Diaries character Kai Parker on Legacies, and his comeback created consequences for the Saltzman family. However, the actor just landed a new TV role in a new ABC pilot, so does this spell bad news for more Kai on Legacies?
Chris Wood has been cast as Leo Steadman in thirtysomething(else), which is the sequel series to ABC's late-'80s drama thirtysomething. The project, like several revivals in recent years, is a decades-later continuation of the original series, which was created by Marshall Herskovitz and Ed Zwick, airing on ABC from 1987 until it was cancelled in 1991. Both creators will be returning for the drama's sequel and Zwick is directing the pilot, which is set to begin filming in March in New Jersey.
For thirtysomething(else), Chris Wood is set to play Leo, the son of Hope Murdoch and Michael Steadman, and also Janie's younger brother. Per Deadline, Wood's character is handsome and charming, and his goal is to become a "big deal" like his father, who was an aspiring writer-turned-advertiser. While Leo is talented, he's also very unfocused and takes shortcuts along the way to get to where he needs to be.
ABC announced the pilot order in January, with thirtysomething(else) also seeing the return of original cast members Ken Olin, Mel Harris, Timothy Busfield, and Patty Wettig. However, they'll all be playing supporting roles to a new cast of characters who are also trying to find their way in the world as thirtysomethings. It should be interesting to see how the show will handle the Millennial vs. Gen X vibe in relation to how the original handled its generation gaps. It'll also be interesting to see how well Chris Wood fits in with this cast in comparison to how he's fared in TVD and Legacies.
Before being cast in thirtysomething(else), Chris Wood had made a name for himself playing the love-to-hate-him Kai Parker on The Vampire Diaries, and fans only recently got to experience his return for the episode "Kai Parker Screwed Us." However, it's unclear whether the pilot order for thirtysomething(else) will conflict with Wood's future as Kai within the franchise.
While the actor was only announced as returning for one episode in Legacies Season 2, series star Danielle Rose Russell told Seventeen that Chris Wood's Kai will be "a part of our story a little more than people might expect," and the episode set up more to come down the road. I imagine that if ABC orders thirtysomething(else) to series, Wood might become too busy to potentially return to the supernatural CW drama show for any major arcs. As well, there might be contractual issues involved, though that's just my personal speculation at this point.
Thirtysomething(else) currently has a pilot order at ABC, but has not been picked up to series yet. Stay tuned to CinemaBlend for more information on where Chris Wood, who married Supergirl's Melissa Benoist last year, will be seen next.
Legacies airs every Thursday at 9 p.m. on The CW. For more on what to watch, be sure to check out our 2020 midseason schedule for updated premiere dates and times.
Your Daily Blend of Entertainment News