All The Vampire Diaries And The Originals Characters Who've Been On Legacies So Far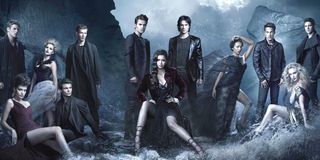 Legacies is staking (heh) its own claim in The Vampire Diaries Universe as a light, fun show with fantastic original characters. However, like The Vampire Diaries' first spinoff, The Originals, Legacies is also bringing in some pre-existing characters to keep the continuity going in the franchise -- and also just to delight longtime fans. Legacies Season 2 is now airing, and we know at least one more major Vampire Diaries star is coming in early 2020. Here are The Originals and Vampire Diaries characters we've seen so far.
Hope Mikaelson (Danielle Rose Russell) of The Originals
We have to start with the obvious ones. Hope Mikaelson is the main character of Legacies. She's the daughter of Klaus Mikaelson and Hayley Marshall, who first appeared on The Vampire Diaries and then got their own show in The Originals. The character of Hope was played by several actresses, including babies, then toddlers, then young Summer Fontana in Season 4 before a time jump led to the casting of Danielle Rose Russell as teen Hope in The Originals' final Season 5. Now Hope has her own show, following in her parents' footsteps. And Danielle Rose Russell is doing such a kickass job with this role, I've gone on record as saying she's the first Vampire Diaries Universe star who deserves an Emmy nomination.
Alaric Saltzman (Matt Davis) of The Vampire Diaries
Alaric "Ric" Saltzman has actually been with us from the very beginning. He was a history teacher at Mystic Falls High School when we met him in The Vampire Diaries Season 1. He also guest starred in a few episodes of The Originals before becoming one of the main characters of Legacies. His role as headmaster of the Salvatore School was set up in The Vampire Diaries series finale, showing Ric and Caroline Forbes Salvatore set up this school for supernatural students. Now Ric is holding down the fort for all of the OGs in The Vampire Diaries Universe.
Dorian Williams (Demetrius Bridges) of The Vampire Diaries
Dorian needs more scenes on Legacies, 'cause he is a delight every time he shows up. Dorian first arrived in The Vampire Diaries Season 8, the final season, and was a guest star in The Originals' final season too. He was an occult studies student who worked with Ric and now works as the librarian at the Salvatore School. They were both interested in the same co-worker, Karen David's Emma Tig, in Legacies Season 1. And sometimes Dorian provides romantic advice for students, as he did for Landon in Season 2.
Landon Kirby (Aria Shahghasemi) of The Originals
Landon is now Hope Mikaelson's love interest -- and sometimes Josie's, it's complicated -- but he first showed up in one episode of The Originals Season 5, when the team returned to Mystic Falls. Landon served Hope and Uncle Elijah at the Mystic Grill. He and Hope also had a dance before she had to head back to the Salvatore School. That set the stage for Landon showing up as a mystery supe in Legacies Season 1. We now know he's a Phoenix. By the way, that episode of The Originals also showed The Vampire Diaries' Elena Gilbert is now Dr. Elena Salvatore with her own medical practice. Another reason I'd love to see Nina Dobrev return for Legacies.
Lizzie & Josie Saltzman (now played by Jenny Boyd and Kaylee Bryant) of The Vampire Diaries
Alaric's daughters are main characters of Legacies, but they were born on The Vampire Diaries and appeared in one episode of The Originals' final season. They are now played by actresses Jenny Boyd (Lizzie) and Kalyee Bryant (Josie), but they have been portrayed at different ages over the years. Their biological mother is Jo Laughlin, but when pregnant Jo was killed by her brother Kai Parker on TVD, Caroline gave birth to the twins through some Gemini Coven magic. All of that is heavily involved in Legacies.
Matt Donovan (Zach Roerig) of The Vampire Diaries
Matt is a Vampire Diaries original and he was part of the show for all eight seasons. He also had a guest star role for one episode of The Originals. Matt Donovan returned for two early episodes of Legacies Season 1 as the sheriff of Mystic Falls. The town got a new sheriff in Season 2, and it was revealed in late 2019 that Matt achieved the goal mentioned in The Vampire Diaries finale to become mayor. He is now Mayor Matthew Donovan and in charge of that crazy town. Mayor Donovan has yet to return for Legacies Season 2 as of 2019.
Jeremy Gilbert (Steven R. McQueen) of The Vampire Diaries
Legacies definitely needs more Jeremy. Elena Gilbert's younger brother (if not biologically) is another Vampire Diaries original. In TVD's series finale, Jeremy was shown helping to teach kids at the Salvatore School. He did return in a brief guest appearance in one episode of Legacies Season 1, saving Rafael and Landon from a werewolf hunter in "We're Being Punked, Pedro." Where has he been since? I'd like to know.
Jo Laughlin (Jodi Lyn O'Keefe) of The Vampire Diaries
Jo was one of Alaric's many ill-fated love interests on The Vampire Diaries. Born Josette Parker, her twin brother is Kai Parker, who killed her on her wedding day to Alaric. She was pregnant at the time (see the twins above) and that's how Josie and Lizzie Saltzman are members of the Gemini Coven who have to deal with The Merge. Deceased Jo managed to return in Legacies Season 1's "Mombie Dearest" episode, courtesy of the Necromancer. Before she died again, Jo got to meet her daughters for the first time and established a special bond with her namesake Josie.
Roman Sienna (Jedidiah Goodacre) of The Originals
Roman was first introduced in The Originals Season 5 as a fellow student of Hope's at the Salvatore School. He became Hope's first boyfriend, but it turns out he was involved in the death of Hope's mother Hayley. He felt extremely guilty for his role in what his adoptive mother did. Roman returned for two episodes of Legacies Season 1. He didn't do much, except make Landon suspicious and jealous, but it was made clear that Hope and Roman were never going to get back together.
Freya Mikaelson (Riley Voelkel) of The Originals
Freya first arrived in The Originals Season 2 as the long-lost Mikaelson child, sibling to Finn, Elijah, Klaus, Kol, and Rebekah. She's a powerful witch and she had some bonding time with Hope on The Originals. So it was great to see Hope's Aunt Freya back for Legacies Season 2 in the Nov. 21, 2019 episode where Josie went to see Freya in New Orleans to get information. Ultimately, thanks to Josie's magic, everyone got their memories of Hope back and Aunt Freya had a nice -- if brief -- reunion with Hope in Mystic Falls. It would be great to see Freya back again, but actress Riley Voelkel also has a role right now on The CW's Roswell, New Mexico. But now we know Freya named her baby son after her brother Klaus, so maybe we'll see young Nik on Legacies someday?
Malachai "Kai" Parker (Chris Wood) of The Vampire Diaries
Kai Parker made a big impression on The Vampire Diaries and Ian Somerhalder (Damon Salvatore) said he was the best villain the show ever had. Kai had a recurring role in TVD Season 6 and appeared again in the final season. His name has been invoked all over the place, though, and he's finally going to show up later in Legacies Season 2. According to EW, Chris Wood's Kai will arrive in Legacies Season 2, Episode 12, set to air in February 2020. Kai is the Saltzman twins' evil uncle, and they found an Ascendant at the end of Season 1, not knowing that it could potentially help Kai escape his current Prison World. (They helped put him there as children on TVD, along with Bonnie Bennett, using their Gemini Coven magic.) The twins know they have to face The Merge and I can only imagine Uncle Kai will have all kinds of ideas and advice for them.
Caroline Forbes Salvatore? (Candice King) of The Vampire Diaries
Will we ever see Caroline on Legacies? The eternal question. I'm adding her here because she has been mentioned enough times that she's basically a recurring character on the spinoff. Caroline is a Vampire Diaries original (fun fact: Mckenna Grace played young Caroline in two episodes) and she also guest-starred in The Originals' final season, which somehow failed to give Klaroline a happy ending. Caroline is mother to the Saltzman twins and she is meant to be running the Salvatore School with Alaric, as first shown in the Vampire Diaries finale. But actress Candice King has yet to appear on Legacies herself. So we just see phone conversations where it's understood that Caroline is on the other end of the line in Europe, where she's said to be researching ways the twins can avoid The Merge when they turn 22.
Will Caroline follow Kai as the next Vampire Diaries or The Originals character to appear on Legacies? Maybe. Maybe not. There are plenty of supporting characters who could show up. Some have already been mentioned -- or referenced off-screen, like Vincent of The Originals as the Mikaelson family friend Landon visited in New Orleans in Legacies Season 1.
Do you think we'll ever see Hope's parents, Klaus and Hayley, in visions or flashbacks? What about other Mikaelson family members who could visit Hope? Or will Damon Salvatore ever show up to drink with his buddy Ric at the bar? Will anyone go to Dr. Elena Salvatore's family practice in Mystic Falls? Will Bonnie Bennett ever return to town? Will Damon and Elena's kids -- like daughter Stefanie Salvatore -- ever show up on Legacies?
So much depends on the actors wanting to return so soon after The Vampire Diaries ended in 2017 and The Originals ended in 2018. Maybe if Legacies continues into Season 3 we'll see more former cast members ready to return to their roles. Or not. Legacies can survive without them, it's just great for a show with a title like "Legacies" to keep a strong connection to the past. Legacies Season 2 airs Thursdays (but not Thanksgiving) at 9 p.m. on The CW.
Your Daily Blend of Entertainment News
Gina grew up in Massachusetts and California in her own version of The Parent Trap. She went to three different middle schools, four high schools, and three universities -- including half a year in Perth, Western Australia. She currently lives in a small town in Maine, the kind Stephen King regularly sets terrible things in, so this may be the last you hear from her.