Wheel Of Fortune's Pat Sajak Mistook 'Raise The Roof' For 'Lift The Ceiling,' Earned Zero Cool Points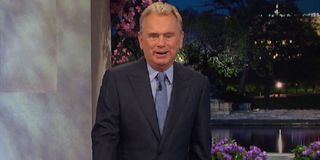 Pat Sajak has been hosting Wheel of Fortune for over three decades now. That makes him pretty cool, right? Well, on a recent episode of the beloved game show, Sajak mistook the "raise the roof" gesture for "lift the ceiling" and earned himself a grand total of zero cool points for his efforts.
During a recent episode of Wheel of Fortune, Pat Sajak quickly built a rapport with contestant Eliot Gaines. At one point, the host joked that Gaines should've gotten the memo that stated no one could dress better than the host. When Gaines got an early lead on the other two contestants, Sajak headed over to the young man to speak with him about his fantastic gameplay.
Excited that he was winning so early on in the show, Eliot Gaines pumped his arms in the air in the well-known gesture for "raise the roof." Pat Sajak, seemingly inspired by the contestant's exuberant energy, followed suit with the same arm motion. However, that's where it got a bit awkward. "Lift the ceiling," Sajak exclaimed. Oops! Watch the beloved game show host get it all wrong in the video below!
Naturally, fans of Wheel of Fortune quickly took notice and had a good laugh over Pat Sajak's obvious mistake. Over on Twitter, one fan even used a gif from The Office of Michael Scott and Dwight referencing the same idiom Sajak got wrong.
Meanwhile, another Wheel of Fortune fan wondered if they'd heard Pat Sajak correctly before having a good chuckle over the flub.
The gesture for "raise the roof," as well as the saying have been staples of pop culture for decades. It was even the title of the 1998 hip-hop single by Luke. The common use of the expression is just one of the reasons why Pat Sajak mistaking the contestant's gesture as "lift the ceiling" was so funny. It might even go down as one of the more entertaining moments on Wheel of Fortune in quite some time.
Pat Sajak underwent emergency surgery in November and took a few weeks off from hosting Wheel of Fortune to recover. Longtime co-host Vanna White stepped in to fill the role of host until Sajak returned. In January, Sajak's daughter stepped in to cover for Vanna White while her dad was out again, this time for reasons unrelated to his previous surgery. Thankfully, the host is doing much better now and up to the task for lifting the ceiling with excited contestants.
Wheel of Fortune airs in syndication, so be sure to check your local listings for when and where to watch the game show. For more on what to watch, be sure to check out our 2020 midseason schedule for updated premiere dates and times.