Wheel Of Fortune's Pat Sajak Reveals He Thought He'd Died In Hospital For Emergency Surgery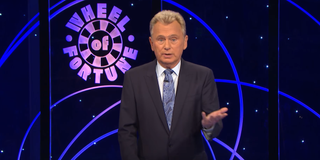 A month ago, Wheel of Fortune's Pat Sajak had to have emergency surgery and his absence prompted Vanna White to take over hosting duties until his return. Sajak admits that "surgery is no fun," but he was doing well while recuperating. However, the experience left him shaken and for the first time since the surgery, Sajak is opening up about it, revealing recently how he thought he'd died in the hospital.
In the three decades of hosting Wheel of Fortune, Pat Sajak has only missed hosting the iconic ABC game show once before, but his most recent health scare has left him out of commission for much longer than a few days. A blocked intestine landed Sajak in the hospital and he recalls thinking how it might be the end for him. Here's what he had to say about his experience post-surgery:
Pat Sajak's experience sounds a bit traumatizing. The hospital's pain medication must have worked wonders, though. Thankfully, the Wheel of Fortune host is on the mend and says he's felt good enough to go back to work recently. What a relief! Speaking with ABC News, Sajak provided an update about his health.
This is the first indication that Pat Sajak's officially back hosting Wheel of Fortune. Though Vanna White had stepped into his role temporarily, it was unclear when exactly Sajak would be back. His surgery took place in November, but episodes taped during that time meant that viewers didn't notice Sajak's absence until the Vanna White-hosted episodes began airing on December 9.
Pat Sajak says the experience has reminded him what Wheel of Fortune means to him, so I'm sure he's just as happy to be back hosting as the game show's loyal fans are. Wheel of Fortune airs in syndication, so check local listings to stay up to date on when to catch new episodes. For more on what to watch, be sure to check out our 2020 midseason schedule.
Your Daily Blend of Entertainment News
Thank you for signing up to CinemaBlend. You will receive a verification email shortly.
There was a problem. Please refresh the page and try again.