Why Grey's Anatomy Fans Should Be 'Very Worried' About DeLuca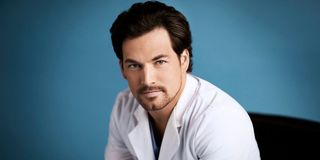 Warning! Spoilers ahead for the Grey's Anatomy episode, "Snowblind."
Things got really intense during Thursday's episode of Grey's Anatomy, and it wasn't just because of the snowstorm. DeLuca's mental state and career seemed to be taking a nosedive as of late and it hasn't been fun to watch. According to the episode's director Linda Klein, there's a good reason why fans should be "very worried" about DeLuca for the remainder of Season 16.
During the blizzard, DeLuca decided to trudge six miles through the snow, sans gloves, to obtain a liver for a patient. Without considering the consequences of his actions, DeLuca had to be treated for severe frostbite upon his return to Grey Sloan. What's more, the surgeon could be facing the end of his career if his hands don't heal and soon. Speaking with TVGuide, Grey's Anatomy's medical supervisor Linda Klein said that DeLuca's condition is definitely cause for concern. In her words:
It sounds like things could get worse for DeLuca before they get better. While fans have been worrying about Alex Karev's fate on the medical drama and whether Grey's Anatomy would kill off the already absent character, it's DeLuca who's been struggling onscreen. The frostbite is just one one more piece of bad news on top of everything else he's been dealing with. Currently, his relationship with Meredith is on the rocks and, after the episode "A Disaster," it isn't only DeLuca's career as a surgeon that's on the line.
Back in January, Grey's Anatomy showrunner Krista Vernoff teased that there would be a "really painful" storyline dealing with mental health. At the time, it wasn't revealed who would be involved in the storyline. However, now that we know DeLuca may be having manic episodes like his father before him, Linda Klein's comments shine even more of a concerning light on DeLuca's journey for the remainder of Season 16.
A few episodes ago, I was positive that Meredith would be there for DeLuca no matter what. But he keeps pushing her away, and "Snowblind" showed how she was growing closer to Hayes, so DeLuca may also be facing some heartache soon. Still, I'm sure Meredith will at least be there for DeLuca in the ways that matter most, as long as he lets her in. However, DeLuca's storyline may take a back seat in the March 5 episode, considering it'll be dedicated to Alex's farewell.
Grey's Anatomy Season 16 airs Thursdays at 9 p.m. ET. on ABC. For more on what to watch, be sure to check out our 2020 midseason schedule for updated premiere dates and times.
Your Daily Blend of Entertainment News
Thank you for signing up to CinemaBlend. You will receive a verification email shortly.
There was a problem. Please refresh the page and try again.