Grey's Anatomy Is Taking One Character To 'A Very Dark Place'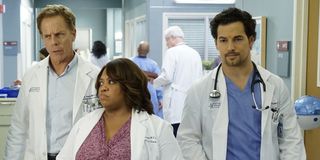 Grey's Anatomy has been rocked by the departure of Justin Chambers' Alex Karev, but there's no rest for the weary; the doctors at Grey Sloan will have plenty to keep them busy in the back half of Season 16. There is one Grey's Anatomy character who will be dealing with a lot more than a break-up moving forward, too. Maggie Pierce has already had a rocky time this season, and it might be getting worse.
In early episodes, Maggie discovered she had a cousin named Sabi, and after a brief meeting, learned that Sabi had a heart tumor. Naturally, the heart surgeon took it upon herself to operate on her relative, but the surgery went sideways, and Sabi died on the operating table. Grey's Anatomy showrunner Krista Vernoff has revealed that Kelly McCreary's Maggie will go to "a very dark place" when the show returns from winter hiatus. Here's what she had to say about Maggie's storyline in the second half of Season 16:
After all that's happened, I'd be surprised if Sabi's death hadn't affected Maggie throughout the remainder of the season. She was incredibly devastated when Sabi died under her care. No wonder she'll be in a dark place when Grey's Anatomy comes back.
While Alex (whose absence will be addressed) was there to support her in the past, he isn't around anymore. Could this be the time for Jackson to step up and help her in her time of need? Despite their messy break-up in the Season 16 premiere, it's possible he'll come around again for comfort, if nothing else.
Speaking with TVLine, Krista Vernoff also teased that there will be a "really painful" storyline dealing with "mental health" in the back half of Season 16, which is also adding a Suits vet for a "puzzling" arc. However, Vernoff didn't reveal which character the storyline will focus on, leaving fans to ponder. There's always the possibility that it could be Jo, whose mental health struggles have surfaced before and could very well return.
That said, I also wouldn't be surprised if Maggie was the one at the center of this storyline. Knowing what she has been through this season and now knowing about her dark place, makes her the prime contender for this particular arc.
Grey's Anatomy Season 16 returns on Thursday, January 23 at 9 p.m. ET on ABC. For more on what to watch, be sure to check out our complete 2020 schedule to find out the premiere dates and times of cable and streaming shows.
Your Daily Blend of Entertainment News
Thank you for signing up to CinemaBlend. You will receive a verification email shortly.
There was a problem. Please refresh the page and try again.