Hawaii Five-0's 'McDanno' Fans Are Heartbroken And Worried About Series Ending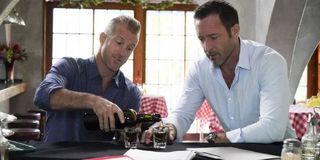 Though Hawaii Five-0 showrunner Peter M. Lenkov had hoped that the long-running series would go on for a "few more seasons," CBS announced that the drama would be ending, with the Season 10 finale set to be its final bow. However, given that Hawaii Five-0 is ending without much advance notice, fans are heartbroken about McDanno — the term used to describe the relationship between Steve McGarrett and Danny Williams — and worried about what the series ending will bring for them.
While Hawaii Five-0's ending is sad and there are various storylines that still need to be wrapped up, fans should at least expect to see plenty of familiar faces returning for the series finale, including James Marsters' Victor Hesse and William Sadler's John McGarrett. Still, it's rare for a series finale to please everyone and, for those who have long shipped Alex O'Loughlin's McGarrett and Scott Caan's Danny together, there's a lot of concern that the series finale won't offer a satisfying end for the long-time friends. One fan expressed that worry, believing that the series finale would not be the one many hoped for McDanno.
Meanwhile, another fan felt that something was amiss because Season 10 was seemingly pulling out all the stops in terms of McDanno moments, though they had no idea that it would all culminate in the series ending for good.
McDanno means a lot to fans of Hawaii Five-0 and when the news broke that the series would wrap after Season 10, many took to Twitter to express their sadness. One fan even wrote a heartfelt message about what McDanno means to them, tagging the series' showrunner and writers in hopes that they would see it.
Yet another fan shared their heartbreak over the series ending, suggesting that it wasn't just McGarrett who made the show. Rather, it was his relationship with Danny that made Hawaii Five-0 that much more memorable and worth the watch.
However, the idea that McDanno may not get a happily ever after in the series finale agitated some fans. Peter M. Lenkov had quite the scathing response to a fan's tweet that threatened harm upon him should the friends not get a good ending.
The showrunner went on to conclude that, while he genuinely believes the Hawaii Five-0 series finale will be satisfying for everyone, he's sure a contingent of fans may find something worth venting about.
Whatever the end of Hawaii Five-0 brings for McGarrett, Danny, and the rest of the characters, ten seasons is quite a good run for any show. The two-hour series finale will air on April 3 from 8 p.m. to 10 p.m. ET on CBS (opens in new tab). For more on what to watch, be sure to check out our 2020 midseason finale for updated premiere dates and times.
Your Daily Blend of Entertainment News
Your Daily Blend of Entertainment News
Thank you for signing up to CinemaBlend. You will receive a verification email shortly.
There was a problem. Please refresh the page and try again.