Hawaii Five-0 Showrunner Reveals How Long He Wants The Show To Last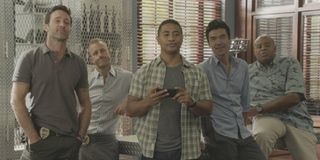 For a TV series to make it to ten seasons is an impressive accomplishment. While there are always shows being cancelled in their early days — Sunnyside was cancelled only a few episodes into its low-rated debut season — and pilots not getting picked up to series, CBS' Hawaii Five-0 is thriving. While the sunny crime drama hasn't officially been picked up for Season 11, Hawaii Five-0 showrunner Peter M. Lenkov isn't done telling the characters' stories and wants to go "a few more seasons" beyond Season 10.
However, like with any series that goes on for a decade, Hawaii Five-0 has hinted at potential storylines without immediate follow-ups. One such instance occurred in the Season 8 episode "Dog Days." When Junior Reigns shows up on Steve McGarrett's porch, he's asked if he's out of the Navy, to which Junior's replied: "It's a long story." Asked whether the series would ever regale viewers with why Junior left the Navy behind to join the Hawaii Five-0 task force, here's what Peter M. Lenkov told TVLine:
Okay, so there's a plan, but it might not happen for seasons to come. Got it. Can fans really wait that long to find out? I'm now hoping the show goes on for a few more seasons as well because it sounds like Junior's story could be an intriguing one.
While it's wonderful that Hawaii Five-0's showrunner seems to have more storylines he wants to explore in future seasons, CBS hasn't renewed the show for Season 11 yet. Though it's not unheard of for a network to hand out multiple season renewals in advance – like NBC did when it renewed New Amsterdam for three more seasons – getting picked up for several more seasons is obviously not a guarantee. That said, I think it's probably best to introduce Junior's "long story" sooner rather than later, just in case.
There's optimism to be had, though. Even if it sounds like Junior's pre-task force days won't be explored just yet, Hawaii Five-0 has lasted ten seasons already, so there's a chance that the series could go on for longer. And hey, Law & Order: SVU has had a spectacular 21-season run, so nothing's completely impossible. And CBS has a knack for keeping shows on the air for ages.
Hawaii Five-0's crossover with Magnum P.I. saw Junior Reigns being called back to active duty and the series will hopefully provide an update on his relationship status with Tani soon. Season 10 is back with new episodes on Friday, January 31 at 8 p.m. ET on CBS. For more on what to watch, be sure to check out our 2020 midseason schedule for updated premiere dates and times.
Your Daily Blend of Entertainment News