How Kevin Hart Quietly Went From A Comedy Legend To Fitness Inspiration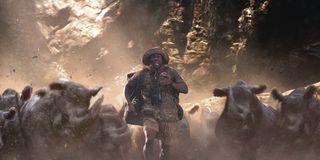 The world best knows Kevin Hart for his hilarious comedy specials and comedic characters in blockbuster movies. He is one of the riches comedians working today. Kevin Hart has made it his life goal and mission to continue to build an empire and diversify himself as an artist. In December 2019, he released an exclusive Netflix docuseries chronicling his life for the last few years. The series titled Don't F**k This Up gave viewers a deeper look at Hart's daily life, including his fitness journey.
Since 2014, Kevin Hart dedicated his life to living a healthy lifestyle. The Don't F**k This Up documentary series showcases how keeping a daily routine has helped him stay centered when so many scandals have haunted his life. The Netflix docuseries addresses many of Hart's past mistakes, as well as trying to show the path that led him to some of his good and bad life and career decisions.
One of the most fascinating things about Don't F**k This Up is Hart's quest to build an empire that involves fitness. Kevin Hart's personal trainer, Ron "Boss" Everline, plays a major role in the docuseries. He is not only one of Kevin Hart's closest friends but a major part of his business strategy. Together the men have worked hard to keep Hart in shape, and to expand upon the idea of "Hart Hustle" through turning Kevin Hart into a fitness inspiration.
His Endorsement Deals
Back in 2016, Kevin Hart made history by becoming the first comedian to gain an endorsement deal with Nike. He uses this endorsement deal to promote a healthy lifestyle while wearing the Nike brand. Kevin Hart is also an ambassador for Rally Health, a digital platform that helps people monitor and set their fitness and health goals. Kevin Hart has been a major part of Rally Health, even hosting multiple Rally Health Fests. For Rally Health Fest, fans gather and participate in various fitness activities. In a recent interview with Men's Health, Kevin Hart was photographed sporting Fabletics clothing. The article mentioned that Hart will soon be named as the first male ambassador for Kate Hudson's new Fabletics men's clothing line.
Building His Own Fitness Brand
In 2019, Kevin Hart released his own brand of multivitamins called VitaHustle. These multivitamins contain 23 vitamins and minerals. It took Hart four years to complete developing VitaHustle. Kevin Hart's Nike endorsement also came with the production of a limited edition sneaker collection. The shoes called Free Train Instinct Hart sold out on Nike's website, and now they are only available through second-hand and discount shops. We hope this is just the beginning of Hart's fitness related products, and in the future, he releases more fitness products with Nike or other healthy lifestyle brands.
His Car Crash Recovery Journey
In September 2019, Kevin Hart and two other people were in a serious car crash. A friend of Kevin Hart was driving around in Hart's 1970 Plymouth Barracuda--a present that Hart bought for himself a few months earlier for his 40th birthday. The car spun out of control and they ended up 10 feet away from the road as they smashed through a wooden fence on Mulholland Highway in Malibu. Both Kevin Hart and the driver had to get back surgery, and they have been slowly recovering from the incident.
In the same Men's Health article mentioned earlier, Hart stated that his back injury was only a quarter centimeter away from him being paralyzed. He stated that the accident felt like a "resurrection," and while in the hospital, he reflected on his life. He didn't want to become the same person as before, but a new and better version of himself.
Kevin Hart also mentioned in an exclusive video with Men's Health that the accident resulted in him losing 17 pounds. He said that he wasn't in the same physical shape that he was before the accident, and that things that used to be easy for him, like running 3 miles, were more of a struggle, but he would continue to work hard to get better.
His #Fitspo Instagram Content
At any given day, Kevin Hart's Instagram is full of videos and images of him working out. He uses his fitness path to inspire others to engage in their own fitness journey. One of his posts from February 2020 shows him boxing while his trainer Boss Everline films. The captions note that Kevin Hart is still recovering from his car crash, and it's not easy, but he enjoys the process. Another post from February shows him working out with his children.
Prior to his accident, Kevin Hart used to post on his social media about hosting spontaneous runs in various cities. He would encourage his fans to go on 5K runs with him. He mentioned in the past that he liked 5K runs because they were an obtainable goal and anyone could do them. In a 2016 interview with Men's Journal, Hart mentioned that he one day aspires to be the lead of an action movie franchise, but not as the comedic character, which is the case with his past action comedies like Ride Along and Jumanji: Welcome to the Jungle.
Kevin Hart's quest to conquer the fitness world is very much on brand with his overall life and career. He'll keep challenging himself to reach greater heights and display this journey on social media, interviews, and various forms of documentaries.
His 'What The Fit' Youtube Series
Kevin Hart has a Youtube channel called Laugh Out Loud Network. On it, he produces original web based content. In March 2018, he launched a fitness centric series called What the Fit. On the show, Hart features himself and his celebrity friends, which include comedians, actors, and Youtube celebrities. What the Fit contains a series of fitness related skits. Some of the episodes focus on Hart and celebrities testing out infomercial fitness products, training with the LA Rams, and taking children gymnastic classes.
The purpose of What the Fit is to make people laugh and inspire them to test out different forms of fitness methods. In March 2020, What the Fit premieres season 3 on Youtube, and this season features stars like Nick Jonas, David Dobrik, Jimmy Kimmel, and Mindy Kaling.
Through Don't F** This Up, Kevin Hart showed determination when it comes to personal development. He seems aware that he's made huge mistakes, but he has learned from them and changed for the better. His fitness journey is just another way Hart continues to defy the odds and become a more evolved, introspective, and purpose driven human. Kevin Hart's docuseries Don't F**k This Up is available to stream on Netflix (opens in new tab), and What the Fit Season 3 launches on March 5.
Spent most of my life in various parts of Illinois, including attending college in Evanston. I have been a life long lover of pop culture, especially television, turned that passion into writing about all things entertainment related. When I'm not writing about pop culture, I can be found channeling Gordon Ramsay by kicking people out the kitchen.
Your Daily Blend of Entertainment News
Thank you for signing up to CinemaBlend. You will receive a verification email shortly.
There was a problem. Please refresh the page and try again.