13 Awesome TV Shows Coming To Netflix In December 2019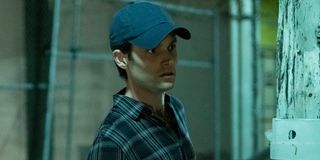 December is a time of gift giving, merriment, and sometimes weather so bad there's nothing better than snuggling up in front of the old television and losing oneself in a great show. Unfortunately, December is also when a lot of major TV shows go on break, which can create a show hole for those at a time where people spend a majority of their time indoors. We all love classic Christmas movies and specials, but sometimes people just want something they haven't seen before. Luckily, Netflix is the gift that keeps on giving in December of 2019.
Netflix is bringing new content galore all month long, and not all of it is Christmas related! To be clear, there is a good deal of Christmas programming to check out coming up, but also plenty of other options for those whose holiday spirit may run thin midway through the month or for those just looking to watch something that isn't Rudolph The Red-Nosed Reindeer. Sure, Disney+ has its fair share of content, but Netflix is making a case for more than a few subscribers to fire it up during this holiday season.
Home For Christmas- 12/5
Lilyhammer's Elise Broch is back on Netflix for a Norwegian Christmas tale that quite a single folks may relate to. Johanne is 30, and constantly hounded by her family at events regarding why she hasn't found a partner yet. To avoid the hounding this year, Johanne sets about trying to find someone to bring home for the holidays in this six-episode series that will kick off a handful of Christmas shows Netflix is premiering in the month of December.
V Wars (Season 1)- 12/5
Former star of The Vampire Diaries Ian Somerhalder is back with a new series, and yes, vampires are involved. This one looks to be a bit more intense, however, as V Wars chronicles the lives of a scientist and his best friend as the world splits between Humans and Vampires. The divide fractures the world, and could potentially lead to a massive war between humanity and vampires. Judging from the picture seen above, these aren't going to be the sparkly beautiful type of vampires, so be prepared for some horror to break up the constant merriment and good vibes.
Astronomy Club: The Sketch Show (Season 1)- 12/6
From the executive producer of black-ish and the showrunner of Netflix's hilarious sketch show I Think You Should Leave comes Astronomy Club: The Sketch Show. As the title would imply, this is a sketch show highlighting the improv troupe Astronomy Club that focuses its humor on pop culture and other events that speak to the black experience. Given the names attached to this project, I wouldn't be surprised if this is one of the big titles people are talking about by the time we say goodbye to 2019.
Fuller House (Season 5)- 12/6
It's the end of an era this December, as one of the biggest Netflix (opens in new tab) TV shows says goodbye. Fuller House is finally coming to an end, and the show is bringing its characters back out for one last ride with the Wolf Pack. This season will focus on Stephanie and Jimmy, as the newly engaged couple work through the beginnings of parenthood with their new baby. Everyone else will be around to help with the exception of Aunt Becky, whose appearance likely won't happen given Lori Loughlin's legal troubles.
Glow Up (Season 1)- 12/6
Ever get caught up watching a YouTube makeup tutorial? If so, Netflix's latest competition series Glow Up may be a great choice to binge during the cold month. The series pits makeup artists from all walks of life in a competition that will include recreating celebrity looks, utilizing movie prosthesis, and a whole lot more. Netflix has a solid track record with its original competition shows so far, so the odds of this one being just as good as the rest feels pretty high.
Virgin River (Season 1)- 12/6
Based on the New York Times Bestseller by Author Robyn Carr, Virgin River follows a midwife in the midst of heartache. When Melinda Monroe spots an ad to serve as a midwife in the town of Virgin River, she feels she's found the perfect opportunity to escape the loss of her husband. Upon moving, things get complicated quickly, but the arrival of a child on her cabin doorstep and a former Marine convince Monroe to stick it out. For those looking for a romance story that runs high on emotion, this sounds like the perfect Netflix series to dive into.
A Family Reunion Christmas- 12/9
Family Reunion debuted the first part of Season 1 earlier this year, and will be releasing the rest of Season 1 in 2020. Before that though, the Netflix TV show will be releasing a special Christmas episode, A Family Reunion Christmas. M'Dear and her sisters will prepare for an upcoming church Christmas pageant, while grandpa will teach the children a valuable lesson about the holidays. For fans who have been needing a new episode since July, this is sure to be enough to tide everyone over until the Tia Mowry-led series returns in 2020.
Soundtrack (Season 1)- 12/18
Strap in musical lovers, another series is on the way courtesy of Netflix. Soundtrack follows a bunch of love-struck L.A. teens from widely different backgrounds in a series that explores the music in their hearts and minds. Plot wise, there's not much else to go on in regards to this one, though descriptors for the Netflix TV show fall under feel-good, emotional, and romance. It may not be related to Christmas, but there definitely seems to be some potential for those same warm and fuzzy feelings while watching.
The Witcher (Season 1)- 12/20
One of the most-anticipated Netflix shows of 2019, lots of gamers and fans of Henry Cavill alike will be excited for The Witcher when it arrives in late December. The story follows Geralt, a mutated monster hunter who tries to find his place in a world full of people who can be just as vicious as the monsters he faces. This should be an extra exciting weekend for audiences in general, as The Witcher will be available to stream as audiences try their best to see Star Wars: The Rise of Skywalker opening weekend.
John Mulaney & The Sack Lunch Bunch- 12/24
John Mulaney is back with what may be his oddest and most ambitious Netflix TV special to date. John Mulaney & The Sack Lunch Bunch puts the comedian alongside a group of children aged 8-13 in an after-school special type program that is billed to be for all ages. Mulaney will have skits, songs, conversations, and even special guests like Jake Gyllenhaal. While a more crude Mulaney may be everyone's cup of tea, good on him for releasing something that's supposed to be a tad more family friendly so close to the Christmas holiday.
Lost In Space (Season 2)- 12/24
The Robinson family is back, but this time, they're separated from that absolute snack of a robot. The Lost In Space family must work with each other, Dr. Smith and Don West in order to link back up with the Resolute and other colonists. Obviously, the situation won't be that simple, and audiences should expect plenty of drama and danger along the way in Season 2 of this acclaimed Netflix series. If the season is half as good as the trailer, fans are in for a hell of a season.
Fast & Furious Spy Racers (Season 1)- 12/25
In what may be one of the oddest shows to arrive in 2019, the Fast & Furious franchise is now on Netflix. In Fast & Furious Spy Racers, audiences follow the cousin of Dominic Toretto's younger cousin Tony as he and others are scouted by a government agency to infiltrate a criminal organization. Man, it's like taking on international crime syndicates with fast cars runs in this family's blood line! Jokes aside, this should be a great watch for families looking for an action-packed adventure similar to what's seen in the movies.
You (Season 2)- 12/26
Joe Goldberg took the world by storm when he hit Netflix, which was great news for You because its initial television run more or less flopped. Now, after a pretty insane Season 1 finale, Joe is back on the prowl and apparently laying low from an ex he doesn't want anything to do with. Joe has an ex that he doesn't want to interact with? This is just speculation, but there has to be a bigger story there, and it's possible this Netflix TV show will somehow get even crazier in Season 2.
Related: Shameless Creator Has A New Netflix Show In The Works
With so many great shows coming to streaming each and every day, it can all be a little hard to keep tabs on. Stick with CinemaBlend for all the latest happening with Netflix, other streaming services, and movies and television in the near future.
Mick likes good television, but also reality television. He grew up on Star Wars, DC, Marvel, and pro wrestling and loves to discuss and dissect most of it. He's been writing online for over a decade and never dreamed he'd be in the position he is today.