Who Is The Masked Singer's Kitty? Here Are Our Best Guesses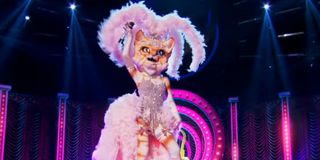 The Masked Singer Season 3 has just concluded Group B, and we now know which singers will (and won't) be advancing to the final 9. Among them is one "catty" competitor who looks like she'll be in the late rounds of the competition (though nothing is guaranteed): The Kitty. Kitty has impressed in her first three weeks on the Fox series, but who is that under the mask?
The Kitty is talented, and truthfully, one of the more mysterious competitors we've seen in the competition so far. Guessing her identity will not be easy, though I think there are some clues that definitely whittle things down and allow viewers to feel a bit more certain about her identity. First, let's go over the clues, and see if that can't remove some popular suggestions from the equation.
The Clues
The first clue video for The Kitty was decked out in old Hollywood imagery. Her wish was to "wipe the slate clean as pure as snow," and Kitty mentioned people think about the person she used to be rather than the person she is now. It was a pretty vague clue package by The Masked Singer's typical standards, but hey, I can appreciate a little obscurity in the early rounds.
More specific clues rolled out in the second video package, in which The Kitty said sewing was one of her favorite things to do. There were lots of fabrics and dresses around, and The Kitty noted that watching transformations is something she can relate to. Finally, The Kitty revealed she can be a bit nerdy, and that she sold sci-fi stories she wrote for a quarter.
The third clue package for The Kitty spoke to her "BFF," who she's known since she was a little kitten. She revealed The Kitty has always had a flair for drama, and once got detention for saying she could see ghosts and scaring a classmate. There was a little more talk about a "dark side," which the BFF said Kitty will use to slay the competition.
So far, The Kitty is one of the harder people to nail down in this competition. Even fans on the internet, who are typically unified in a response, are all over the place and can't reach a consensus on this one. With that said, here are some of the popular guesses I'm keeping an eye on, followed by my ultimate guess on who this person may be.
Sarah Hyland
If you're someone who has kept up with Modern Family over the years, you almost certainly know Sarah Hyland. The Haley Dunphy actress has also had a good deal of other television and film roles in her career. With Modern Family coming to an end, she likely had some down time in her typically busy schedule, so why wouldn't she have some fun with The Masked Singer in the meantime? Especially with her singing voice, which she's showcased a few times on YouTube.
Jennifer Love Hewitt
Long-time actress Jennifer Love Hewitt is notorious for her work in film and television, and is even on the Fox series 9-1-1. The Masked Singer has a clear track record of tapping Fox employees for the program, so I can certainly see how there are people jumping on the bandwagon. Hewitt also had a musical career in her younger years, so she's got the pipes to justify her being The Kitty. Hewitt hasn't been in the music industry since 2013, though, so it would be quite the comeback to see her belting songs now.
Lucy Hale
Yet another actress is in discussion for The Masked Singer's Kitty, and it's not hard to see why people are eyeing Lucy Hale. She's got the horror bit down via her roles in Truth Or Dare and the recent remake of Fantasy Island. She's also a pretty damn good singer, and had a studio album out in 2014 called Road Between. She's got a career very similar to the two other actresses in this lineup, so it's easy to see how she wound up in this conversation.
Who We Think It Is
I can appreciate The Masked Singer fandom for not going all hive-mind and keeping other options in the mix, but I think everyone had it right the first time. The Kitty is Sarah Hyland, and there's very little evidence to the contrary that will change my mind.
In regards to the first clue package, Sarah Hyland comes from a family of actors. This may be why there was so much imagery of old Hollywood, though Hyland's parents are definitely not old enough to justify footage from that far back. The Kitty mentioned issues with people thinking of her as the person she was, as opposed to the person she is now. This certainly feels like a reference to Hyland's time on Modern Family, in which audiences saw her grow up on screen. Finally, there's the shattered rose, which I think is a reference to Hyland's current fiance and former contestant on The Bachelorette, Wells Adams.
Then there's the second clue video, in which she talks about the "modern dress for a family member's ball." Jenny McCarthy was quick to point out that was a potential connection to Modern Family, as she should, because it feels like an obvious nod to the series.
I also think you can make an argument in the third clue package that the BFF of The Kitty looks very similar to Ariel Winter in terms of body type. The two grew up together, so it makes sense she'd know a lot about Sarah Hyland's life. The two also made a tribute to The Shining on Instagram a while back, which I technically think counts as Hyland directing a horror movie. The evidence is all here for Hyland, so The Masked Singer viewers just need to stick with their gut on this one.
Do you think The Masked Singer's Kitty is Sarah Hyland, or do you think it's someone else? Put all thoughts in the comments, and continue to stick with CinemaBlend as The Masked Singer airs on Fox, Wednesdays at 8:00 p.m. ET.
Mick likes good television, but also reality television. He grew up on Star Wars, DC, Marvel, and pro wrestling and loves to discuss and dissect most of it. He's been writing online for over a decade and never dreamed he'd be in the position he is today.
Your Daily Blend of Entertainment News
Thank you for signing up to CinemaBlend. You will receive a verification email shortly.
There was a problem. Please refresh the page and try again.