Taika Waititi Is Making Not Just One, But Two Willy Wonka TV Shows For Netflix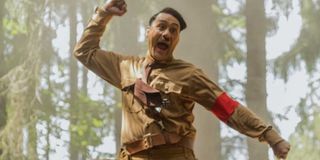 Taika Waititi is a busy man. Not only did he win an Oscar for adapted screenplay for Jojo Rabbit, but he also directed the Season 1 finale of The Mandalorian, is co-writing and directing Marvel's upcoming Thor: Love and Thunder, and is finishing up post-production duties on his next movie Next Goal Wins. Phew! To add to his growing list of projects, Waititi is making not just one, but two different Willy Wonka TV shows for Netflix. It's time to whip out those golden tickets!
It's been announced that Taikia Waititi is partnering with Netflix to write, direct, and executive produce two animated series set in the world of Roald Dahl's 1964 children's novel. The book, of course, follows the story of Charlie Bucket, who is one of five kids to nab a golden ticket that allows a grand prize tour of Willy Wonka's famed, but elusive, chocolate factory. Waititi definitely has the animation and humor skills to deliver something we haven't seen before in this realm.
Per Variety, the first animated series is more firmly based within the world of Charlie and the Chocolate Factory that we all know and love. The second animated series, however, will follow the Oompa-Loompas, the small singing people working inside the factory who get paid in cocoa beans.
In addition to these two animated series, Netflix execs indicated that the two shows' development with Taika Waititi is the first big step toward an "extensive partnership" between the streaming giant and The Roald Dahl Story Company, with that deal first getting announced in 2018. Netflix is also looking to reimagine and develop the author's other famous works, like the beloved Matilda, The BFG, which Disney adapted into a live-action film in 2016, and The Twits, among several more. But first, Willy Wonka!
In a statement, Netflix Vice President of Original Animation Melissa Cobb explained the difficulty in finding someone perfect to helm the projects, and that Taikia Waititi ultimately turned out to be that man. In her words:
That's a heck of a compliment, considering the myriad memorable characters Roald Dahl created over the years.
Roald Dahl's Charlie... was first adapted into a movie back in 1971 as Willy Wonka and the Chocolate Factory, featuring Gene Wilder's iconic performance as the eccentric chocolate factory owner. In 2005, director Tim Burton adapted the book with its original title, Charlie and the Chocolate Factory. Johnny Depp played Willy Wonka in this version, with The Good Doctor's Freddie Highmore playing Charlie Bucket. The book was also developed into a video game in 1985, for what that's worth.
Netflix has not yet scheduled a release date for either of Taika Waititi's animated projects, but stay tuned to CinemaBlend for updates. In the meantime, be sure to check out our 2020 midseason schedule for more on what to watch.
Your Daily Blend of Entertainment News