An Outlander Catfight? The Season 5 Plot That The Actresses Fought Against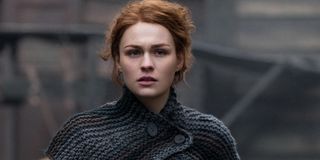 Outlander Season 5 just keeps getting more and more intense. During Episode 4, viewers watched as Marsali and Brianna forged an unexpected bond, with Marsali helping to ease Brianna's fears over losing Jemmy. This friendship didn't come directly from the novels, but turned out to be a wonderful addition nonetheless. Some of the producers and the writers were apparently undecided about whether the two women should indeed be friends at all, and were potentially opting for an Outlander catfight, but actresses Sophie Skelton and Lauren Lyle were not impressed.
In Outlander's "The Company We Keep," Sophie Skelton's Brianna grew increasingly more haunted by her rapist Stephen Bonnet. Though she hadn't yet come face to face with him, knowing that he was alive kept her awake, and her fears escalated when she learned that an Irish man in town gave her son, Jemmy, a coin. Later, after losing sight of Jemmy for a moment and believing he'd been kidnapped by Bonnet, Lauren Lyle's Marsali helped soothe Bree's fears and calmed her down, inciting a meaningful bond.
Sophie Skelton told Variety that she and Lauren Lyle fought to include those two characters bonding, as opposed to antagonizing each other, because they felt the show's female characters should be lifting each other up rather than fighting. In her words:
Personally, I'm siding with Sophie Skelton and Lauren Lyle's decision to have their characters forge a friendship. While Outlander includes several women in the cast, the men still take center stage more often than not, and there would be no real reason for Marsali and Brianna to fight anyway. Claire gives both of them attention, after all, and Marsali is practically like the sister that Brianna never had when growing up. Having them support one another makes far more sense for the storyline than any animosity.
Outlander executive producer Maril Davis spoke about how the writers did go back and forth on the subject. Ultimately, it was decided that it would be best to have them bond because of the similarities of their current positions, as well as the excellent chemistry that the two stars share.
Honestly, cheers to the creative making such a good choice at the request of the performers! Just from that one moment of bonding, I'm already looking forward to more scenes of them together in Season 5.
New episodes of Outlander air Sunday nights at 8 p.m. on Starz. For more on what to watch, be sure to check out our 2020 midseason schedule for updated premiere dates and times.
Your Daily Blend of Entertainment News
Thank you for signing up to CinemaBlend. You will receive a verification email shortly.
There was a problem. Please refresh the page and try again.