Andy Cohen Reveals Coronavirus Diagnosis, Future Of Watch What Happens Live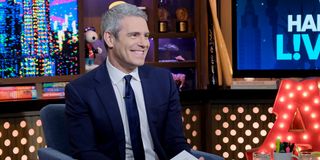 As the country continues facing the coronavirus pandemic, several celebrities have come forward, revealing that they have tested positive for coronavirus. Tom Hanks and Rita Wilson, Idris Elba, and Game of Thrones stars Kristofer Hivju and Indira Varma are among those who have been diagnosed and are currently under quarantine. Most recently, Watch What Happens Live host and executive producer Andy Cohen revealed that he had contracted coronavirus. In a post made to his Instagram, he updated fans on his condition and the future of the Bravo show. See what he had to say below.
In the post, Andy Cohen reveals that he has, in fact, tested positive for coronavirus after days of not feeling all that great. While the Watch What Happens Live with Andy Cohen host seems to have attempted to film his show from home and "push through" his illness, he confirms that the Bravo series is also halting production for the time being. Personally, I think that's for the best so that Cohen can get better without the added pressure of having to entertain the masses.
Prior to Andy Cohen testing positive for coronavirus, Watch What Happens Live was set to join the slew of late-night shows that were moving from the studio to filming from inside the host's home. The Bravo series was scheduled to air the first of these in-home episodes from Andy Cohen's New York City apartment — with the host speaking to celebrity guests like Jerry O'Connell via video chat — this Sunday, March 22 at 10 p.m. ET. However, that plan is on hold now following the host's diagnosis, which came not long after the announcement.
While a multitude of TV shows had shut down productions, suspending filming for the foreseeable futures, late-night hosts carried on with their shows. However, there were a number of changes made, starting with the decision to forego on having live studio audiences there during tapings. Before long, series such as The Late Show with Stephen Colbert and The Tonight Show Starring Jimmy Fallon, began doing their monologues and filming episodes from the comfort of their home. Stephen Colbert even hopped into his bathtub with his suit on to make things a bit more entertaining for everyone watching. Social distancing and self-quarantine hosts for the win!
As of this writing, there is no word on when Watch What Happens Live will be back on air, but stay tuned for updates. We here at CinemaBlend hope that Andy Cohen feels better soon. While coronavirus shutdowns have been prevalent in the headlines lately, there are still plenty of TV shows to watch while you're social distancing at home, so be sure to check out our midseason schedule.
Your Daily Blend of Entertainment News