Outlander's Sam Heughan Reacts To Show's Latest Big Death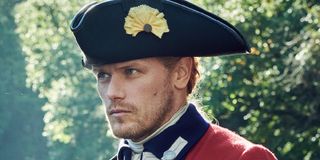 Spoilers ahead for Outlander Season 5, Episode 7, called "The Ballad of Roger Mac."
Many fans may have seen it coming, but that didn't make the latest Outlander death any easier to stomach. After being called to arms by Governor Tryon, Jamie Fraser put on a redcoat and rode into battle against the Regulators, pitting him against his beloved godfather Murtagh Fitzgibbons. The big battle sadly ended with Murtagh's death — shot after saving Jamie — and Sam Heughan recently reacted to the shocking turn of events.
After being shipped off to the Americas as an indentured servant in Season 3, Murtagh eventually took up being a blacksmith before leading the Regulators against North Carolina's governor for unfair taxation. Try as he might, Jamie couldn't get out of fighting the Regulators for fear of losing his land and being thought a traitor. However, he was still in denial over losing Murtagh in the Battle of Alamance. Speaking with EW, Sam Hueghan was also saddened to say goodbye to Duncan Lacroix in real life. Here's what he had to say about shooting Murtagh's death scene:
It's good to hear that the cast didn't have to bid Duncan Lacroix adieu so soon. Fans have been lucky to spend so much time with Murtagh, too, especially considering that he died during the Battle of Culloden in Diana Gabaldon's Outlander series. However, there are pros and cons to the character being around for longer.
With an additional three seasons spent getting to know Murtagh and being invested in his and Jamie's relationship, saying goodbye proved to be that much more heartbreaking. It's hard to imagine that anything will be the same after that. Conversely, the devastating death may have been exactly what Outlander Season 5 needed.
New episodes of Outlander Season 5 air Sunday nights at 8 p.m. ET on Starz. For more on what to watch, be sure to check out our midseason schedule.
Your Daily Blend of Entertainment News