Outlander Spoilers: What Jamie's Deadly Murtagh Decision Means For The Rest Of Season 5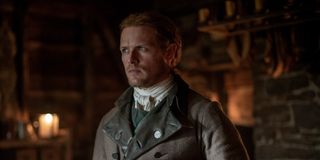 (Image credit: Starz)
Spoilers ahead for Episode 5 of Outlander Season 5, called "Perpetual Adoration."
The fifth episode of Outlander Season 5 continued Jamie's complicated mission of helping Lieutenant Knox hunt the Regulators while also secretly trying to protect the rebellious Scots and his beloved godfather. The truth finally came out in "Perpetual Adoration" when a game of chess was spoiled by Knox receiving the list of prisoners from Ardsmuir, which revealed Murtagh's true last name as "Fraser." When Jamie discovered Knox was determined to have him arrested as a traitor for protecting Murtagh, Jamie made the deadly decision to kill Knox. So, what does it mean for the rest of Season 5?
Well, to answer this question we have to look at the immediate future and what's coming down the line that we already know about. By the end of "Perpetual Adoration," Jamie and his militia were allowed to return to their homes. Jamie seemingly got away with killing Knox, and even brought an adorable kitten with him when he rode home to his family. Although he wasn't exactly fancy-free when he reunited with Claire at Fraser's Ridge, he was clearly relieved to be home and not planning on doing something like donning a redcoat and taking up arms with the English. For at least some of the rest of Season 5, Jamie will be home.
Unfortunately, footage that has been released for Season 5 combined with some comments from Sam Heughan (who revealed a longer Doughtlander is on the way) confirms that Jamie won't get to just stay at home and take up rural life again with his family. A shocking trailer revealed Jamie dressed as a redcoat and preparing to fight alongside the English, despite everything he went through at the hands of the English prior to departing Scotland. Not only will Jamie be pulled from his life at Fraser's Ridge, but he'll be called upon to don a uniform he undoubtedly hates.
What happens that Jamie has to reenter the fray when he seemingly got out of it by killing Knox? Governor Tryon declared that the Regulators aside from ringleader Murtagh would be pardoned, so it's possible Jamie might not have to take up arms against all the Regulators that viewers saw amassed earlier in Season 5, and I doubt the redcoats would put together an army just to go after Murtagh. The Outlander timeline hasn't caught up to the beginning of the American Revolution, so that can't be why Jamie is wearing that red coat. According to some comments courtesy of Sam Heughan, Jamie won't exactly be happy about it:
When Jamie puts on that red coat, it will apparently be "for the greater good" and the "good of the people he's trying to protect," even if it goes against everything he stands for. Is Murtagh included as one of the people Jamie is trying to protect, or will Jamie have to focus on Claire, Bree, Roger, and Jemmy more than on his godfather?
Sam Heughan stated that it's "not so much in the book," so I think it would be a fitting end to Murtagh's storyline, if that has to happen in Season 5. Murtagh was long dead by this point in the timeline in the Outlander books, and his survival in the series has forced some significant changes. Will Jamie have to take up arms against Murtagh in the field of battle as a redcoat for the greater good and to take the show back into the plots of the books?
Whatever happens, we can be confident at this point that the semblance of peace Jamie found at the end of "Perpetual Adoration" isn't going to last, because his deadly decision to kill Knox and protect Murtagh doesn't mean the end of Jamie's obligation to the English in North Carolina. Hey, at least there's a cute cat on the show now!
See what happens for Jamie after killing Knox when the next new episode of Outlander airs Sunday, March 22 at 8 p.m. ET on Starz (opens in new tab). If you're in the market for some additional upcoming viewing options, be sure to check out our 2020 midseason premiere schedule.
Resident of One Chicago, Bachelor Nation, and Cleveland. Has opinions about crossovers, Star Wars, and superheroes. Will not time travel.
Your Daily Blend of Entertainment News
Thank you for signing up to CinemaBlend. You will receive a verification email shortly.
There was a problem. Please refresh the page and try again.