Does Outlander Need To Kill Off Murtagh After Latest Episode?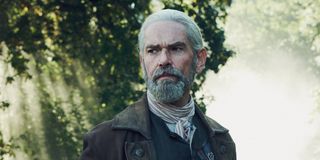 (Image credit: Starz)
Spoilers ahead for Episode 6 of Outlander Season 5, called "Better To Marry Than To Burn."
Outlander delivered a wedding in Episode 6 of Season 5, but in true Outlander style, the wedding didn't go down without some complications. Jocasta Cameron's nuptials with Duncan Innes were somewhat overshadowed due to the actions of the Regulators throughout the season, led by good old Murtagh. Although the Regulators weren't up to anything in "Better To Marry Than To Burn," Govenor Tryon revealed to Jamie that war is coming between the Regulators and the crown, and Jocasta denied Murtagh's request that she wait for him. After what happened, does Outlander need to kill him off?
By this point in Season 5, Outlander really feels to me like it's both tying off Murtagh's loose ends and setting him up for a game-changing death. Jamie released Murtagh from his vow, Jocasta declared that she couldn't wait for a man who would always choose his cause over her happiness and married Duncan Innes, and (as both Jamie and Governor Tryon knew) the Regulators are too disorganized and ill-prepared to stand a chance in an open war with the crown.
All Murtagh really has going for him at the moment is the Regulator cause, and the Regulators can't beat the Brits. I wouldn't be surprised if there are some attempts to try and alter history to guarantee at least a draw that lets the Regulators survive, but the Season 2 efforts to prevent the one-sided massacre at Culloden prove that's easier attempted than achieved.
That trailer shot of Jamie wearing a redcoat uniform makes it pretty clear that a battle between the Brits with whom Jamie aligned himself and the Scottish Regulators is on the way. Murtagh has nowhere to go and no obligations beyond the Regulators. Would Outlander have any use for him if he's still alive once the conflict is over?
Murtagh has been long-dead by this point in Diana Gabaldon's Outlander novel saga, and there is plenty of material for the show to continue covering. In fact, "Better To Marry Than To Burn" revealed a new reason to be afraid of Stephen Bonnet, thanks to Bonnet learning that Jocasta named Jemmy the heir to River Run. Claire and Jamie have a plan to get at him, and there doesn't seem to be room for Murtagh in the plot. I love Murtagh and was thrilled back at the surprise reveal of his survival, but even I think the time has come to say goodbye to a mostly good man.
At this point, I'm imagining a replay of Culloden, when Murtagh and Jamie briefly reunited in the midst of the Jacobite carnage, but fighting against each other this time as Regulator vs. reluctant redcoat. I still can't see Jamie actually killing his beloved godfather, but "Better To Marry Than To Burn" showed Jocasta Cameron losing a daughter due to friendly fire. Could Murtagh be killed -- accidentally or otherwise -- by somebody he'd considered a dear friend?
We'll have to wait and see if Murtagh does die in the not-too-distant future or if his knack for improbably surviving keeps him alive through the end of Season 5. New episodes of Outlander air Sundays at 8 p.m. ET on Starz (opens in new tab). Fans should try to enjoy Season 5 as much as possible, and not just because so many other shows are shut down due to the coronavirus. According to Sam Heughan, the next Droughtlander will be even longer than the break between Season 4 and Season 5.
Resident of One Chicago, Bachelor Nation, and Cleveland. Has opinions about crossovers, Star Wars, and superheroes. Will not time travel.
Your Daily Blend of Entertainment News
Thank you for signing up to CinemaBlend. You will receive a verification email shortly.
There was a problem. Please refresh the page and try again.