Ian Somerhalder's V Wars And One More Cancelled At Netflix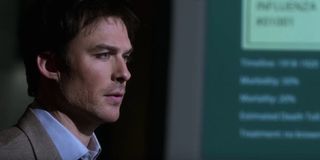 There's no doubt that Netflix is home to a growing number of original TV shows, including the ever-popular Stranger Things and, more recently, I Am Not Okay With This. However, while the streaming service is in the habit of picking up new shows, it's no stranger to cancelling them just as quickly and so, Ian Somerhalder's V Wars and one more show are joining Netflix's ever-growing cancellation list.
Once touted as being more grounded than other vampire shows, Ian Somerhalder's V Wars is being grounded more permanently. According to THR, Netflix execs made the decision to ax freshman series V Wars and October Faction. Both series were produced under IDW Entertainment and were based on comic book series under the aforementioned publishing umbrella.
The announcement that Netflix isn't moving forward with either series comes not long after the streaming service renewed Locke & Key for Season 2. The latter series is the only IDW Entertainment production the folks at Netflix have decided to keep around, with the comic book adaptation being arguably more buzzworthy. However, since Netflix rarely releases viewing numbers and ratings, it's hard to tell how either V Wars or October Faction fare compared to other shows on the streamer.
V Wars is most notable for starring The Vampire Diaries alum Ian Somerhalder. No stranger to the world of blood-sucking creatures, the actor played Dr. Luther Swann, a physician and scientist who is faced with a deadly virus outbreak that turns people into vampires. Personally, I could see why Netflix may have cancelled the show. Aside from a 56% on Rotten Tomatoes — an aggregation from only nine critics — the series sounds like it hits a bit too close to our current coronavirus pandemic.
However, it's best to keep in mind that the streaming service hasn't confirmed the real reasons behind the show's cancellation. That said, Ian Somerhalder did take to Instagram back in January to encourage fans to watch the show to bring Rotten Tomatoes' audience score up. Somerhalder's eagerness for V Wars to get a Season 2 renewal is well-documented, so it's a bit sad that it'll no longer see the light of day.
Meanwhile, October Faction had even lower numbers, aggregating a 33% critic score and a 49% audience score on Rotten Tomatoes. The sci-fi series follows a monster-hunting couple and their family. I have personally never heard of this series before, which goes to show how little it was marketed and likely seen. Both V Wars and October Faction, which premiered in December and January, respectively, join other one-hit wonder cancellations this year, including Soundtrack, Daybreak, Spinning Out and most recently, the controversial Messiah.
While it's bad news for both these sci-fi shows, there are still plenty more series to stream on Netflix. For more on what to watch, be sure to check out our midseason schedule.
Your Daily Blend of Entertainment News
Your Daily Blend of Entertainment News
Thank you for signing up to CinemaBlend. You will receive a verification email shortly.
There was a problem. Please refresh the page and try again.