All The Netflix Shows That Have Been Cancelled In 2020 So Far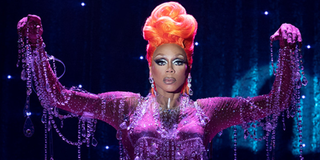 CinemaBlend is partnering with PIA VPN to bring you fresh content to stay in and stream with each day. We're also offering a special 76% discounted rate for a limited time only. You can sign up for the package with PIA here (opens in new tab).
Netflix has been going through changes for a while now. The streamer that once reliably held onto everything it stored in its hot little servers (I mean, I hope the servers aren't actually hot; people who know things about computers tell me that would probably be bad) has been on a cancellation spree for over a year now. Some of the shows that got the axe last year had at least been able to enjoy several seasons, but many of those shows (and their angry fans) were still left with cliffhangers which will now never be solved.
The new year dawned several moons ago, but, even in these difficult times (with many people currently doing a lot of self-isolating and spending tons of time just hanging around their houses alone and watching television) Netflix is still cleaning house and cutting down series it has deemed unworthy in these uncertain times. So, here are the shows that have already been cancelled by Netflix in 2020, because now that we're all staying at home a lot more, there's no time like the present to start a fierce letter-writing campaign to try to get a cancelled show renewed.
AJ And The Queen - Cancelled After 1 Season
Early March brought a lot of unfortunate news, and for fans of AJ and the Queen, that included the news that there would be no second season of the RuPaul-fronted series. The dramedy featured RuPaul as a down on her luck drag queen who traveled across the country with a recently orphaned 11-year-old stowaway, AJ (played by Izzy G.), performing killer musical numbers and doling out sage advice along the way. RuPaul also executive produced and wrote the 10-episode series, which premiered on January 10, but clearly didn't bring viewers in as it was hoped.
Spinning Out - Cancelled After 1 Season
Well, this one has already gotten fans up in arms, but the news is still bleak for the ice skating drama Spinning Out, which was cancelled just over a month after its January 1 debut. The 10 episode season dealt with competitive figure skater Kat Baker (Kaya Scodelario) taking another shot at competing as a part of a duo, after a disastrous fall left her ready to hang up her blades for good. Fans are really upset that a show which tackled so many issues (such as bipolar disorder, sexual assault, racial and economic inequality, and cultural stereotypes) was cut down in its prime, but, so far, there's been no word on any reprieve.
Soundtrack - Cancelled After 1 Season
Are you starting to see a pattern here with the 2020 cancellations so far? Good! I knew you were smart people. Soundtrack's first season released on December 18 to very little fanfare, and, apparently, the buzz didn't pick up in subsequent weeks, because Netflix cancelled it at the end of January. The romantic musical drama focused on a group of modern day Los Angeles residents, and examined their love lives through the music of their hearts and minds. With stars like Jenna Dewan, Marianne Jean-Baptiste and Madeleine Stowe, you'd think it would get at least a little love, but it came and went so quickly and under the radar that the creator revealed that it feels like Soundtrack never even got released.
Marianne - Cancelled After 1 Season
No genre is safe from the cancellation hammer of Netflix. French Horror series Marianne even got a thumbs up from Stephen King, a true sign of its merits as a show capable of delivering frights, chills and thrills, but it still only got one season on the streamer. The show followed writer Emma (Victoire Du Bois) who comes to realize that the creepy characters she writes about in her horror novels are somehow escaping those stories for the real world. Marianne premiered back in September, so Netflix at least gave it a bit more time to lure viewers in than some of the other shows on this list, before cancelling it in early March 2020.
Mortel - Cancelled After 1 Season
OK, not a great time for French shows on Netflix right now, you guys. Mortel hit the streamer in late November, but, again, it failed to gain much traction and was cancelled two months later. The show certainly had an interesting premise, though, and followed two teens who try to solve the murder of one of their siblings...after they make contact with a supernatural being who gives them superpowers. The good newsa, of course, is that the six-episode first season will always be around should you want to give Mortel a try.
Osmosis - Cancelled After 1 Season
Osmosis had the longest time to percolate on Netflix before cancellation, having debuted in late March of last year. The sci-fi series followed a group of singles who agree to try a new dating service which uses an implant to mine the brains of its users in order to find a romantic match who fits them perfectly. As you can imagine, things will not go as smoothly as the lovelorn daters expect. There were eight episodes in the near-future set French series, which failed to get enough attention for another season.
Messiah - Cancelled After 1 Season
The news about Messiah's cancellation first came from series co-star Wil Traval who posted about the news on Instagram. The religious thriller starred Michelle Monaghan as a CIA agent investigating a "miracle man" who's claiming to be doing God's work across the world, and has developed a cult-like following because of it. The series premiered to mixed reviews on New Year's Day, and Variety reports that Netflix didn't feel confident renewing a show which relies so heavily on international shoots during our current health crisis.
V Wars - Cancelled After 1 Season
And the hits just keep on coming where freshman series are concerned. Fans were super excited that Vampire Diaries alum Ian Somerhalder was coming back to television, and in a sci-fi series that would see him go up against vampires (who are turned in the modern day when an ancient disease gets loose), no less. But, it would seem that the excitement didn't translate into the kind of numbers Netflix wanted. The drama debuted on December 5 and had just shy of four months to catch those eyeballs, getting cancelled on March 30.
October Faction - Cancelled After 1 Season
Man, Netflix didn't give many of its supernatural / sci-fi shows room to breathe did it? October Faction, which featured teenage twins who find out that their seemingly boring parents are actually highly trained monster hunters, debuted in late January to little fanfare...which clearly didn't increase with time. Netflix cut ties with the fantastical series at the end of March.
Turn Up Charlie - Cancelled After 1 Season
Well, Idris Elba hasn't had the same amount of luck with Turn Up Charlie as he did with Luther. The comedy about a struggling DJ and eternal bachelor who gets a shot at revitalizing his career right as he takes a gig as nanny to his famous best friend's problematic and spoiled daughter, had one season on the streamer, which dropped a little over a year ago, in March of 2019. So, while it didn't get enough buzz to nab another season, at least it was given a shot before the plug was pulled.
Well, that's already an impressive lists of cancellations for this early into 2020, but with the number of shows that end up on Netflix every year, dedicated followings or not, we all know that there will be plenty of additional titles that will not make it out of this year alive. So, be sure to stay tuned to CinemaBlend for the latest, and bookmark this list, because it will be updated as new cancellations come down the pike!
Your Daily Blend of Entertainment News
Yennefer's apprentice, Gilmore Girl; will Vulcan nerve pinch pretty much anyone if prompted with cheese...Yes, even Jamie Fraser.
Your Daily Blend of Entertainment News
Thank you for signing up to CinemaBlend. You will receive a verification email shortly.
There was a problem. Please refresh the page and try again.