Chicago P.D. Season 7 Finale: 4 Twists Already Have Me Hyped For Season 8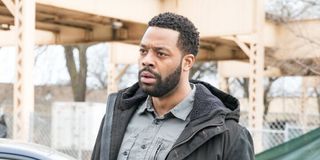 (Image credit: NBC)
Spoilers ahead for the Season 7 finale of Chicago P.D. on NBC, called "Silence Of The Night."
Chicago P.D. ended Season 7 on an ominous note, and enough of a cliffhanger that "Silence Of The Night" arguably could have worked as a season finale even if P.D. production hadn't come to a premature halt. Atwater went undercover to bust an arms dealer in Chicago, but things got complicated when the racist cop from Season 6 wound up involved in the case.
Doyle chased a black man without probable cause, resulting in a firefight that ended in the deaths of both the man and Doyle, and cast blame on two men who returned fire. Atwater faced a choice: would he expose Doyle and fight for justice to be served for the two men who were being wrongfully accused of firing first, or would he let it go to avoid the fallout from Doyle's friends, family, and allies within the CPD?
As longtime P.D. fans know, "fallout" involving dirty cops on this show can be deadly or at least very damaging, meaning Atwater would be risking a lot by telling the truth. After visiting Ray Price behind bars, Atwater came to the conclusion that he had to tell the truth and therefore go after Doyle. Given that this means Internal Affairs investigations and the sullying of Doyle's reputation, when he previously seemed like he'd died a hero, Atwater has a target on his back for reprisal.
Chicago P.D. didn't deliver any closure on this plot in "Silence Of The Night," making Atwater's fate a cliffhanger that I for one think is worthy of a finale. That said, there were some specific moments from what ultimately proved to be Chicago P.D.'s Season 7 ender that already have me hyped for Season 8.
Sure, Atwater and Price's scene was great, and Voight explaining what Atwater was facing if he told the truth was riveting, but these are the four that I feel set up a fantastic eighth season:
Voight Defends Atwater
When Atwater admitted that Doyle didn't have probable cause for trying to stop and frisk, which is what resulted in two deaths, it didn't take long for Doyle's sergeant to hear about it. He called Voight for a meeting elsewhere than the precinct, and he warned that if Atwater goes after the reputation of a connected cop like Doyle, there would be consequences. Here's how he put it:
Not one to take threats lightly, Voight said that Atwater is like a son to him. If anybody is going to come after Atwater, according to Voight, they'd better be ready to come after him, too. This scene was the first sign that Atwater would make a lot of enemies by telling the truth about Doyle and his racial motivations that resulted in deaths. A broad daylight meeting spelling out in no uncertain terms what Atwater was risking? This was a very real threat.
Intelligence Has Atwater's Back
After Atwater made his fateful decision to tell the truth and all but guarantee a lot of cops turning on him, he joined Voight and Ruzek in Voight's office for a drink. The mood wasn't exactly celebratory, but Voight proved that he's on Atwater's side, saying this:
Atwater's response was that he appreciated that. Honestly, he may need all the backup he can get when Season 8 gets into gear. Assuming Doyle's people don't decide to let this go during hiatus for some reason, more members of Intelligence than Atwater may wind up in danger. That said, assuming Intelligence closes ranks as much as Doyle's people will, Atwater has the best of the best at CPD on his side.
Atwater Stands Alone
Based on the eerie final scene of the Season 7 finale, Atwater might quite literally need some of the other Intelligence cops at his side for the foreseeable future. When he drove home after shift, he found Doyle's partner waiting for him. The partner never said a word, even as Atwater yelled at him, but he didn't have to speak to make the threat clear.
As Doyle's partner got in his car, police lights began to flash from cars all up the street, as well as the side streets. By my count, there were seven cop cars in total that had gathered to intimidate Atwater, although it was hard to tell the precise number with the way the scene was shot. None of the cops did anything to Atwater or even attempted to harm him, but the threat is clear: they know where he lives, they know what he said, and there are a lot of them vs. one of him.
While I'm obviously Team Atwater in this situation, the cop cars with lights flashing in the darkness driving around Atwater as he stood fearlessly in the street was a pretty fantastic visual. I'm not excited for Atwater, but I'm pretty excited for me to get to find out how this plays out! Still, let's end on a lighter twist that has me excited about Season 8.
Upton Misses Halstead (And Deep Dish)
Back in the beginning of the episode before Atwater got a target on his back for telling the truth, Halstead was on the phone with Upton, with Tracy Spiridakos making a surprise appearance on P.D. when Upton was busy teaming up with OA on FBI. While the scene opened with Upton complaining about the thinness of New York pizza (in a callback to her similar complaint in the FBI crossover episode), the tone shifted when Halstead said they'd hit up a deep dish place when she got back, then asked her if she would be back.
Upton reassured him that she's coming back to Chicago, because she misses the wind... and him. Now, whether or not you want Upstead to become romantic or just remain friends/partners, you have to admit it's cute that they officially miss each other enough to admit it. Chicago P.D. built their bond throughout Season 7, with Upton telling Rojas that she loves him. The build throughout Season 7 suggests that some kind of Upstead twist was on the way once Upton returned from New York and FBI.
Unfortunately, the production shutdown means that Upton never made it back from New York before the intended end of Season 7. Her last case of the 2019-2020 TV season happened on CBS, and her last appearance was talking pizza with Halstead in the P.D. finale. I'm definitely hyped for Season 8 to reveal what was going to happen between them. All this progression had to lead somewhere by the intended finale, right?
Chicago P.D. fans will undoubtedly find out; we'll just have to wait a while for all our answers about what happens next. The good news is that Chicago P.D. (like Chicago Fire and Chicago Med) was already renewed for three more seasons at NBC, so P.D. will have plenty of time to fill in the blanks left by the finale.
If you want to relive the earlier days of Chicago P.D., you can find the first five seasons streaming on Amazon Prime. For some upcoming viewing options, check out our 2020 spring premiere schedule. Don't forget to vote it our poll below about whether or not "Silence Of The Night" worked as a finale!
This poll is no longer available.
Your Daily Blend of Entertainment News
Laura turned a lifelong love of television into a valid reason to write and think about TV on a daily basis. She's not a doctor, lawyer, or detective, but watches a lot of them in primetime. Resident of One Chicago, the galaxy far, far away, and Northeast Ohio. Will not time travel, but will sneak references to The X-Files into daily conversation.